7 Facts About Udemy Clone Php Script That Will Blow Your Mind.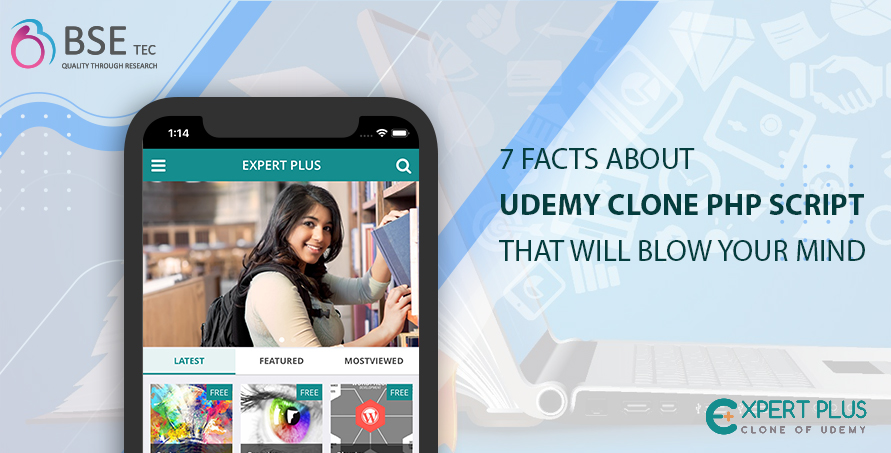 Developing a certain skill along with the job or getting a degree in a professional course, Online learning is the one stop solution to get all the learning desires fulfilled. Online learning is an emerging industry because of its numerous benefits of getting quality education at any time any where. Online learning becomes more valuable when tutors come forward with their skills and collaborate with the latest technology to enhance learning.
Entrepreneurs can see the opportunity to develop an online learning platform that provides another benefit of quality and efficient learning experience for students of this generation. Online knowledge sharing is not only about making youtube videos or tutors going live but it is a full-fledged industry now. The industry where entrepreneurs keep upgrading their platform with artificial intelligence and perfection so that it should be worth using by students. Learning Management system development becomes easy when you have products like ExpertPlus – (Udemy clone open source) in the market. That does all the technical part in creating your platform with the best udemy clone script. This script is beneficial for entrepreneurs because it is easy to maintain even by a person with less technical knowledge. 
We came up with some facts about the udemy clone PHP script to give you a better understanding- 
Easy to maintain the tutorial site

 : When we are using the advanced udemy clone PHP script to develop your e-learning software. Then it doesn't need a high-end technician to maintain your tutorial site. Scripts like

ExpertPlus

are making it easy for entrepreneurs by giving end to end technical solutions and letting them do the real work which is knowledge sharing. 

Affordability : 

There is a myth that you have to have deep pockets for developing a Learning Management System. But it is a fact that you can develop this software at an affordable cost in 2020 by choosing the right technical partner. Also, We provide a basic version of our

udemy clone script

free of cost to entrepreneurs and we charge affordable for even our exclusive benefits. Anybody who wants to be the part of the knowledge sharing industry can take their first step in developing online learning software at ease.

 

Readymade Features :

 Advanced clone scripts like ExpertPlus comes with numerous readymade features like an advanced admin portal, Theme management, Fantastic framework, Authorization, Bootstrap design, Ready to use multiple payment gateways, and many more. These important features are necessary to manage the tutorial site and it makes it easy for clients to manage the tutorial site without high tech knowledge. 

Technical Support-

Technical partner is the one who sets up your udemy clone with all the resources and makes your application and software fully functional by consuming all the latest technologies. Also after the technical installations are done technical partners always have your back with regular upgrades and premium support if any problem arrives. Many entrepreneurs think that the technical partner's responsibilities are limited to providing just clone support but the reality is that technical partner acts as a pillar to keep your online venture running flawlessly. 

Future-ready scripts : 

This is the important fact about

online learning software

that they need to be future-ready every time and they should keep upgrading themselves for a good chance to keep engaging with students and maximizing user's learning experience.

It's the entrepreneur's responsibility to choose a technical partner who is eligible for adopting new technologies for future generations. Technologies like AR, VR, Ai based assistants, etc. 

Software Management : 

When you have an advanced script with features like theme management, Payment management, website firewall, Instructor credits, modules management, Course certifications, courses tracking, Transaction management, and many more then you don't need to worry about the management. It all becomes easy like managing a simple dashboard. Scripts like ExpertPlus are designed in a way to make it easier to control the eLearning software. 

Role of ExpertPlus : Expertplus is designed exclusively to help entrepreneurs adapting new technologies so that they can improve the online learning industry and make it more effective than traditional learning. We know online education is having an opportunity to break the bonds and challenges of traditional learning and Our team of professionals is doing their best on providing best in class technical services to make it easy for them to manage LMS so that they can focus only on the quality of education. Why don't you take another step of trying our free basic version to experience the numerous features of ExpertPlus at https://www.bsetec.com/udemy-clone/udemy-clone-software