5 Steps To Discover The Right Online Learning Software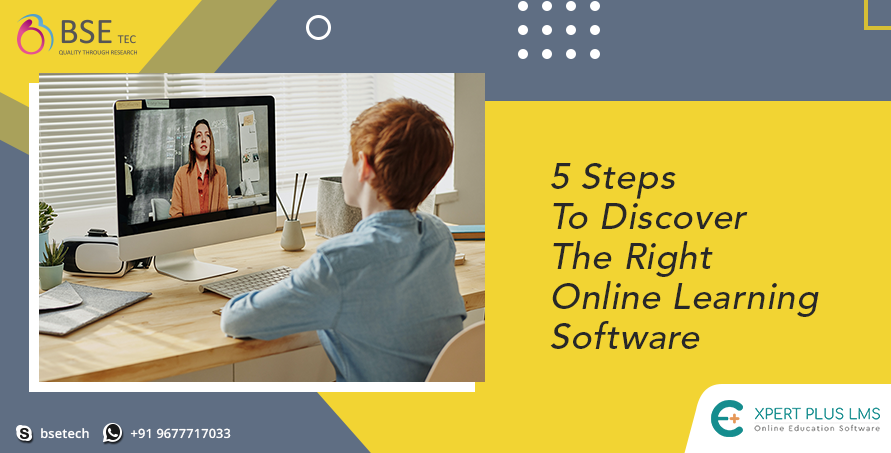 Online Learning Software today is much in demand and it is kind of an important part of the education system worldwide, As we are left with only this option after every educational institution went under lockdown amid covid-19. Online learning software platforms are a great source of learning. As no other institution can easily match the scalability, Interactivity, and efficiency of eLearning. As an entrepreneur, it's an opportunity to cater to the mass audience with the right combination of advanced tools, features, and creativity in the eLearning industry. 
Discover The Right Online Learning Software
If you are looking for perfect elearning software as a user, then we can tell you some steps to find one easily that fits your requirements. 
Step 1– Recognize your course needs, First where you would know if you are going to register for some general learning course, advanced course, or highly niche categorized course. Think about the basic tools that you require in the online learning software. Basic tools such as live interaction with instructors Doubt clearing forums, Virtual workspace, etc. 
Step 2– Authentic Certification is the next thing you have to worry about, Where you need to explore the options in certifications that the particular eLearning software is providing. you can choose any Elearning software that is providing authentic certification that holds some credibility in the market. Some of the eLearning software does not include collaboration with good institutions and they even don't have credible certifications. So you would have to look for that.
Step 3– Look for unique features and tools offered by eLearning software, As if eLearning software is giving you some cool and interactive features then you can join the course on that eLearning platform. The interactive tools would help boost your learning process.
Step4– Have a demo class with the eLearning software. Almost every eLearning platform offers a free demo class to new users and you can utilize that class to explore all the benefits, tools, and content quality in the first place. It would give you a surety on the process quality and capability of the platform to handle your learning needs.
Step 5– In last you can choose the platform that holds everything in the way and is offering you advanced support and all the tools discussed above. There are some unique startups and educational platforms that are doing very well in making eLearning more productive. You can look for them and explore their services.
We at BSEtec are also giving great opportunity with our product ExpertPlus to entrepreneurs around the world to make an impact on the eLearning industry. ExpertPlus is the most advanced udemy clone script that allows you to develop customized and advanced eLearning software with all the high-end tools in the market. If you are an entrepreneur then you can choose a udemy clone script to develop an elearning software with all the creativity and uniqueness you can think of at affordable cost. 
For more details, Visit ExpertPlus.