11 Outrageous Ideas For Your Upwork Clone Script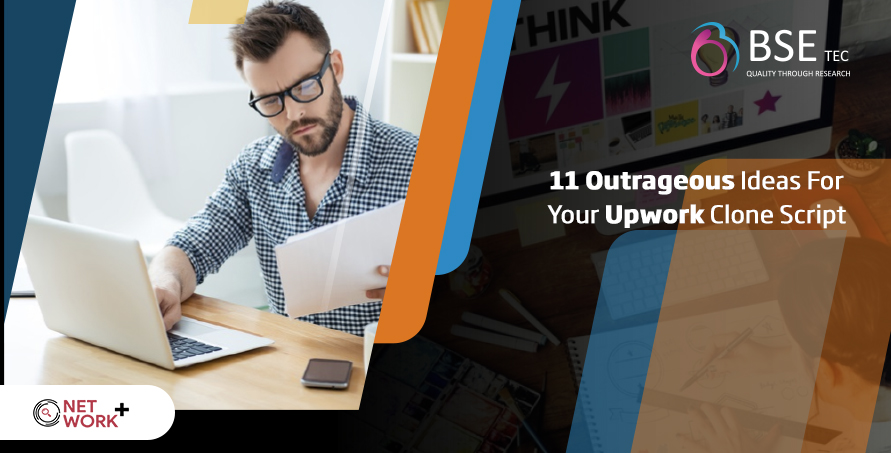 The ones with the skills and talents are not bound to the traditional working environments and they always look for the platform where they can get work, Based only on their relevant skills and talent. Also, The clients who want the job done on time with high-efficiency look for the platforms where they can meet freelancers with relevant skills to get the job done with cost efficiency. Entrepreneurs see this as an opportunity to develop that platform but they don't know where to start, which script to choose, What can be the ideas or features they want to add. That's why we created NetworkPlus exclusively to help entrepreneurs in their Upwork clone development. But what can be the additional ideas by which you can upgrade your Upwork clone to make it more engaging and effective-
Cutting edge technology : 

By going for

Upwork clone script

that is created with cutting edge technology can really boost the user experience. so always look for scripts that are created with the latest technology so that your platform would be fully functional all the time with new customizations. 

Regular feedback : 

That's the idea that is most effective in so many ways and this is getting regular feedback from freelancers and clients. No one in this world is perfect but we can be better by working on updates that are noticed by our targeted audience. Also, Users feel important when they are a part of the platform and always remember to give suitable replies on the feedback of your audience to let them know what action you have taken on their feedback. 

Payment structures : 

This is the most important part because freelancers will be looking for a platform where they get perfectly managed and easily withdrawn structures for their earnings in the platform. 

Authenticity : 

In the way of becoming a brand, you need to make sure that your

freelance marketplace

is verifying the users' profile to make sure there should be no fake profiles to avoid unauthentic traffic. Clone scripts like Network Plus are having the feature of user verification where users can verify themselves based on some information and government id proofs. 

Freelancers portfolio : 

Freelancers always look for a freelance marketplace where they get individual attention and benefit of creating their perfect portfolio based on the work they have done there. Clients also get the chance of viewing freelance work at first to get more understanding about the person with whom they are dealing. 

Rehiring : 

This is a good feature to add for the betterment of both freelancers and clients. These clients can rehire the freelancer for the next project if they were more satisfied and comfortable with working with them on the last project. 

Personal tracking : 

This can be the unique idea that you can apply to your platform by giving the benefit to freelancers by adding the feature of their own work performance tracking. They will get to know more about the weak points they will be having in certain works and you can enhance this feature by adding reviews and ratings by clients So that they can work on their growth more. 

Ai based virtual assistant: 

By giving your platform a virtual employee who can handle freelancers and clients by guiding them throughout the platform can boost the user experience by so many times. 

Adding useful features : 

Users always come to those platforms for their requirements where they get new and useful features. By adding features like price Biddings, advanced account management for both freelancers and job providers, Freelancers ratings and reviews, Portfolio Management, and many more. 

Categories Management : 

This is an important idea to discuss because it enhances the user's experience on your

freelance workplace clone.

This feature lets users choose the categories in which they want to be for the fulfillment of their job needs. 

Technical Expertise : 

When you are creating a brand with these features and ideas. Then you must have a supportive technical brand on your side to make sure that all your customizations and features work fully functional at all times. The technical partner is also important because they provide regular updates on technologies that were used in your Upwork clone script. 
These were some ideas cum features that you can utilize in your freelance clone development. We at BSETec created NetworkPlus by taking the needs and thinking of this generation entrepreneurs to make sure this script works more functionally and effectively. That's why we provide free installation and premium customer support because you are getting much more than a script from us. Why don't you explore our features in-depth by taking a free demo of Network Plus at https://www.bsetec.com/upwork-clone/