Essential Steps to Reduce Risk in Product Development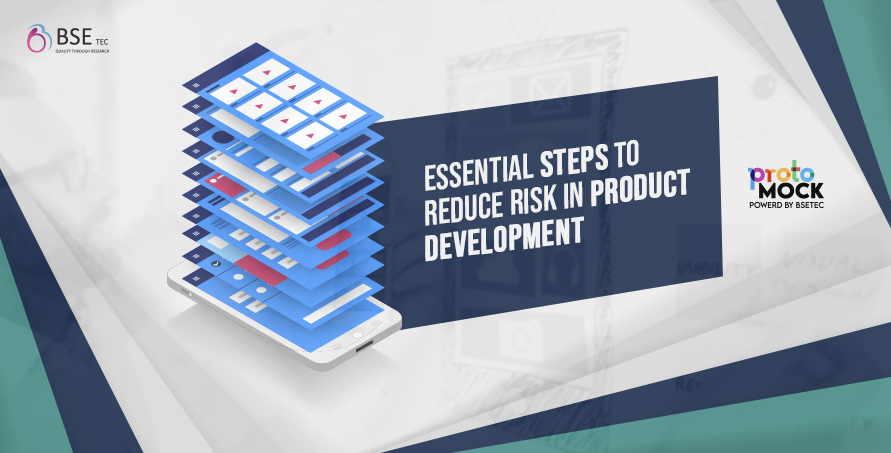 Before taking the plunge in the product development process, one must per locate their ideas for a long time and consider making their concept more tangible before they spend their resources on creating a product. The biggest risk in any business is to accidentally create a product that is not at all useful for the customer and people might hesitate to pay for it. 
This may be a huge waste of time and money and may make you go out of business before you even know it.
What is the best way to mitigate the risks in the product development process?
The best way to ensure that there is the least number of mistakes in the product development process is by prototyping the product before its development. 
What is a prototype if you may ask? 
A prototype is just a replica or a rough draft of the final product, which helps to give the look and feel of the product before it gets developed. It assures that, whether the product being created is valid and useful or not. 
Steps to take for reducing risks before creating a product
Be clear of your goals and objectives– If you are creating a product, your goals and objectives must be clear and you must have short and long term goals and plan how you can achieve the same. If not, then take a step back to rethink your idea and maybe restructure it to proceed further. 
Have a target audience– So, you have thought of creating a product. But, did you consider thinking, who will this product be for? Whom will it be useful to, what will their age group be and what value will it add to their lives? After considering the type of your audience, you go on to the next step.  
Creating your prototype– Now, you have a fixed set of goals and objectives and you have your niché audience in mind. That's great, so now you can start with creating your prototype. Create a prototype with Protomock, and bring your design ideas to reality. The prototype must be functional and working and has to be user-friendly. But one must never forget that the prototype is not the final product itself, so you should not waste all of your valuable time prototyping.
Gather feedback & identify the flaws– Once you have created the prototype, you can give potential users to use it and take their interviews, surveys, etc. to gather feedback. Once you gather feedback, you understand what the shortcomings and drawbacks are that have to be fixed. 
Refine your prototype until it matches user satisfaction– Now that you know the flaws of the prototype, you need to refine, restructure and refurbish it until it matches the customers' satisfaction. Then you can proceed further with the process of product development.
Summing up
If you want to create the best prototype, then contact Protomock today and get your ideas turned into quick tangible mockups. Get in touch now!