How Can You Convert Your Online Store Into A Mobile App?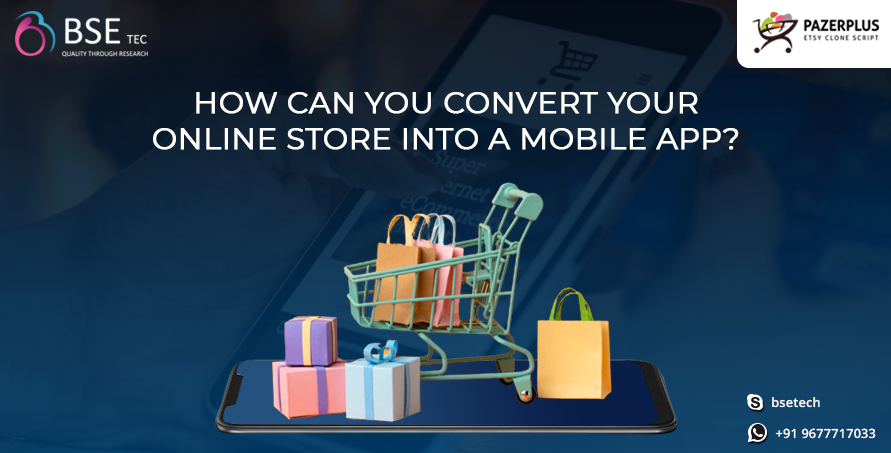 In the ever-growing and evolving eCommerce marketplace, having an eCommerce mobile app for online stores and businesses has become a prerequisite. It's no surprise that we are living in a digital era, where billions of people are dependent on their mobile phones for everything– be it buying shoes, bags, bath salts, furniture or even stationery items. 
Why switch over to a mobile app instead?
The basic reason behind starting to use an eCommerce mobile app instead of using a website is convenience and ease of use. It magnetizes the online shopping experience. With new and unique online products coming up each day, competition is getting high– which has influenced the customers to use such apps to provide a lot of offers and discounts from time to time and send push notifications which is a feature that websites lack. Furthermore, it has a user-friendly interface which makes it more comfortable to navigate through. 
What is the cost of creating an eCommerce app?
To create an eCommerce app from scratch, might cost you around 3 to 12 Lakhs, depending upon the functionalities and features that are going to be incorporated into the app. Moreover, to make the app fully functional and live, it might take 10 to 12 months. 
But, thanks to eCommerce clone scripts , it is not only affordable but can launch very quickly and stay ahead of the curve. 
How to convert an online store into an eCommerce app?
Before you start building your online store, you need to have a few things in mind–
Plan and have goals– Proper planning is a very important part when it comes to building an app. You should fix your target and objectives with long term and short term goals, which will help you proceed further in the app development process. 
Have a user-friendly interface– With literally a gazillion shopping apps present in the marketplace, having an interface which is not visually appealing or eye-pleasing can be a bummer. So, it's very crucial to have an easy, simple but attractive user interface. 
Define a niche audience– If you don't have a niche audience in mind, then you might end up making an app with little or no resemblance with your customers mindset. Therefore, having a niché audience in mind– an age group, profession, etc. can really be helpful in creating an app that can resonate with its users. 
Customize the app according to user preferences– You are completely aware of the fact that the eCommerce app can only be a success if you can customize it according to the user preferences. 
Choose an SEO friendly script– If you are going to set up an app like Etsy or Amazon, and you are using an eCommerce clone, then it's highly recommended that you use Pazer Plus. It's an SEO friendly script that will bring organic traffic to your app and help you rank higher in search engines. 
Summing up
If you want to start creating your eCommerce app, then contact BSETEC today!