App Prototyping – Why is it Essential and How to do it?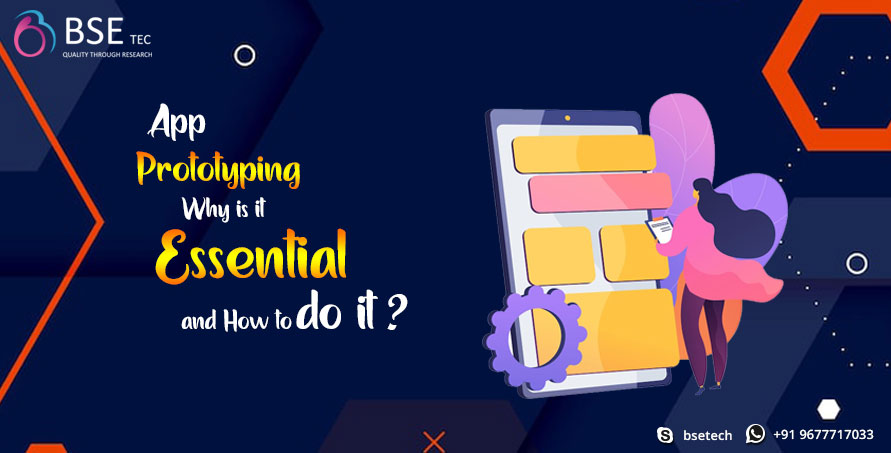 The development of an idea and then taking step by step actions to build it into an application is a very elaborate process itself. From improvement of that idea and determination of certain aspects during the main phase during the app creation process are dome things that are to be considered during the development process. 
Why is App Prototyping Essential?
Given the fact that no one is perfect, while curation of the app– A dream project for many, they might be prone to make mistakes– maybe in the design layout, or in the modules, or even in using particular color schemes. This is where app prototyping comes to the rescue. App prototyping is basically a mockup design of your app that includes counterfeiting of the User Interface (UI) and an interactive experience– prior to the development of the app.
Being able to have an early access to the final version of the app will have many added advantages, that will be helpful for the app development process and will help in understanding the flaws and thus, lead to fewer mistakes.
Read about Prototyping: The New Paradigm for Software Development
App prototyping is essential because– 
You get an early feedback–

Mobile app prototyping helps to validate your idea by giving it a more tangible form so that you can get an early feedback from your potential client or user, and you can get the opportunity to explore new ideas and improve your existing idea early in the development process. 
You won't have to waste your resources–

Getting an early feedback means you don't have to spend your precious resources like time, money and energy into an app idea that seems good until it is brought to life, and after its development– it becomes an epic failure. So, app prototyping helps to identify the flaws and problems, so that you don't have to restructure the entire app all over again after it's development. 
Bugs prevention–

No one is proof from making mistakes, and if the developer leave out something critical in the development process, it might lead to bugs and glitches in the final product. It may happen that an app that works in the smartphone, might not work on a laptop or tablet. These kind of flaws can be avoided through app Prototyping. 
Collaborate and Work–

If you're creating a joint project with a group, team or stakeholder, then you can collaborate and work together by sharing the same cloud space through your URLs, where they may leave their opinions, comments and help to further change or help in the iterative design process. 
How to do App Prototyping? 
App Prototyping does not mean that the prototype will function as a real app. It just means you can have an opportunity to view the design of the app, and get a general impression of the app from screen to screen, using prototyping tools. 
However, if you are not familiar with coding, fret not. Protomock is here to solve all your prototyping needs. 
For building the best app prototype you need to have the following concepts in mind– 
Understand the market, analyse your target audience and have your future long term goals in mind. 

Identify your core requirements which fulfills the needs of your target market and users in general. 

Do proper research of your competitors and get the best out of your app prototype to stay ahead of the curve. 

Test and review your prototype to see how it is working and how your users are interacting with it. 

Revise and improve the Prototype according to the user's needs. 

Repeat this process until you achieve user satisfaction. 
Conclusion
If you're developing an app and want to bring your ideas to life prior to its development– and spend your resources accordingly– then we are here at Protomock, with design support and 24X7 customer service– helping you to craft design mockups which you can access without even knowing a single line of code. Get in touch with Protomock today!