Start your e-commerce biz with our Pazer Plus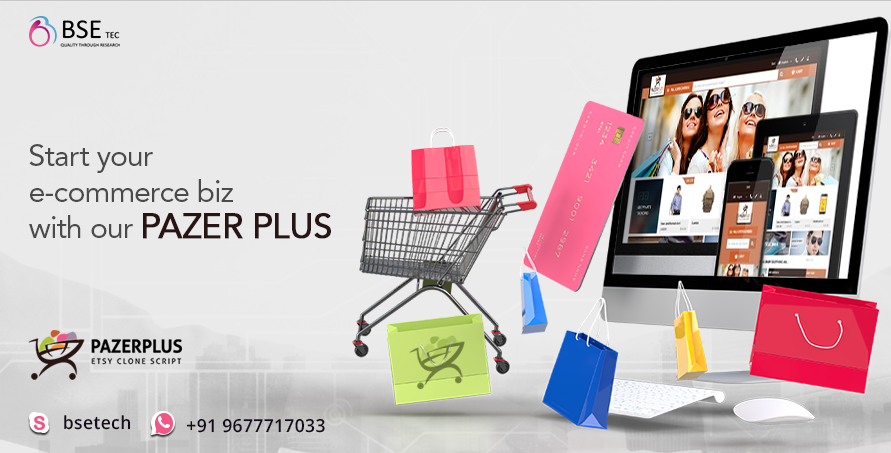 The pandemic and the increased use of smartphones have entirely shifted consumer shopping behavior. The consumer shift to digital channels will remain after the pandemic -PwC report. The covid-19 pandemic has reshaped our shopping behavior as well. According to new data from IBM's U.S. Retail Index, the pandemic has accelerated the shift away from physical stores to digital shopping by roughly five years.
 Why choose an e-commerce platform? 
When was the last time you purchased completely everything from the nearby Kirana shop or departmental store? You wouldn't remember right, one way or the other you would have ordered something online because online shopping has become a mainstream part of our lives for the following reasons.
Convenience:

We have at least one thing to shop online which is not available in the shops near us or in our town. Globalization has really impacted our shopping habits. The E-commerce marketplace has multiple product categories. We can purchase A to Z goods at the same place conveniently from our smartphones or PCs.

Savings:

Online shopping websites provide subscribe and save options to save money on our recurring orders. Besides that, we have coupon discounts and cashback. 

Easy payment options:

e-commerce platforms provide multiple payment gateways like debit cards, credit cards, internet banking, UPI payments, wallets, PayPal, and even cash on delivery. So it is easy for the customer to checkout securely and hassle-free. 

You choose the seller:

Unlike physical shopping, the e-commerce market has many retailers for the same product. We can choose them from ratings and reviews,  and the prices they offer. So we even have options to where to buy from.

Discreet shopping:

Physical shopping often makes it difficult to shop for certain things. For example, lingerie shopping without some weird and awkward stares is almost impossible. Online shopping puts an end to such embarrassment. Online shopping gives privacy.
Why choose an e-commerce script for your online business? 
Developing a multi-vendor e-commerce store from scratch with advanced core features may cost around $20000 to $30000, in some cases it is even more. So it is better to opt for b2b marketplace scripts, that are readily available online. Below are the reasons why you should opt for ready-made e-commerce clone scripts.
Customizable:

Ready-made e-commerce scripts are white label products that can be personalized based on your interests. Though these are ready-made scripts they have options for customization. You can brand your e-commerce website based on your liking.

Multiple payment gateways:

This is the most important feature of the whole e-commerce platform. Because any goods/ service is charged, so the website should include a safe and secure payment option and there should be many payment options such as credit/ debit card, UPI / QR code, Internet banking, Paypal, and other wallet options. This step ensures all the transaction processes are fast, secure, and hassle-free. Only then do customers come back to purchase again.

Multi-platform Integration:

The main advantage of this buy and sell PHP script is it's compatible with every device such as web, mobile, tab, etc.
To Know More How To Grow Your Marketplace: Everything You Need To Know
Pazer Plus: Pazer plus is a fully responsive white label product solution for the e-commerce marketplace. This Etsy clone software was carefully created by a team of experienced engineers from BSEtec.  The script is meticulously developed considering all the core and pre-requisite features to materialize your dream multi-store eCommerce platform idea.
According to the world economic forum, department stores are expected to decline by over 60%, e-commerce is expected to grow by nearly 20% in 2021. Statistics reports, E-commerce will make up 22% of global retail sales by 2023. By 2023, U.S. e-commerce revenue will be $740B! So it is high time to start your multi-store e-commerce platform. Contact us for more details.