How Can AI help the Future of E-commerce App Development?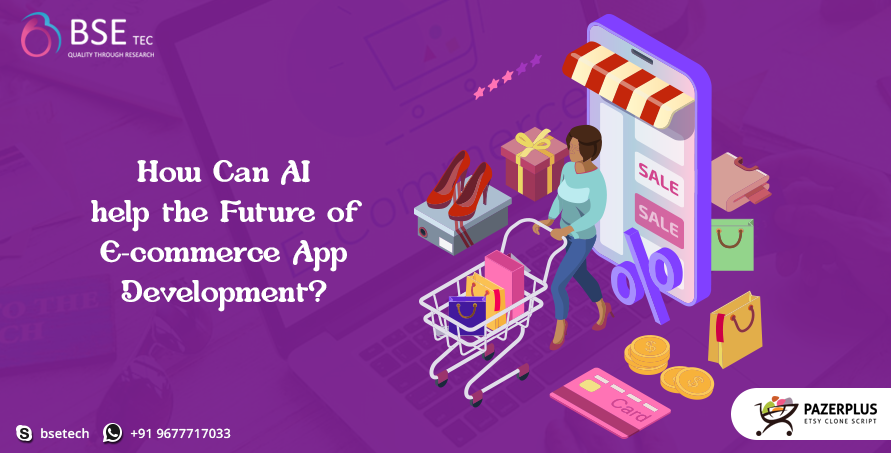 The eCommerce industry is a much different and successful industry that is allowing businesses around the world to be available online with their products. And in the tough times of Covid-19, this is because of the eCommerce platforms, that all the businesses are getting some sales. The future of eCommerce is always dependent on how we are developing this industry with new technologies, new user experience tools, and more product variations. Now almost anything you can order from an online marketplace, But there are so many businesses around the world that didn't start selling online and we believe, that is the market of opportunity for new entrepreneurs. 
Role of AI in Ecommerce
AI in eCommerce is a much new and trending experience for all of us, But it doesn't mean it is not a proven method to increase your working and sales in eCommerce. AI in E-commerce is already present in the industry with the brands like Lenskart, IKEA, Apple, etc. The AI in Ecommerce is much popular and demanded where customers can experience the advanced User interface and unique features based on high-end technologies, And businesses can maximize their working with high-end management tools based on AI. 
Popular Uses of AI in Ecommerce
Simulation Tools-

AI-based tools such as Augmented Reality and Virtual Reality are also coming into the picture where you can develop a digital interface in an eCommerce platform and allow users to explore the products and services in the virtual World using 3D responsive graphics. These tools are much popular and they generate more curiosity in users' minds to explore more and it eventually leads to more sales.

Advanced Analytic Tools

– You can also develop your eCommerce platform with advanced Analytics tools based on AI. AI-based analytics is much more accurate and useful that you can grab more unique insights from the application and website directly. Advanced Analytics is easy to integrate with new platforms. 

Advanced-Data Managemen

t- Data is the real asset for an online platform where the platform must grab some data based on the user's activity over the platform to serve better. AI-based Data Management would give you the ability to perform personalization in the platform. Personalization is something that always connects your platform with users in a more effective way. You can also get the personalization done by advanced AI-based data management, As it can collect and analyze mass data. 
The Future of Ecommerce App Development
The PazerPlus is indeed the future of Ecommerce app development that allows you to develop your eCommerce app in a matter of hours. PazerPlus is basically the Etsy clone script that is AI-enabled, and it is already loaded with readymade tools and technologies to develop your platform with all the tools and features you need in just the way you like. Not only advanced features but also it includes the basic features and tools such as multi vendor feature, user and admin dashboard, Order Management tools, and much more. 
The PazerPlus is the Etsy clone script that is even open source and designed/developed by BSEtec where we are offering high-end development services at much affordable cost in the industry. You can also explore its free live demo right now to experience its quality and advancement with every feature at PazerPlus.