How Artificial Intelligence is influencing social media platforms?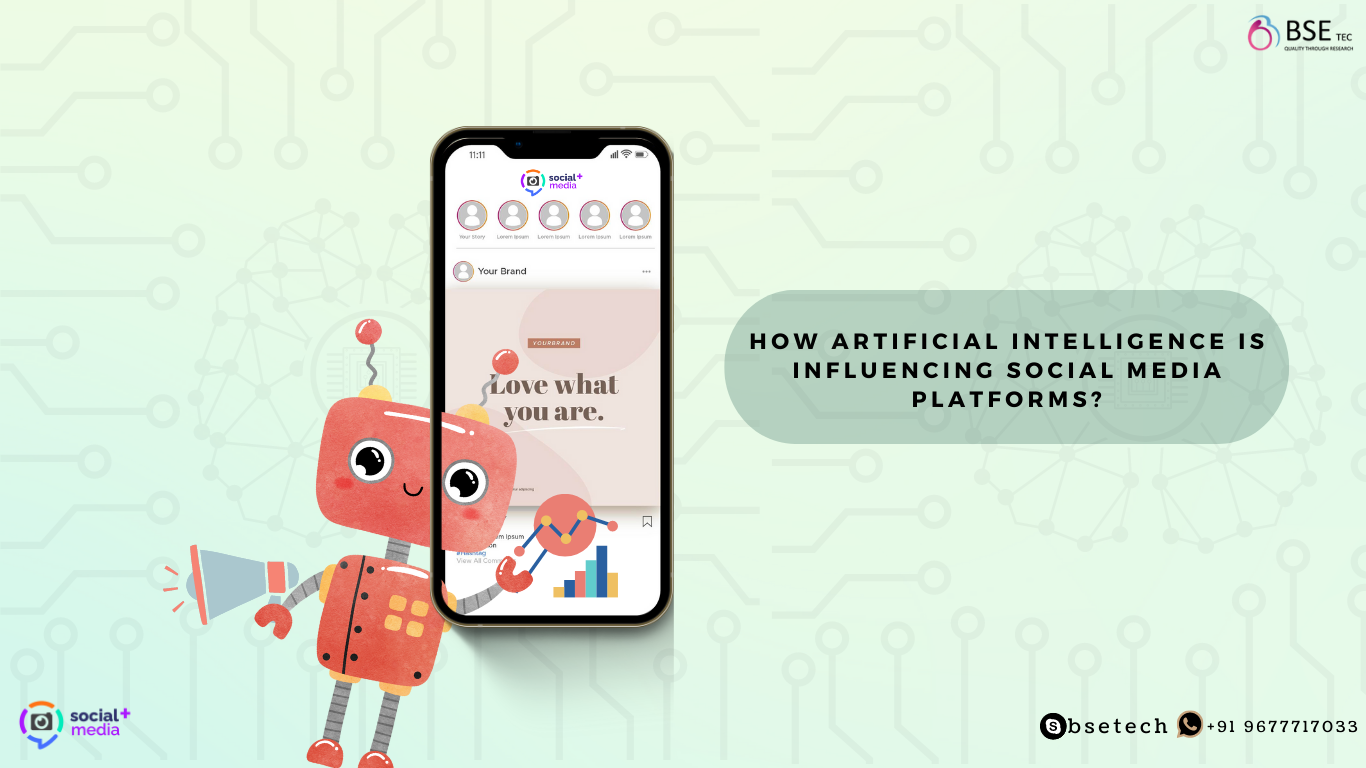 Artificial Intelligence isn't a buzzword. AI is a real technology. AI in social media holds the potential to transform how brands market across platforms like TikTok, Snapchat, Facebook, Instagram, Twitter, and LinkedIn. Today, AI can create social media posts for you. It can draft and target social ads. Though these are only the early days for AI, their impact is already an almighty smash. Here are some of the ways how AI is influencing social media platforms.
AI has become a mainstream part of our lives. Recently we have seen mass digital transformations and the adoption of AI and machine learning (ML) technologies to accelerate the growth of the business and boost customer satisfaction. This is done by AI enables social media marketers to get closer to their audience and understand their preferences. This helps them target their ads in a better way as well as create content in a better way. AI has the potential to change how brands are marketing on social media platforms. Even Instagram incorporated Big data and AI to enhance user experience. With these analytic tools, it is easy for the brand to know its target audience. Brands can cater ads to their target audience
 AI influencers are virtual personalities managed by brands or media agencies and created with computer graphics technology and Machine Learning algorithms. By definition, virtual influencers, or CGI influencers as they can also be called, are fictional computer-generated 'people' who have the realistic characteristics, features, and personalities of humans. They are becoming a real force to be reckoned with in the influencer marketing industry. As the name suggests these are just virtual characters created by clever creators – brands and individuals with a keen eye for technology – who remain faceless.
 Brands are queuing up to get involved with these futuristic means of marketing. Global automotive brand Renault has created their very own virtual ambassador, Liv, who was introduced to us in their latest television advert – a pioneering move that many are sure to replicate themselves soon. Dior, Coach, Balenciaga, and OUAI are just a handful of the designer names that have also partnered with upcoming virtual stars.
Social media monitoring means tracking hashtags, keywords, and mentions relevant to your brand in order to stay informed about your audience and industry. It helps you find everything that's relevant to you on social media and gives you a deeper understanding of the conversations happening about you and your brand. AI helps to monitor on a large scale, this also helps eliminate cyberbullying on social platforms and helps to find and stop the spreading of false rumors or other toxic hatred and social elements. Interpols are adopting a key tool "social listening" in which companies monitor social media outlets in order to enhance identification and detection efforts in national counter-terrorism investigations.
Augmented Reality Filters:

 
I am damn sure you have seen someone posting a cute cat ears picture or the puppy eyes and tongue-out picture! (or even you could have tried them) Or you yourselves would have tried a flawless makeup filter from Youcam! Almost all the filters in Snapchat, B612 and a few Instagram stories are AR filters. Even though Snapchat and B612 brought Augmented reality filters to the market, Instagram is seriously on its game now and is not showing any signs of slowing down. 
Ariana Grande, the popular singer introduced a camera effect "No Tears Left To Cry" on her Instagram account, made by her that will make your Insta story so glam with the "No Tears Left To Cry video" inspiration. Whatever it is everything comes down to only one thing on social media platforms. USER ENGAGEMENT. Constantly bringing game-changing attributes to engage users to your app or social media platform is everything!
To Know More Build The Best Social Media App By Using Our Instagram Clone Script
Conclusion :
If you are thinking of starting your social media app development or integrating AI tools into your already existing platform checkout,  Social Media Plus. It is the best Instagram clone PHP script offered by BSEtec which is not only affordable but is highly customizable and SEO friendly. For further details contact BSEtec today.