What are some tips for creating an e-learning platform startup?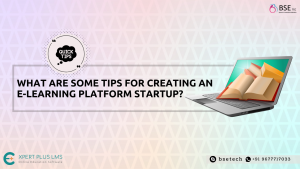 If you want to create an e-learning website, it's worthwhile to study its business model. But before that, we have to know about the core values on which e-learning like Coursera or udemy was built that made them successful. They are,
Convenience:

Students can enroll in any course at any time, there are no deadlines.

Variety:

Anything from business to art and music is available in udemy.

Affordability:

Very low course fees and there are many discounts and seasonal offers.

Certification:

Certificates can be saved in pdf formats or shared directly on LinkedIn, Facebook, or Twitter.
"Read Build an e-learning marketplace like Coursera and its cost
And here is a list to follow when you create an e-learning website,
1. Identify target audience: Your target audience refers to the specific group of consumers most likely to want your product or service, and therefore, the group of people who should see your ad campaigns. The target audience may be dictated by age, gender, income, location, interests, or a myriad of other factors. There are several ways you can identify your target audience. They are 
Use Google Analytics to learn more about your customers.

Create a reader persona to target blog content.

Look at social media analytics.

Use Facebook Insights.

Check on website performance.

Engage with social media audiences.
Knowing your target audience is important, because only if the promotional ads reach the targeted audience, then, only then your product/course reaches the right ones!
2. Decide your core content: Once you have decided on the target audience, you have to decide your niche. The theme or niche you selected should have demand in the market. This can be done easily! To know whether the niche you selected has demand, use google trends. The core content is the one that connects both you and your peers. You should be careful in choosing core content that your peers need. It would be ideal to list down core skills that the learners would want to acquire. For example, if your eLearning business is about upskilling marketing professionals, some of the content you generate can be around the following.
Paid acquisition

Organic website traffic

Content marketing
It is recommended to focus on the content that would stay relevant in the future and would pull more learners along with retaining your existing target audience. You can finalize more than one core content with a different cluster of the target audience.
3. Create lessons and courses: Create a few lessons and courses for each core content before launching your platform. To yield high early admission and positive response, make sure your content quality is top-notch and gives value to the learner. The first impression of the learners would make and break the success of your eLearning platform. Plus, creating course content earlier gives a positive outlook for your brand. 
4. Choose an LMS or e-Learning platform: LMS/ e-learning scripts is all about learning, sharing, teaching, and networking with tutors and students around the world. The script has provision for uploading study materials, eBooks, questionnaires, videos, and other files. LMS/ e-learning scripts are the readymade code that entitles you to own learning management software wherein students get a similar experience to the existing online learning platforms like udemy, Coursera, Lynda, etc., without compromising on the quality. This way you need not build udemy like eLearning platforms from scratch which requires a fortune. Udemy clone scripts/ LMS are readily available and are also cost-effective.
5. Set your prices and promote your brand: Every e-Learning platform has the objective of becoming profitable, for that you have to assign the course fees accordingly. The fees you assign should not be too high that no one registers for the course and not too low that your costs aren't covered. Analyze your competitors, fix your fees smartly. There at least should be a fair amount of ROI( Return on Investment). The final step is to promote your brand to the target audience. Voila!
 Interested in starting your own e-Learning platform like udemy? To create your Udemy or coursera like website and help the student community, try Expert Plus LMS, Udemy clone script/app right now. Check out our free demo at bsetec.com and understand how you can influence the education platform in a very better way.