Why design website and app prototypes?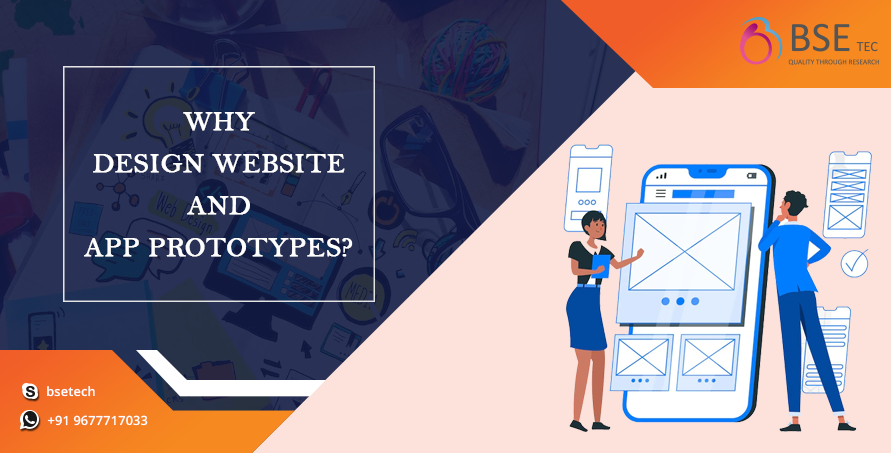 For effective product development process tools like prototyping help to accelerate the process and is the first step to demonstrate your idea that will help you to validate the product by getting a thorough insight into the product design, interaction and ideas. Web and app prototypes help to reduce the overall development time. It also helps to align the vision among the stakeholders and users. It has a major role in collecting the valuable user feedback and finally brings the design idea to life. Except for that, prototyping helps to prevent prior investment of a huge amount into a digital product like an app or website, and it helps to see whether it is functional and looks appealing or not and the design is having a user friendly interface or not, which can be checked by prototyping. Prototyping for websites and apps is an integral part of the design process which allows one to turn a vision into something tangible in order to test its functioning with the real users before the web or app is launched. Prototyping allows the product teams to experiment and explore the various approaches to an idea before selecting the one that is the most valuable both from a user and the business standpoint. All of these can be easily achieved with the help of Protomock. 
Why design website and app prototypes?
The answer can be given as follow:
Better understanding of the intention –

Getting a strong visualisation of the design to understand the look and feel of the final product helps the team to comprehend better what they are designing. This also gives a better grasp of the intention why they are designing and whom they are designing for.
Prior changes to save time & cost –

After the entire website is completed, if there's a single error or glitch, then restructuring the entire thing from square one does not only mean a lot of work but also will need a lot of pointless re-investment. Thus, prototyping to create a design mockup helps to prevent such errors and saves time and cost. 
Validation before development –

Prototyping makes room for having multiple discussions between iterations before getting into the final developmental process of the app or website. This iterative process makes it easier to have surety in the product that you are building is actually what is needed. 
Evaluation of technical feasibility –

To have an idea and for understanding which aspect of the idea proves difficult or impossible to implement in real life, Prototyping helps to understand the unanticipated constraints like physical, technical and financial ones. 
Presenting the idea to the customer more clearly –

Having a prototype gives a concrete idea to your customers about what exactly are you offering and do they like it or not. 
Reducing risks –

The concrete idea presented before the customers helps them to give their focused feedback. These opinions can be collected through testimonials and recommendations of your potential customers, which reduces the risk of failure and help you to plan prior to the development of the final product. 
Conclusion
Prototyping helps to make the process of development of a site understandable, controllable and more comfortable for both parties. Protomock is the one stop solution for cutting edge Prototyping needs. From fully customisable templates to multi-language tools along with design support, you can get it all at Protomock. Contact us today!