Advantages of Adopting an Upwork Clone Script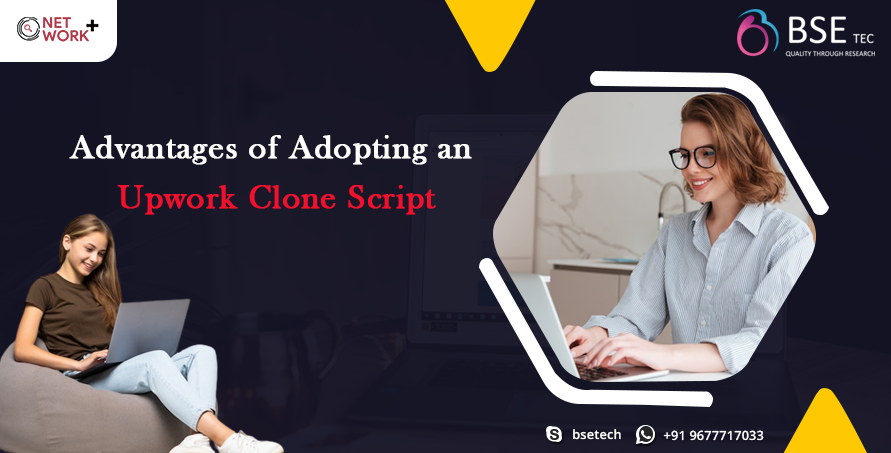 The millennials are getting more and more inclined towards becoming self sufficient. 
In the professional market there has been a great demand for a freelancer website. The marketplace for freelancers is witnessing a rapid surge in numbers as everyone dreams to be their own boss today. The perks of working independently by counting their skills, talent and potential have been understood by the people and to bridge the gap between the clients and the freelancer, such apps and websites are being developed. It is a fertile ground for earning as an independent business house. Gigs economy is rapidly getting popular and widely being adopted by entrepreneurs to develop a business out of freelancing websites and apps. However, building an app from scratch seems too hectic a job for any web developer and they charge a fortune, which can put you in debt. To save you from all that hassle, BSEtec has come up with the seamless Upwork clone– Network Plus. 
The upwork clone script assists you to build a platform which operates similar to Upwork. Job seekers and job providers can easily communicate between each other on a global platform. The freelancer or the job seeker can put down his skills and his areas of expertise, while the client will choose among the pool of freelancers, which will be the most suitable one for his work. 
Advantages of Upwork Clone – NetworkPlus
DEEP CUSTOMIZATION–

NetworkPlus has highly customizable features and templates, that can be modified according to your preferences. It has a wide array of color schemes and beautiful themes to choose from. 

INCREASED VISIBILITY–

As it is a readymade clone script, replicated from a highly popular freelancing website, the chances of success are high. The Upwork clone will increase your visibility and help you gain traction and attract traffic to the site. 

COST EFFECTIVE–

Clone scripts are very cost-effective. It doesn't cause a hole in your pocket, as it is already developed and does not require to be built from scratch. 

LOT LESS TIME CONSUMING– The readymade clone scripts take much less time to develop a site than to start building a site from square one. It will develop your site approximately in a matter of a week. 
SOCIAL SHARING–

The freelancers can share their gig in their social media, which does not only help them to get a client, but also bring more traffic into the website. It makes it easier for people to find the site and this by default boosts the brand visibility. 

CUSTOMER SUPPORT– 

BSEtec provides 24X7 customer support. So, any glitch or bug, we are right at your service. 

NO PRIOR IT KNOWLEDGE REQUIRED–

For building a freelance website from our upwork clone script doesn't require you to even write a single line of code. You can easily just customize the site, finalize the look and you're good to go. Our in-house experts will help you in the entire process. 
Conclusion
The huge ocean of ease and advantages of upwork clone tells why you should choose NetworkPlus for your Freelancer app or website. So, get in touch with us today!