Simple guide To Start Your Freelance Marketplace business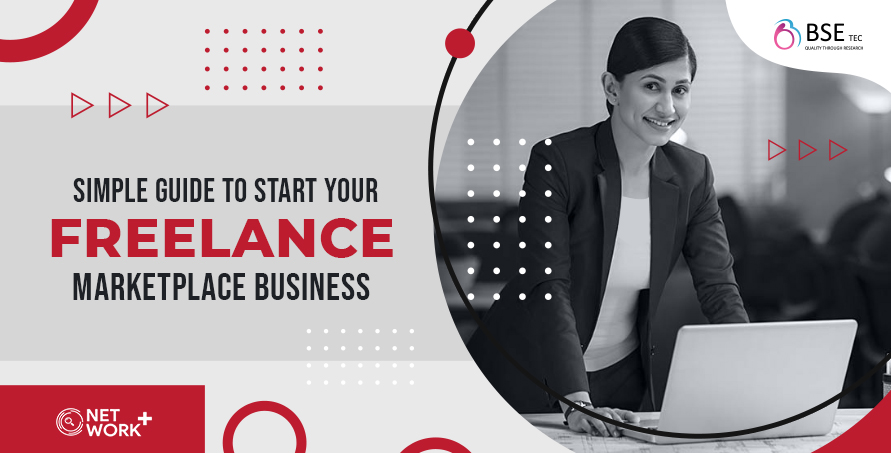 In the year 2020, The number of freelancers is increasing rapidly, And most of the freelancers are professional skills holders like Content experts, Developers, and Graphic and web designers. Also, there are a lot of financial experts that are joining freelance marketplaces to work. The reason behind professionals is leaving secured jobs, And coming into freelancing is because freelancing gives liberty to work on their terms. Professionals in the corporate world paid less for their incredible work and hard-working hours. But in freelancing, they get a chance to develop their skills and talent as their brand. Also, they can get any project from any employer in the world, And there are no boundaries. There is also an opportunity now for entrepreneurs to develop their freelance marketplace with advanced upgrades that existing players lack. We at BSETec developed NetworkPlus. NetworkPlus is an advanced Upwork clone script loaded with all the exclusive features that the Readymade Upwork clone requires. Well, We can tell you what you can do unique to do that helps you gain more users and spotlight. 
Don't target the mass :

 This is the problem with most freelancing bidding websites that target a mass audience and neglect their focus from only skilled professionals. We know when we target every audience to our freelance marketplace then it affects the quality and consistency of the skilled professionals on the platform. So try to filter the categories and targeted audience at the earliest. You can make this as your USP to review every single sign up on your platform. You can set some parameters to be on this platform where each freelancer has to stand, And you can review every sign-up according to that. This gives some quality to your platform, And clients will see the value of this approach, and freelancers with skills and talents will get projects more often. 

Profile verification :

 This is also important to know that you have to verify every freelance profile with the government IDs like driving license, Voter id, or any ID card. So that there will be no chance of fake profiles on your platform. Again this brings the trust of clients and freelancers into the platform. Studies show that freelancers leave the platforms where there are more fake profiles because it disrupts the bidding system and clients get confused between fake profiles and genuine ones. 

Reviews And Ratings :

 This feature is also good to have because with this everyone can experience the transparency in the business model. Everyone can give reviews and ratings to freelancers and clients after the project is complete. So that it will be easy in decision-making for the next project. 

Freelancers growth development : 

As the freelancer marketplace, you must give growth reports to freelancers on the basis of their performance and project competitions, So that your brand adds some value to their career. Also, You can set some milestones to achieve for freelancers, and also you can give some rewards to them after they achieve them. 
Why NetworkPlus for platform development?
First of all, if you are aiming to be the brand in the freelance industry then you must go with the brand for development. And NetworkPlus is the exclusive product created by BSETec. So with NetworkPlus, You are not only getting an advanced Upwork clone script but also you are getting the expertise in the technology industry with it. And We are well known for our customer's relationship management because we act as a technical pillar for every platform we develop.
With NetworkPlus, You also get many readymade features like 
Advanced Admin Dashboard
Freelancers Management
Client's Management
Transaction Management System
Multiple Payment Gateways
Profile Verification
Milestones Creations
Dispute Management System
Restful Application
Bidding System
UTC Support
Skills Management
Membership Plans
We at BSETec are fully equipped with the latest technologies to develop your platform in a way that it will be fully functional all the time. We also provide additional benefits to our customers like Free Installation, Free technical Updates, Premium Technical Support, and Many more. Why don't we just have a virtual meeting today about your development plan? You can directly fill a short form below and our product expert will be with you. Till the time our expert contacts you, You can explore the free of cost live demo of Upwork directly at Network Plus.