Don't Build It, Fake It First – Prototyping for Mobile Apps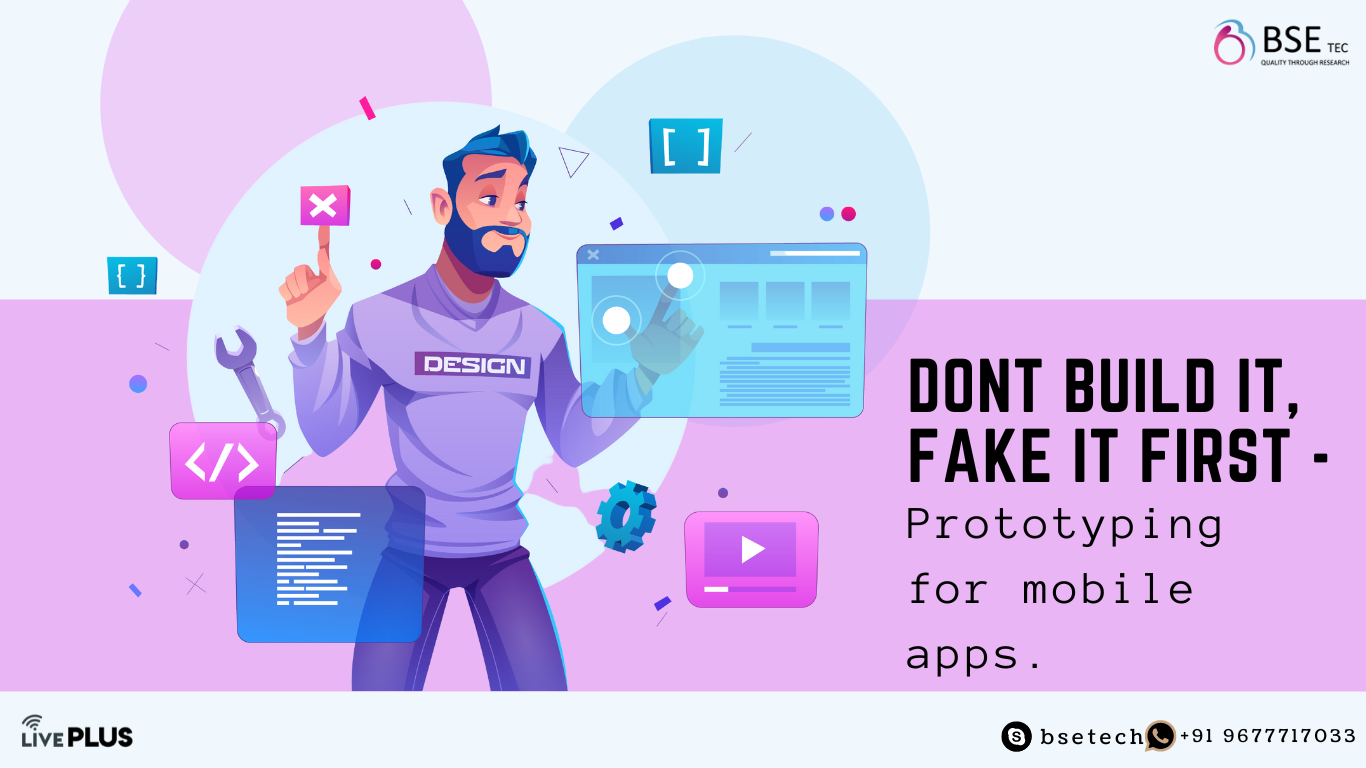 Prototyping for mobile applications has never been as easy as it is today. It is a very crucial stage in the app design process as it can contribute in tackling many shortcomings that might occur during the stage of development. Playing with the ideas and concepts of the design before the development process begins helps to give valuable feedback that shape the final design. The act of creating a model of a product so that the users can test it before one spends their valuable resources like time, money and energy is done through prototyping. This small amount of time that they spend in  prototyping can create a product that offers significantly better user experiences than the ones that move from the stage of concept to production with no evaluation or prototyping stage in between. 
The prototyping techniques for mobile app includes the following–
Understanding the problem– While creating a quality app, you should be sure that it is a problem worth solving. Your mission should be to fix a problem through the app, by either making an eLearning, eCommerce, Live streaming, Social media or a Real Estate platform. Ask yourself the question: how is it going to benefit society? Then proceed further with your prototyping procedure. 
Identify the function of the app– When you're sure of what purpose is your app going to serve, now it's time to identify and brainstorm what are the type of functionalities it may have– should it be compatible in iOS or Android, or both, what features will it have– from login, to checkout, to social learning, to AI, AR and VR– what features do you want to integrate. 
Define your niche market– It is very crucial to know who your niche market is, and how will your target audience react after they see the app. So you have to create the app keeping in mind their needs and preferences and design it accordingly. But, remember, a prototype is not the final app, it's just a mockup for understanding the basic design and features of the app.
Create wireframes and prototypes– From creating wireframes to building it further into an interactive prototype will help you to see your final design clearer and better. You can understand the look and feel of the final app, which is enough for getting feedback from your users and whether it is good enough for taking it further in development or not. 
Share it among investors– Now that your prototyping is done, you can show your prototype in a big presentation in front of investors and stakeholders. The best part is that prototyping didn't even need you to invest a ton of money like you need for creating an actual app. You just designed the app and now other people can invest in its development. 
Conclusion
If you have an idea, which you want to bring to life– Protomock is here– the best prototyping software for mobile apps, which will take care of all your digital needs. For further information, contact us today!