Four Ways to Live Stream Like a Pro with LivePlus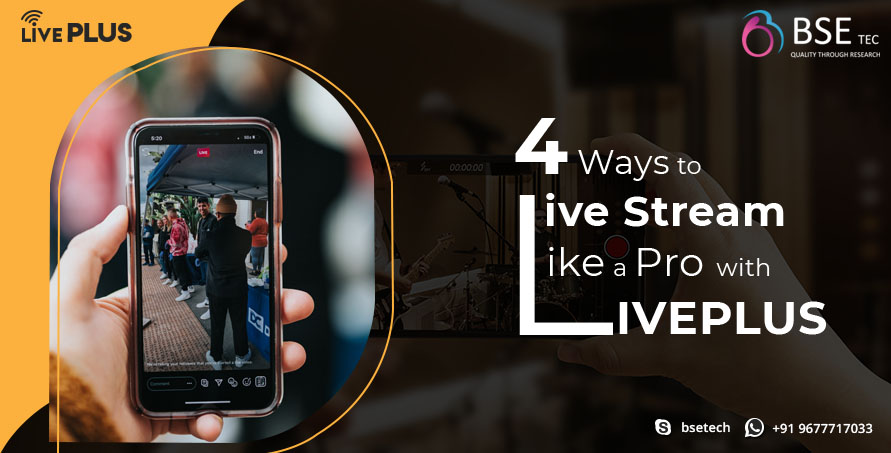 The lucrative opportunities presented by live streaming are being leveraged by businesses of all sizes and shapes. With videos dominating the marketplace, live streaming is becoming an essential tool for catering better reach and engagement with their target audience. The trend of live streaming is growing at a tremendous pace along with the rapid advancements in technology. Live streaming quite authentically opens up a new way for brands to reach and connect with the audience in real time. Even if you are a total beginner or you have been live broadcasting for years, there are plenty of ways to captivate your audience and amplify your brand reach with the powerful tool of live streaming. This has led to many businesses and companies to invest in live streaming apps like periscope, bigo, etc. and websites for enhancing their existing businesses. However, an app to be developed from scratch is a lot of tedious and time consuming work, which also costs a fortune. But thanks to live streaming clone scripts like Live Plus– a Periscope clone script– which are not only affordable but lets you live stream like a pro. 
Live Stream Like a Boss in 2021
Some methods by which you can live stream like a boss are–
Broadcast Q&A sessions– Hosting live Q&A sessions enhances both the quality and quantity when it comes to facilitating user engagement. Instead of inviting random questions you can make it effective by picking a subject for your session. You can prepare your answers beforehand by asking your viewers to post their queries and reply to them at your convenience. Through your life stream you can discuss many topics and answer questions that are worth a detailed explanation and allow your viewers to enjoy a sense of personal connection. 
Take your audience BTS– The audience is always interested to know what is happening behind the scenes of your business. From popular events, to bloopers and behind the making of videos are popular search topics on YouTube. Keeping your narration short, simple and crisp to make your viewers understand the things right away is very important when you are showing your behind the scenes where you portray how your business processes work, or how your teams come up with product ideas and how you test new products etc. 
'Go Live' in offline events– Especially for a business that is new to live streaming, it is very crucial for them to stream an important business event or industry event for audience engagement and brand recognition. Moreover, the people who could not attend the event physically due to constraints such as geographical barriers or monetary issues, can also see the event in real time. So, you can 'Go Live' through your app and catch up with your global audience. 
Panel interviews and conferences via live streams– For making the live stream more informative and interesting, you can host live panel interviews with stakeholders and companies and business conferences among various industrial leaders and eminent personalities. This gives credibility to your organization and helps you build an instant connection and intimacy with your audience by giving them the power to comment and ask questions. 
Conclusion
Nowadays, any brand can live stream even on a small budget by investing in a live streaming script like Live Plus and creating an app or website of your dreams. So, if you want to build your brand to the next level– contact BSEtec today.