Mobile App Clone Solutions: Fastest Way to Start Your App Business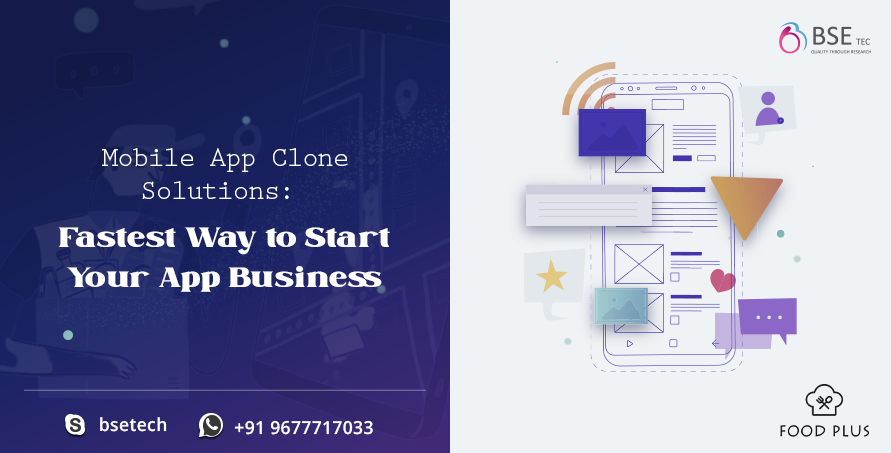 App-Based businesses are now the trend and it doesn't matter if you have an idea, Physical business Existence, Organization you can develop an application to scale your Brand. You can develop your application today using sustainable resources and advanced tools at superior efficiency. It is great that we have come a long way today where any entrepreneur, small business owner, the corporate leader can compete with equality by using the advanced and affordable medium of development of ideas and unique business models. 
What are mobile app clones?
Clone scripts today are the smartest source of app development, Where anyone can create their application for almost any industry within a matter of hours. They are the readymade clean coded scripts performing on advanced technologies where you can integrate your customizations and get the most advanced application out of it. Mobile app clones are much more efficient, quick, and affordable than scratch development. For instance, if you are thinking of developing an eLearning application, Then you can use the Udemy clone script. In the udemy clone script, you would get the clean coded application script that allows you to develop an application like Udemy but with customized resources. For every application idea, you can find a clone script of the application that is already on the market. And if you have any customized industry idea, Then you can take any least relatable clone script, and then you can customize it accordingly as they are available in the Open source version. 
Best Mobile App Clone Solutions Available in Market
BSEtec is also serving in the industry with a wide range of Mobile App Clone Solutions with a great industry portfolio which you can relate with your brand. At BSEtec, We are empowering the entrepreneurs and businesses to develop their customized application for their process to make it much efficient for them to scale their brand. It is so easy to get your application developed by BSEtec, As all you need to do is Tell your requirements in the application, choose the suitable script, And wit for us to develop your application all according to that in a matter of hours, We even help entrepreneurs in product development and marketing so that they get all the digital solutions at one place. 
The most popular mobile app clone scripts developed by BSEtec are
ExpertPlus- Udemy Clone Script
PazerPlus- Ecommerce Marketplace Script
LivePlus- Video Streaming App script
FoodPlus- Doordash Clone Script
NetworkPlus- Upwork Clone Script
InstasocialPlus- Instagram Clone Script
With Mobile App Clone Solutions At BSEtec, You are not only getting the mobile app clone script But also the expert guidance to build your brand with affordability and efficiency. We are also giving additional benefits such as Free installations, Free Technical Support for Three Months, Free technical Updates regularly, And much more. 
Explore the great technologies and tools we are using in our Mobile app Clones right now at BSEtec