How Augmented Reality Is Going To Change Your Business Strategies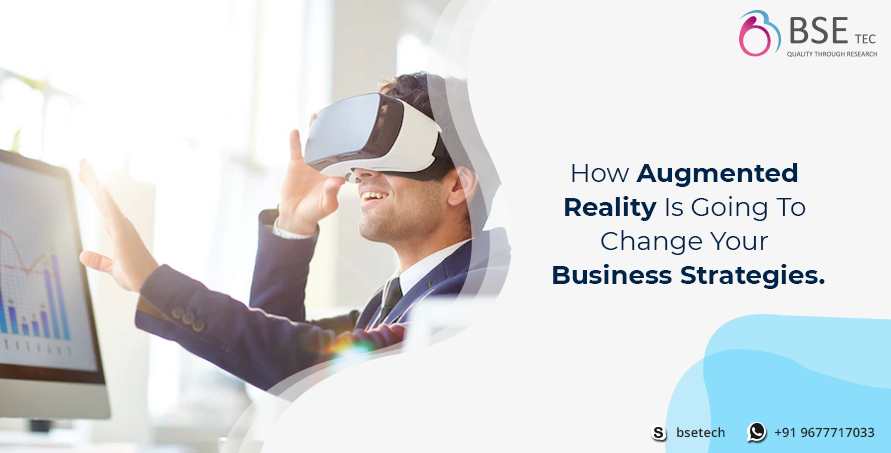 Augmented Reality is making its impact on every industry as a high-end interactive feature. Artificial Intelligence is upgrading the user-friendly experience with every step in every category and its high-end features like AR and VR. We at BSETec, Always are excited about the applications of Augmented Reality and its potential of making any platform more interactive. Many industries are making use of the benefits of Augmented Reality in business like the Elearning industry, the eCommerce industry, etc. 
Here are some business strategies for Augmented Reality to make it better for your business.
Give the experience, They will buy :

 To make augmented reality for business more effective, You should give AR experience to your audience for free, and after the first time, Your audience will come back definitely. AR is all about giving the virtual experience of your product and service to the audience. 

Brand Recognition :

 Augmented Reality in business is the great medium of making an impact by creating an image in the audience's mind. The audience will remember your customer experience more than your product so AR will be better for the brand. 

Assistance :

 Augmented Reality is the best feature to use for making it easy to explain your brand's working and product assistance on your virtual handles. AR is used for making it easier for people to get your product and service experience virtually. Ikea and Lenskart are the biggest examples. Whenever you need a sofa or any furniture, You go to the IKEA application and try the furniture you like in your place by using AI-based camera features. 

Augmented Reality For B2B : 

AR improves B2B sales in the development of dynamic sales portrayal material. The old model used to arm sellers with leaflets and flyers, and perhaps a PowerPoint portrayal. With the introduction of AR in the sales, the model gets salespeople another explanation experience with the AR-powered customized device. It is easy to see which sales team has the upper hand.
Know more about Augmented Reality: Augmented Reality – A way to enter Virtual World
We at BSETec, As the digital software solution company, always want to make AR more useful by discussing the AR development ideas with new entrepreneurs and by discussing the ways of getting the most out of it. You can directly get in touch with our AI expert time today to make it worthy for your business to get this high-end technology. You can discuss your ideas for the development of AR in an affordable way possible only at BSETec. 
Contact Details
Email : support@bsetec.com
skype : bsetech