Four Reasons Why You Need an In-House Social Network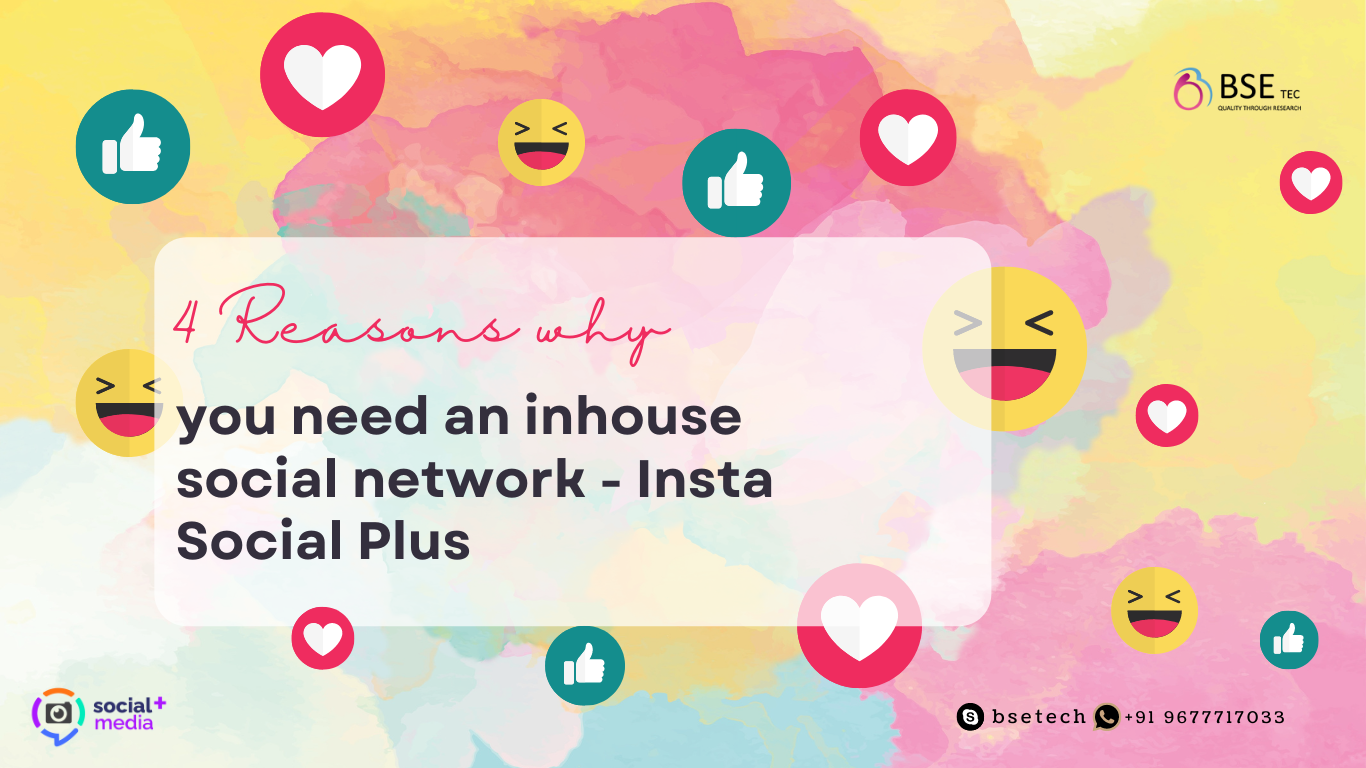 We as humans are all connected around the globe today, and we can share our memories, motives, thoughts, and everything with anyone on the planet now because of social networking apps like Facebook, Instagram, etc. 
But is that the only thing that social networking apps are capable of?
Instead of using Facebook, Instagram, or other social networking apps, what if we build our in-house social networking app? Why does your brand need an in-House Social networking app?
These are some questions that we are going to discuss today. 
What is an In-house Social networking app?
In-house social networking app means a business, brand, or organization developing an application to connect their audience for relevant content specific to their motives, needs, or desire. Social Networking apps are great for connecting a general audience or targeted audience with your brand and generate valuable leads today. Businesses around the globe are using social media marketing today to boost their online and offline sales using organic and paid methods. 
Four reasons why you need an In-House Social Networking app
Branded Content Delivery

– Social Networking apps are great to develop a brand and we have seen an n number of examples in the market where a product or service becomes a brand only because of its marketing techniques in social media applications. You can take your marketing and branded content delivery to the next level with your  in-house social networking app. You can build your brand community with engaging and interactive content with your targeted audience organically, Where other brands are spending a fortune on Fb and Instagram Ads. Who knows if you develop a brand through social networking app and you get a huge number of users in your application following just your brand, 

Control Over Insights and Data

– As we all know data is the new currency and a valuable asset today. In social networking apps, You can collect ethical data in large numbers and use it ethically to boost your business sales and improve your services. In an In-House Social Networking app, you can collect and analyze your own collected data in any way you want, And even you can make a great brand out of it by doing everything ethically as we all know users are searching for healthy alternatives of social media giants today who are protecting their privacy and data. 

Privacy and Support Advantage-

In-house social networking app gives you an edge in taking your users and your privacy and support system to the next level. You would not have to wait for a third party to offer you the support or clearance on privacy but you can control those under your wall. We also know that social media giants like Facebook, Instagram, and others are facing more issues when it comes to privacy and today users are well aware that they need to switch to other alternatives, You can build an Instagram app where data protection and support system is the priority and you would get a great number of users if you are using data only for ethical use. It is an opportunity for your brand to build a community in a well-established and successful industry where there is great demand and high revenue is involved. 

Boost in brand recognition

– Every entrepreneur is trying today to get into the spotlight by any means and an In-House social networking app with unique features and quality content could easily get you in the spotlight where not only you get brand recognition but also you can boost your website traffic and sales. Development of the social networking app is not that difficult today as we have readymade resources available to develop an Instagram-like app in a matter of days. . 
Social Networking apps today are great for posting business ads and get website traffic. But the development of your in-house app and working regularly to build your audience, and then promoting your brand and its services is the path you may need to pursue in 2021. It not only gives you an edge over control on data privacy and content but also allows you to present your brand more brightly. 
Let's see how you can build social networking app
Development of an Instagram like app today is easier as the Instagram clone script is available in the market, Where you can customize the script with complete access to source codes and add advanced integrations to develop your In house social Media app the way you like. It is the smartest way of developing an app, and you can even get your hands on advanced tools and technologies in your budget cost. Development and launch of your social networking app are much easier and quicker in the Instagram clone script as all you need to do is give your requirement and the clone script provider would give you the developed application in a matter of days. 
InstasocialPlus, is one option to explore if you are considering building a social networking app in 2021. InstasocialPlus is the advanced Instagram clone script developed and designed completely by the Professional developers and designers at BSEtec. We developed an end number of social networking apps with custom ideas and advanced features in the industry. 
You can also get in touch with us to discuss your custom idea of a social networking app for your business today and know more about the costing and time frame of such development at BSEtec. 
Explore the readymade features and additional benefits that come in this Instagram clone script by yourself at InstasocialPlus.