Rule the Real Estate Market With Trulia Clone App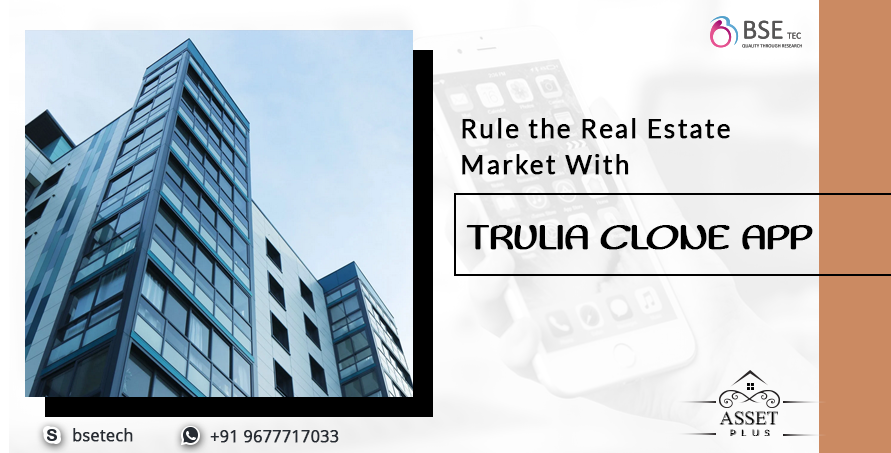 The real estate market is a much different market than other businesses as it is the niche category where the customers are categorized by their buying capacity and location preferences. You can't target the mass audience with the same products as the preference for the specific property for every customer makes it difficult to target. The online Estate market is today under development and this is the reason it is a great opportunity for entrepreneurs around the world to swoop in with advanced App development like Trulia or Zillow for property listing with advanced tools to cater to the entire market. You can earn huge profits in a short time with the property listing website and application in today's real estate market. Many resources in the market are available for you to develop your online real estate marketplace. Today we are discussing the smart source of development that is Trulia Clone.
What is Trulia Clone?
Trulia Clone is the clean coded clone script that allows you to develop your online real estate marketplace with readymade tools and features in a matter of hours. It is known to be the smart source of development as it is much more affordable and efficient in the development of real estate apps and websites just like Trulia and Zillow. 
Why should you choose the Trulia clone app for development?
To get into the market with the boom and to cater your services in flowing demand, you aim to launch your online channel as soon as possible. With the help of the Trulia clone script, You can develop and launch your Trulia clone app in play stores within a matter of hours with all the customizations and tools you require. Clone script reduces your development time by much more than you imagine. 
Development of the Realestate marketplace app from scratch will cost you more and as well as development. Trulia Clone scripts are not only quick to build but also cost-effective. As you are taking the ideas as well as the features from an already established platform, you will be able to save efforts and money at the same time. With the Trulia clone script, you are getting almost everything inbuilt. 
When you are going for development from a clone script, You wouldn't need a highly skilled team or knowledge in programming languages at all. The Trulia clone scripts are ready-made, built with cutting-edge technologies and the clone script providers like BSEtec offer customization as per your needs and target market at every aspect of development. We have a designated team of professionals for everything you need in your platform. 
We all know that in such a highly competitive market, you don't have the time to bring your resources together and do scratch development and wait for months to launch. With the Trulia clone script, you can earn an edge over the market by developing the most advanced real estate platform at the earliest. It is an opportunity for entrepreneurs like you to obtain a great market share at a lower investment of platform development. 
The Best Trulia Clone Script in 2021
AssetPlus is the best Trulia clone script in 2021 as it is the one-stop solution for your real estate business, Where you can overcome any business obstacle with advanced development and the concrete foundation of your online channel. The readymade features and tools in this Trulia clone script are the ones that are making it more worthy in the industry. the Readymade features in this Trulia clone script includes the 
Admin dashboard

Lead Generation

Analytics

User Management

Bidding System

User/ Realtor/ Agent Registration and Verification

Search by Property/ Location/ Realtor

Advanced Search

Heat Map

High end Exploring tools

AI-based Features

And much more
You can experience any feature, Advanced tools, and complete working of this Trulia clone script right now by using the FREE live demo. Also, We have some great additional benefits, and ongoing development offers for you to explore. 
Checkout the complete details at AssetPlus.