Tips to Make Effective Use of Online Learning Platforms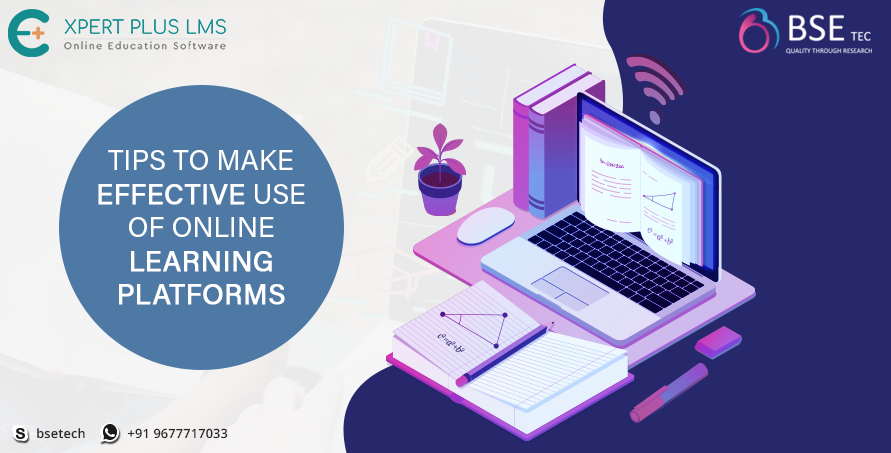 The Covid-19 pandemic has brought to our attention how important and valuable digitalization can become, especially for sustaining the educational and work ecosystem. All that is required is a smartphone and a steady internet connection. Students are finding online learning more convenient than traditional classroom teaching, because learning is more personalized and classes can be done and lessons can be learnt at any point of the day, with the flexibility of time and place.  
The huge demand for online learning:
The demand for online or eLearning is increasing by the day, and more and more companies and businesses are creating their eLearning platforms like Udemy, Coursera, Great Learning, Cursa, etc. Many schools, colleges, universities and other educational institutions have started creating their own Learning Management Systems.
Why should you use eLearning clone scripts for creating an online learning platform? 
Building an online learning platform from square one is extremely costly, and might lead to a hole in your pocket. Furthermore, it is overtly time-consuming, due to which you might be left behind by your competitors.
But, what can be the best alternative to from-the-scratch development? 
It is none other than, the seamless ExpertPlus LMS with a variety of features and modules. 
Here are some tips to make effective use of online learning platforms:
Set Goals– You need to develop a proper strategy and fix your target to achieve the goals in specific sessions. You cannot waste your time while online learning. So, you need to stay focused and committed until you reach your set of goals. Technology can bring the best things to you but if you misuse it, it has the power to destroy your career. Therefore, give importance to the study materials and worksheets and achieve the goals you've set for yourself. 
Discipline yourself– Self-discipline is the key to greatness, we all have heard it. But, using it while online learning is very important. The one who gets distracted easily cannot ever achieve great things in life. You are investing in your learning, so you should be smart enough for being disciplined and doing your work religiously. 
Convenience is not easy– We tend to take those things for granted which we get easily. So, having a warm and convenient environment can make you feel lethargic and lazy. However, you need to keep in mind, your participation is important during your lessons and you need to engage in yourself in the learning process while going out of your comfort zone and pushing yourself harder to reach the next level. 
Know your teacher– Before you join any online course, make sure you are in good hands. It is your prerogative to research your teacher so that you can reap the benefits by completing the course through getting classes from real-time professionals. Review and verify the credentials of your teacher if necessary. You have the right to choose the best teacher for yourself. 
Stick to one platform– The internet can provide you with a wide plethora of choices when it comes to online learning platforms. However, you don't have the time to consolidate 10 courses on the same topic provided by different online learning platforms. Moreover, you need to be dedicated and put your effort into the completion of one online course at a time, effectively. Therefore, sticking to one platform is suggested, instead of distracting yourself and using a number of them.
Summing up…
If you want to create your online platform for eLearning, feel free to contact BSEtec for its effective IT solutions and software for your eLearning business.