7 eLearning Trends the Most Useful for 2022 : Expert Plus LMS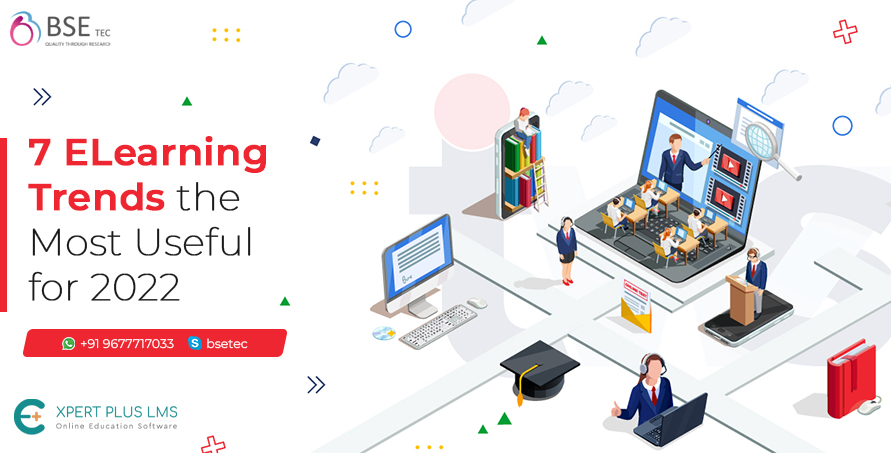 The world has changed massively and continues to change at a rapid pace. The year 2022 is both a time for reflection on the past and a prospect to emit your mind forward to see what the coming months have to offer. The COVID 19 pandemic resulted in schools shut all across the world. Globally, over 1.2 billion children were out of the classroom. As a result, education has changed dramatically, with the distinctive rise of e-learning, whereby teaching is undertaken remotely and on digital platforms. E-learning, or online learning, is a growing trend in the educational sector. In fact, recent studies suggest that the e-learning market will reach US$ 585.48 billion by 2027, from $ 269.87 billion in the year 2021.
Learn 9 New Elearning Trends & Predictions for 2021/2022 | Udemy clone App
E-learning is becoming a popular way for children to be educated. Children can learn from the comfort of their own home, without the need for expensive classrooms or teachers. Elearning platforms such as Udemy, Coursera- Expert Plus LMS have been around for several years and have tens of thousands of courses on them. Millions of students learn from these platforms and gain priceless knowledge from the best professors in the world. Most people consider them a true revolution in education. 
What are the most useful top 7 eLearning Trends for 2022?
Immersive Learning
Immersive learning uses artificial, digitally created content to create life-like scenarios in order to allow people to learn and perfect new skills. It includes augmented reality (AR), virtual reality (VR), and extended reality (XR). According to PwC, Virtual Reality (VR) and Augmented Reality (AR) have the potential to deliver a £1.4 trillion boost to the global economy by the year 2030. These technologies will benefit all industries including healthcare, education etc. by creating more efficient processes, enhancing training, and offering more ways for people to collaborate.
Also read Custom simulation E-Learning strategies that deliver immersive learning experiences
Artificial Intelligence
Artificial intelligence has been revolutionising the software industry over the past few years and now it is trying to change the eLearning industry as we know it. Most of all, AI's role in online learning has been seen in three aspects: personalization, efficiency, and learner engagement. Corporations and big educational institutions are using AI to develop voice-enabled bots to simplify content search. The idea is to create a virtual assistant that will answer student queries and help them with their doubts and to find the desired courses with ease and improve their learning experience.
Also Read How AI and language intelligence are helping employees learn
Gamification 
In 2022, gamification will continue to be one of the most popular elearning and LMS trends. Gamification allows to create an interactive, engaging and fun learning environment that allows people to learn more and retain the information longer.  It is also expected that revenue from game-based learning will jump to $28.8 billion by 2025. Gamification will become a central component of the eLearning strategy as organisations are willing to spend more and more on the gamified learning experience.
Check ExpertplusLMS – Top Gamification Learning Management Systems (2021)
Micro Learning
Microlearning can make the difference in the digital economy. Today's workforce is more complex, and the work environment has changed dramatically. Digital talent is a key success factor for organisations, and that means they need to get up to speed on new skills quickly. Microlearning is short and interactive, it makes it easier for the learners to process information, retain and apply new knowledge. It helps them to develop skills that are essential for their work that can no longer be automated.
Big Data Analytics
A multidimensional analysis of real-time data generates maximum benefits for educational institutions. The key is to identify learning objectives, and then utilize intelligent systems to generate a model by mining the data. It can help with the development and delivery of your training strategy too. They also need to know what tools will best let them access and interpret the information they have gathered. 
Also Check : 5 Major reasons for Datacenters to migrate to Hyperscale
Mobile Learning
The current Covid-19 crisis is creating a need for mobile e-learning solutions. The mobile learning market will gain momentum in 2022, particularly because tablets and smartphones are easily accessible and cost efficient compared to laptops and computers for learners training remotely. Furthermore, the introduction of 5G will also help to set in motion the mobile learning industry.
Social Learning
Social learning is the process of learning through direct interactions with others or by observing their behaviour. The goal of social learning is to understand the environment in which we live, and our place in it. Social Learning occurs when one individual's behaviour influences another's behaviour. Several eLearning platforms are using creative and innovative practises to promote interaction between users through teamwork and collaborative assignments. 
Look At : LMS and its Impact on Social Learning
Summing up
As time passes, we'll see what eLearning has to offer. Some experts predict that online courses will become more popular than traditional ones. Others say we'll see an increase in the use of mobile learning. The future of eLearning is uncertain. No one knows what the next decade will bring. The future of the elearning industry is quite unclear, but no matter what happens, it will be interesting to see how the online world evolves. Latest Trends and Features of E-Learning App like Udemy
If you want to create an app like Udemy – Expert Plus LMS, then contact BSEtec today to opt for Expert Plus LMS which will help you have a great elearning platform with a lot of features.
Tags:
e learning growth
,
e learning statistics 2021
,
ELEARNING INITIATIVE
,
elearning trends 2022
,
Expertplus LMS
,
future prospects of e learning
,
LEARNING ANALYTICS
,
LEARNING AND DEVELOPMENT TRENDS
,
learning trends 2021
,
MICRO LEARNING
,
MOBILE LEARNING
,
online learning
,
opensource udemy clone script
,
SOCIAL LEARNING
,
technology
,
udemy clone