The Best Udemy Clone script In 2021 – Expertplus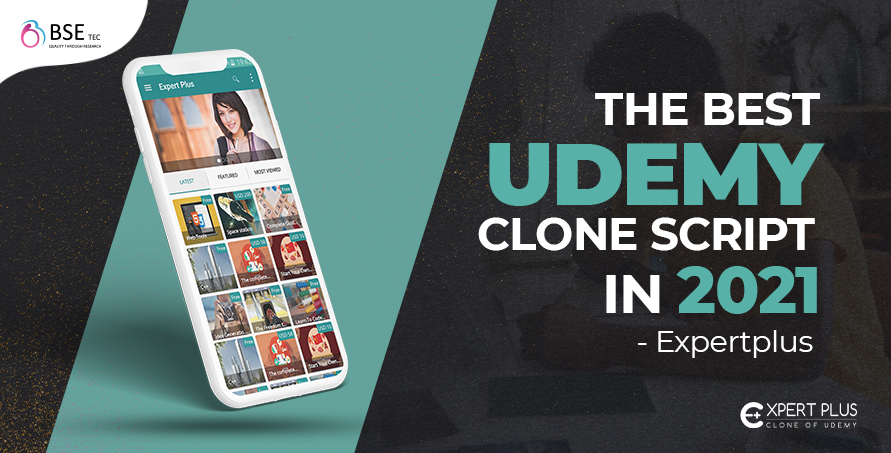 Elearning industry is experiencing an incredible boom because of its increasing demand all over the world. Developing an eLearning platform requires more in-depth knowledge about information sharing and teaching. And in addition to that, you are required to have some more valuable resources, to begin. Nowadays, For development, All it needs is the udemy clone script that allows you to develop your platform with the latest technology available at an affordable cost. You can check out the ExpertPlus- Udemy clone. ExpertPlus is the best clone script to develop eLearning software with high-end eLearning features and platform tools. It is the exclusive product of BSETec. 
Why ExpertPlus is the best udemy clone script to use in the year 2021
ExpertPlus is the advanced clone script that comes with many basic and exclusive features like
Managing tools :

 It comes with the advanced dashboard to get crispy insights, and also this script is so easy to use that a person with less tech knowledge can easily handle the tutorial site. Also, It comes with features like User Management and instructors management, Where you can control the users and instructor's working perfectly. 

Basic features :

 In this clone script, You get many readymade features like Social login, Bootstrap responsive design, Multiple Payment Gateways, Website security, SEO Friendly, Transaction Management, And many more. 

Elearning features : 

There are many features in this clone script to enhance knowledge sharing experience. For instance, Courses certifications, Course discussion, Modules Management, Quiz, Instructors Promotion, Admin Discounts, And many more. There are also high tech learning features like AI-enabled tools Augmented Reality and Virtual Reality to get the most out of the courses and to make it worthwhile for students to get enrolled in. 
ExpertPlus is also known for developing the most advanced online training software based on Laravel 5.5 fantastic framework with the bootstrap responsive design to make the eLearning software compatible with every device. With the open-source udemy clone script, You can even develop your platform with as much customization and freedom you want. ExpertPlus is widely used to develop eLearning Mobile apps because it got features like In-App purchases, High tech learning, Social Sharing, Course discussion with a quiz, Social Login, And Course reminders. You can also read this article to know more about the techniques to use Udemy clone scripts.
We at BSETec, Have the most qualified team of professional developers that develop your Udemy Android app as well as the Udemy IOS app with all the customizations you desire. To promote the motive of having a more advanced eLearning environment we are also giving the Basic version of ExpertPlus free of cost to entrepreneurs for the development of online training software. With this clone script, You also get some additional benefits like Free installation, Free Technical updates for 3 Months, Free technical support. You can also go through the free live demo to see how the final product comes to you at ExpertPlus.