How 9 Things Will Change The Way You Approach Artificial Intelligence In Udemy Clone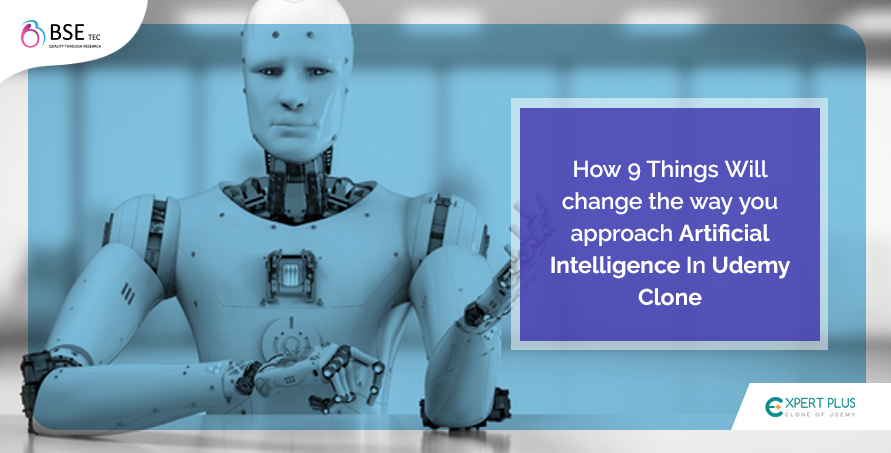 Developing a platform with a futuristic vision and with the motive of revolutionizing the industry is the best thing entrepreneurs can do. Elearning industry is experiencing the most demand and boom worldwide in the lockdown, But along with the demand and success it is also facing some challenges. Challenges like parents are still not trusting the learning management system as a useful platform for their children. So it is all now in the Entrepreneur's hand to develop a valuable platform that gives users value the same as the physical classroom. Artificial intelligence is the technology that deserves more spotlight in elearning software Because it has the potential to make your platform convenient and user friendly many times. If you are thinking of developing an eLearning platform then you must have this technology in your clone script. 
Here are some points that give more clearance on uses of Artificial Intelligence in online training software:
Ai gives better analytics :

 Ai also gives better analytics to you because it has the potential to analyze the mass data with high efficiency and with those analytics you can develop and upgrade your platform performance from time to time to make it more efficient for users. 

AR and VR

 : These are the star tools when it comes to eLearning because AR in elearning enhances the learning experience and content quality. Students are loving these technologies and now the majority of people platforms don't have the technologies like Augmented Reality and Virtual Reality. So it is an opportunity to grab. You can check out the udemy clone scripts like ExpertPlus, They come with these technologies as their inbuilt feature. 

Virtual Tutors :

 There are also virtual tutors that you can use in udemy clones. It makes your platform more user friendly and interactive. In between the lectures it interacts with students with some short games and quizzes to see if they are active in the lecture. 

Chatbots in forums :

 Forums are a more important feature in Udemy clone script and what can be better than them coming with chatbots that are AI-enabled. In the chatbots students can directly ask any question and AI will give them an answer automatically without waiting for the executive to come. Also, these chatbots are very decent and they sometimes play an important role in making the sale. 

AI boosts completion rates :

 AI also helps in increasing the completion rates because it almost decreases the challenge where students can't stick to the course. With these technologies and high-end tools. Students give their full interest in learning 

AI drives more efforts :

 With the AI-based features, students can't just skip classes and take the certificates so they have to sit and learn in real-time to get their certificate as they do in classrooms. This is what parents want and when they see this happening they start to trust the platform. 

NLP (Natural Language Processing) :

 NLP is a feature of AI that enables the platform to learn and understand the human language and process data through it. This makes the platform more user-friendly as a computer now exactly understands what you want, and you will be, More comfortable and get your answers quickly on the platform. 

Generates content :

AI is also known for generating fresh content like short animated movies and gifs to provide more learning material automatically to your audience. This feature enables your platform to design and develop by the user's choice on their own. 

Personalized Learning : 

As we know targeting a mass audience is now for no use because every platform does that but what if we target a mass audience with personalized learning and customization according to their choices. AI can understand and analyze mass data, and it enables the personalized learning experience according to that data. 
At BSETec, We always find ways to add more value to your platform development. And developing the platform with ExpertPlus always gives your platform an upper hand because of its advanced technical base. We created expertPlyus exclusively with high-end technologies like AI-based tools and other development tools. We are also on track to boost our research and development by getting more information on technologies like deep learning and machine learning to boost our AI features to safer and high-end versions. We also recommend you to go through the free live demo now to see how espertPlus works as the final product. With ExpertPlus, You can also enjoy additional benefits like free installation, free updates, and premium technical support. Get yourself the free of cost version of expertPlus today to take the first step towards the development of better eLearning software with ExpertPlus.