Instagram Clone – The Best Readymade Script for your Social Media Business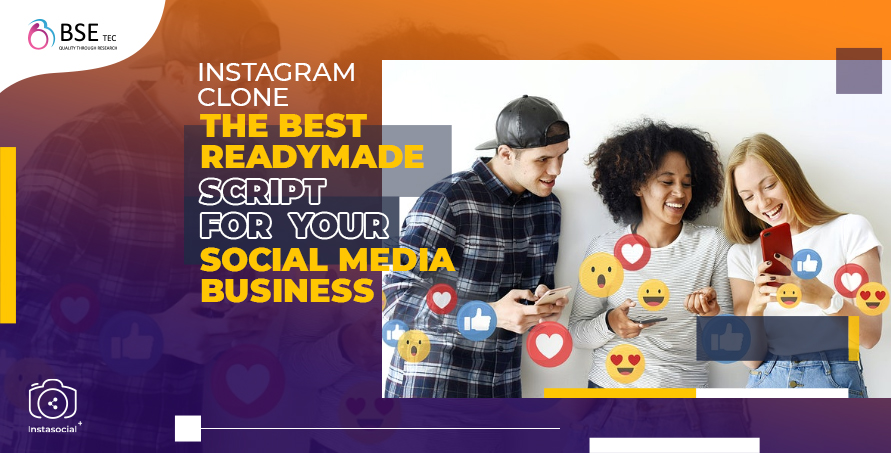 Developing an Instagram clone is the best online venture you can start in 2020. Weel, not because of its potential of gaining tremendous engagement but also because of its unique business model. Instagram pushes the limits of being a successful model with its User-generated application model. Instagram like app development is even not hard neither it costs you a fortune. There are web development companies like us that develop advanced Instagram clone scripts like InstasocialPlus. InstasocialPlus is the highly customizable open source script that comes with the latest technology available to make it more advanced and fully functional all the time to give your users the best memory sharing platform to use. 
Why InstasocialPlus for development?
Well, The entrepreneurs desire to have many unique features and they need a clone script that allows them to add more creativity and beautiful designs to the Platform. InstasocialPlus have them all. At BSETec we give full freedom with the tremendous support of our expert developer's team that helps you create the platform the way you desired. Also speaking of features, This clone script has some more useful web features like
Advanced Admin dashboard

Users Management
Posts Management
Templates Management
Mail Settings and many more
Along with web features, It is also loaded with features for an Instagram clone for Ios and Android. For instance,
Content Focused Material Design

Admob Ad network
One signal Push notification
Video/photo Filters
Signal Sign-In
Discover Users
Android and Ios studio
Firebase Analytics any many more
There are also some unique ideas that you can adopt for more users and to make your platform more successful. For instance, 
Live streaming experience : 

In many social media apps live streaming is treated like the lowest priority feature but we know that live streaming on social media feature can be the best feature that you can focus on your platform to get more viewership

Influencers marketing : 

To get the mass audience you can get some influencers to be on your platform and they can drive the mass audience to your platform in a really short time. Influencers marketing even costs less than the other paid marketing stuff. 

Make it a safer place :

 You can add some more policies and security features like profile verification for all to make it a more secured and unique social media platform and this also increases your brand image because you will be going against the fake users and with this, you can enhance your user's interest in the platform. 

Verified Ad model :

 Generally users are now hating the spam ads and the most irritating direct call to action ads. you can develop the platform where business must come up with some unique and content-driven advertisements that go with your platform's approach and content to make it more relatable to the audience and less irritating. You can also refer to this article to know more about

developing a good social media business tool.
Starting an online venture is always beneficial and affordable with BSETec because BSETec always acts as a technical pillar with entrepreneurs to give the worth they spend on the platform. Also, the readymade clone scripts created by us come at a more reasonable and lower price than the industrial standard price. You will also get free installation and premium customer support for free like benefits. Why don't you just fill the form below and raise a query to discuss your views and ideas on the development of your next big social media platform? You can also explore the full list of features and additional benefits only at InstasocialPlus.