Why Is Everyone Talking About Udemy Clone Script?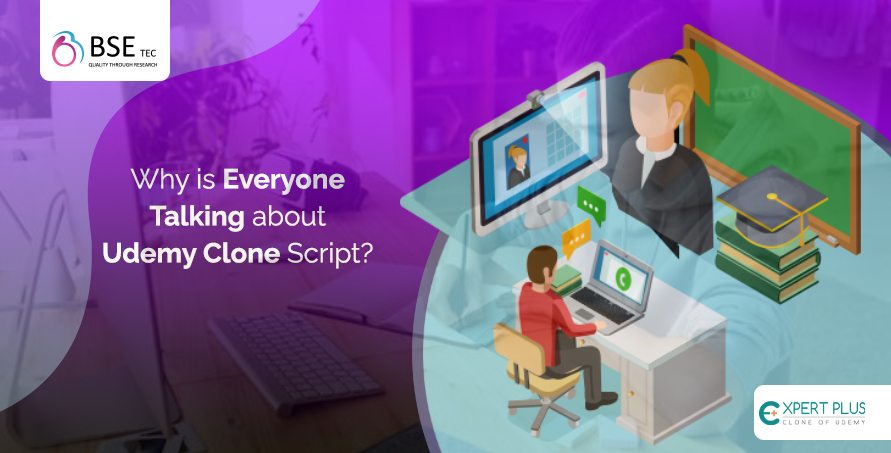 In the year 2020, the eLearning software is getting into the spotlight on the internet worldwide, Due to its massive demand because of the global pandemic. And after being in the spotlight, It is also in the sight of entrepreneurs to make it more effective and upgraded for convenience and more enhancing learning experience. That's the reason entrepreneurs are searching for the perfect and most upgraded udemy clone script to develop more advanced platforms. The reason why everyone is talking about the udemy clone script is that entrepreneurs can see the gap and challenges coming in the way of education coming fully online like no high tech teaching for all, Lots of distractions, poor management, Old concepts, and poor content. Everyone knows that by utilizing futuristics technologies and better management only we can fill those gaps. That's why We at BSETec created ExpertPlus – Udemy clone script to help entrepreneurs in the development of such a platform. Here are some developments that people demand in udemy clone scripts in 2020.
Be involved :

The eLearning where we only get the recorded courses and content is not even worthy to watch anymore for kids. And most of them don't even saw these videos in full. They just skip the parts to gain a certificate and this is the only reason that parents hate about eLearning software. They are not interactive and rich in content to attain the attention of their users. If you are going to develop your

learning management system

then make sure you manage your courses with interactive course content and rather than a maximum of recorded videos go for scheduled live interactions and webinars for a particular course. Make eLearning study more interactive and connected as like students feel the vibe of a classroom exactly.

AR, VR, Virtual assistants : 

We at least talk about Ai based tools like Augmented reality and virtual reality like whenever we mention udemy clone. It's just certain that these tools will enhance the user experience many times and it's a futuristic technology but it's not that far from now. Your eLearning can be the biggest platform with especially utilizing these tools in content. You just need

clone scripts

like ExpertPlus, That comes with high-end technology and clean code so that any customization and add-on would be fully functional also this script is loaded with readymade High tech learning feature. You can use features like Augmented reality and virtual reality in your course content so that you'll be able to provide the best in class learning. For betterment, check out this article to see

how you can utilize the clone script fully

for better results. 

Revenue machine : 

Developing a platform like udemy with a futuristic approach will be the revenue machine for you and the more it grows more it develops itself through the time. It's just a matter of taking the first step into the technical part by choosing the right udemy clone script for development. Choose only what suits your desires and what feels futuristic. 
At BSETec, We are just serving entrepreneurs with advanced and fully equipped scripts and for the eLearning industry, We created ExpertPlus- Udemy clone script to allow entrepreneurs to create something futuristic and advanced out of it. It comes with all the features you can think of like website features- Admin dashboard, Users management, Modules Management, Certificate Management, Database Management, and many more. Application features like social login, course certification, Course discussion, Reminders, etc. For more details about udemy clone and technical requirements. Checkout ExpertPlus.