Fully Utilize Udemy Clone Script to Enhance Your Business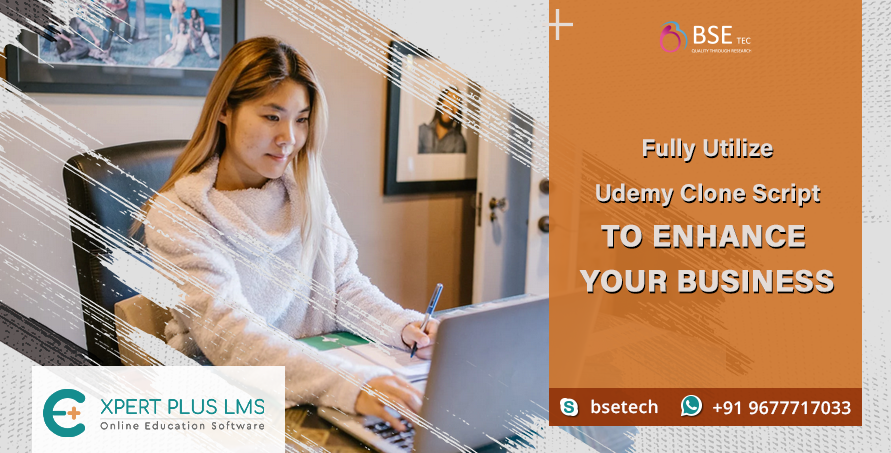 Online learning is trending everywhere in the world right now because of the Covid-19 pandemic. In online learning, not only the students from college and universities are getting their degrees and diplomas from online platforms, but also the individuals who are eager to learn a new skill are also coming and getting valuable certification for that. The business model of the learning management system is so successful that entrepreneurs are finding a way to develop the platform with more engaging tools and advanced features.
  Our team of professionals created Expert Plus- Udemy Clone Script to help those entrepreneurs with the latest technology in online learning and also at affordable prices.
  Let's discuss some points about how we can fully utilize this script to get the most out of it- 
Importance of features: In the eLearning software, it is most important that you know about the web and Application features you are getting in your clone script. The features are the ones that engage users in the platform and make the learning experience better. With

Expert Plus LMS App

, you are getting advanced web features like an easy-to-manage Admin dashboard, Users management, Modules Management, Certificate Management, Database Management, and many more. Android features like social login, course certification, Course discussion, Reminders, and many more. These are the basic features that are necessary to give users a good learning experience. 
Future-Ready Technology: With the ongoing trend of online learning the tools and technologies are also upgrading themselves within the platform to give learners more than just video lectures and certificates. Technologies like Augmented Reality (AR) and Virtual reality (VR) will be the new face of online learning. Clone scripts like Expert Plus are created with the latest technologies and we are also working regularly on updates to make it fully functional with these types of technologies. 
Technical Expertise:  Although the

online training software

is so easy to manage on this script that anyone with less technical knowledge can easily manage it. But when you are enhancing your business model with futuristic technologies and when you are catering to the upcoming generation you need to choose a technical brand like BSEtec by your side. Along with the free installation and premium support, the Technical partner will also ensure that the software is working fully functional by updating it on a regular basis.
Are you planning to buy this app from bsetec.com if yes, you can directly follow these steps  
Visit Our Website
You can easily visit our website for better planning and execution. To buy Udemy Clone Script follow the link. 
Call Us
If you want to directly connect with us, you can call and connect with us immediately and discuss your queries. Happy to serve you! 
Meet Us at Our Office
We are open for your appointments and meetings with us, this would be a great opportunity to discuss ideas and get the best business ideas established for your e-learning business. 
Google Play Store or Apple Store
The Udemy Clone Script App is available on Google Play Store and even on Apple Store. We are helping entrepreneurs in developing their dream software with full efficiency and resources by becoming their technical pillars. 
Also Read Top Reasons Why You Face Obstacles In E-Learning Php Script 
Take Our Best Services for Technical Support and E-Learning Business Growth
BSEtec is one of the technology expert companies having more than 1000+ software and application tools and features for daily use in their online business. Connecting with our experts will help you understand the true benefits of the Udemy Clone App. Udemy Clone App majorly helps the business into the education sector. It has all the features that a school or tutorial usually handles while being physically present, the process of teaching. Now since everyone is using the online system, you can easily rely on Udemy Clone App for education businesses.
Also, Read To Start Your Own Online Learning and Teaching Platform
"Learning Online Is Fun and Challenging Yet very useful for Your Business Growth."
Conclusion:
Buy Udemy Clone App for free and get offers for premium support for your business plans, right ahead of your 2022 for success with the LMS app – visit www.bsetec.com or book an appointment on call. Hurry!