SEO and Content Marketing for Your Online Courses on Udemy-like Websites: Boosting Visibility and Traffic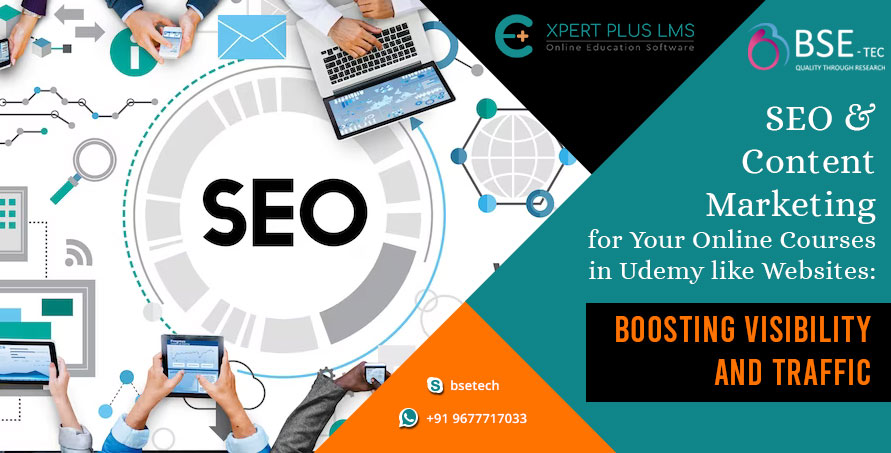 Are you an instructor in Udemy or other course marketplaces? Then you know the real struggle for ranking your courses among others! For instance, do you educate learners with "Python course" and the user hits search and gets a list of 10,000 course providers? Do you want to get listed on the 1st page of ranking in search in this competitive market? Get to know more about the tips and essential benefits to rank better in this comprehensive guide.
Do we need to work on SEO and Content Marketing for online courses?
Yes generically, SEO helps people find your content (course keyword), while content helps drive traffic to your site and improves your ranking. A successful content marketing strategy requires SEO and vice versa where SEO and content marketing are as similar as French fries with tomato ketchup bonding. To get the best results with your campaign, focus on building a strategy that incorporates these strategies together.
How effective is SEO?
Increased web traffic is one of the main goals of SEO, and you increase traffic when you increase visibility and rankings. Consider this for a moment: the #1 spot on a Google search gets nearly 32% of clicks and moving up just one spot in search results can increase CTR by an amazing 30.8%.
For example: when an instructor creates a course named "Programming in Python" needs to identify the list of keywords
1. Programming in Python
2. Study Python Online
3. Python Tutorial
4. Python Tutorial For Beginners
5. Learn Python
Once then start with a Blog (here comes content marketing) backlink your content with your course link. Make sure to add a keyword-optimized title and keyword tags relevant to your niche. #python #pythonprogramming #programming #python #coding #programmer #computerscience #machinelearning #programming in python #technologies #datascience
Regulate with protocols of SEO and Content Marketing to hold your position in udemy course marketplaces. There are a few strategies to help you optimize your courses and attract more learners:
Identify relevant keywords and phrases that learners might use to search for courses which you have created, Incorporates these keywords naturally into your course titles, descriptions, and tags. Also can use tools like Google Keyword Planner, Google Search Trends, SEMrush keyword tools and so on.. to find popular keywords with low competition, Use clear and concise search intent keywords to highlight the benefits and unique selling points of your course and to improve search engine rankings.
High-quality content not only helps improve your search engine rankings but also encourages learners to leave positive reviews and recommendations, boosting your course's credibility among various course creators. Optimized tags and descriptions help to increase the click-through rate, which also promotes increases in qualified web traffic.
Promote your courses on social media platforms, Linkedin, Facebook, Instagram, X, medium, Pinterest, Discord etc. to increase visibility and drive traffic. Share snippets of your course content, testimonials, and success stories to generate interest and eventually drive more traffic to your course.
Plan of Action to rank your courses
1. Generate backlinks from reputable websites and blogs to improve your course's authority and visibility. Reach out to industry influencers, bloggers, and relevant websites to request guest posting opportunities or collaborations to promote your course. Also, ensure to write up the blog content and reach in the market.
2. Look after your course material, design and layout of your course landing pages. Make them visually appealing, user-friendly, and mobile-responsive. Optimize page loading speed, as slow-loading pages can negatively impact user experience and search engine rankings.
3. Getting engagement with regulatory reviews and ratings can significantly impact your course's visibility, and encourage your learners to leave reviews and ratings after completing the course.
4. Regularly track your course's performance using analytics tools. Monitor key metrics such as traffic sources, conversion rates, and engagement levels. Use this data to identify areas for improvement and refine your SEO and content marketing strategies.
How does the Udemy clone script help?
What do you mean by udemy clone script? Udemy clone script is an open-source PHP script that helps you launch online courses instantly. Instead of signing up on platforms like Udemy, you can have your own online classes without paying commissions to third parties for hosting your courses on their platform.
Have you created a course as an instructor? but not sure how to get ranked /listed your course in the top 10 recommendation listing in the Udemy clone script? Almost 70% of consumers head to the search bar when they need to find something. Implementing SEO (Search Engine Optimization) and content marketing will boost visibility and drive traffic to your online courses on platforms like udemy clone script.
Remember, SEO and content marketing are ongoing processes even though you reach first place in search engines, optimize your courses, monitor performance, and adapt your strategies to stay ahead of the competition and attract more learners to your online courses. If done right, SEO can drive a 14.6% conversion rate. Looking to improve your course visibility & boost your sales rate? Reach BSEtec who are key players in Udemy clone script – Expertplus LMS also they assist your website and course to rank in top search.
Did you find this article useful? Let us know by leaving a comment below or join us on Twitter and Facebook.