Choosing the Right eLearning Platform: A Comprehensive Guide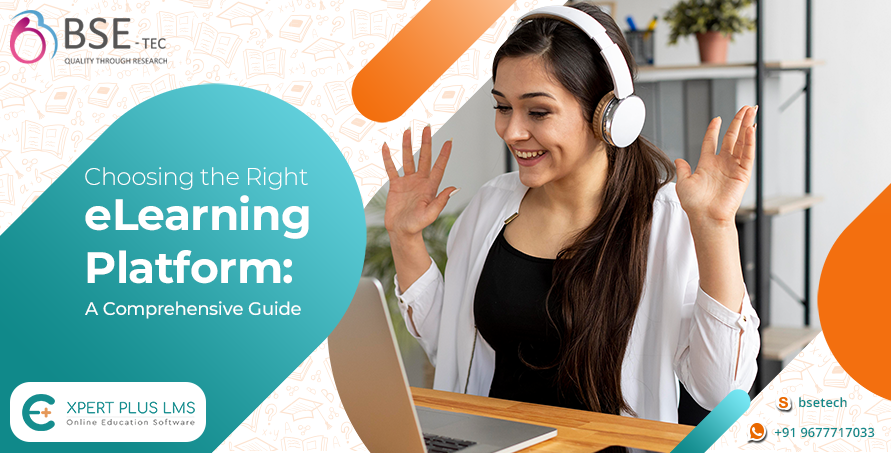 The term "E-learning and Online class" has become so mainstream post-pandemic. How do industry people choose the best E-learning software? Typically the eLearning platform allows you to digitize the content and deliver the course offered in music, arts, academics, add-on courses, passionate programs, and explore hobbies in cross industries.
How to choose the right eLearning or LMS software?
If you're deciding between a few LMS platforms, the checklist below guides you to choose the right elearning or LMS platform e-learning platform purchasing decision, the right eLearning software holds objectives such as, 
eLearning software can be local LMS or cloud LMS


Local LMS: The software will be installed directly on your company's servers implying the need for IT infrastructure and a dedicated IT staff to supervise the installation.
A cloud LMS: Being hosted on remote servers (in the cloud) does not require the installation of specific software.
Selective course: LMS well-designed ease of access, monitor & manage enrollments, course creation, material upload, live sessions, and take up the course.
Interactive Features: Expert plus LMS opts true potential of eLearning, and demands the incorporation of interactive features, such as quizzes, polls, and discussions resulting in active participation of users in session. 
Data and platform security: Expertplus LMS ensures that the information is handled according to the principles of confidentiality, integrity, and privacy of countries' regularities.
Scaling: The right choice of LMS software, eLearning software accompanies a burgeoning population of learners and a host of innovative features, without compromising the symphony of learning.
Gamification: In Udemy-like websites, social learning takes on many forms e.g. points, rewards, and leaderboards and has a motivating effect on learners.
Certificates: LMS platforms like Expertplus LMS curates the ability to create certificates through the platform to reward learners.
Offline access: Missed the classes/interruption of the network? LMS or eLearning platforms have recorded course material to keep updated day-to-day classes. 
Recommendation: Competition runs everywhere identify the top most trending course availed by users using the recommendation engine in Expertplus LMS 
Mobile Compatibility The ubiquity of Udemy clones like Expertplus LMS is compatible with mobile devices compels the selection of eLearning software that embraces mobile compatibility Learners access content smartphones tablets also web apps. The seamless user experience shall reign supreme, enriching the pursuit of knowledge.
Report LMS monitors the efficacy of eLearning initiatives and graphite a course for improvement and robust reporting.
Streamlining the course eLearning software expert plus LMS keep users on track such as push notifications or reminders. If you're selling courses, get a shareable link that users can follow to enroll themselves in your course & improve your business goals.
Integrations LMS guarantee third-party tools, plugins, and module integration and betterment of learners' one-point coverage mediums.

Storage: Course material, and recorded sessions are stored in S3 AWS, and LMS customized storage access to fit organizational needs.

Multilingual: Don't prefer a third-party translator?  LMS platforms support multiple multi-languages convenient for users to move to admin translate software packages /courses to their native language with no break in learning and reaching students across the globe. 
Whiteboard: Expertplus LMS incorporates Bigbluebutton's advanced online learning methodology with whiteboard practice in the eLearning platform to make the learning process interesting. 
Why is Expert Plus LMS the right eLearning or LMS platform?
Here is a list of Generic pre-purchase liners and FAQs on why Expertplus LMS is the right eLearning platform.
1. How long is the implementation process expected?
Choosing the package aspect decides the LMS implementation process respective of user experience, and commercials.
2. Can Expert Plus LMS software integrate with other systems?
Yes, LMS supports third-party API contributions. 
3. Possible to sell courses online via the Expert Plus LMS platform?
Instructor/ admin creates free or paid courses in Expertplus LMS.
4. Will Expert Plus LMS software accept online payments?
= LMS accepts payment via Stripe, PayPal, CCavenue, Bank, and COD if required LMS enhances crypto payment /wallet with Blockchain. 
5. What types of training does Expert plus LMS support?
= Offline/online training methodology is available in LMS.
6. Is Expert Plus LMS Accessible with a demo before buying?
= Feel free to contact BSEtec for Expertplus LMS – eLearning software demo, avail free trial 7 days validity.
7. Will the Expert plus LMS software team be available for enhancement?
= Are you with new ideas/extensions of features the BSEtec team is available for enhancement?
8. How about support post-purchase from Expert plus LMS software team?
= BSEtec assists with no constraints of timezone available via Email, Skype,telecon.
Words can't describe the potential growth of E-learning among the public. Still, queries get lined up ? But are you ready to get started with a functional, well-priced and supportive e-learning platform that will support you as you grow? check onto demo Expertplus LMS or take up a free trial from BSEtec – the Right eLearning software provider today.
Did you find this article useful? Let us know by leaving a comment below or join us on Twitter and Facebook.