4 Ways How Artificial Intelligence Therapy Is Reducing Depression And Anxiety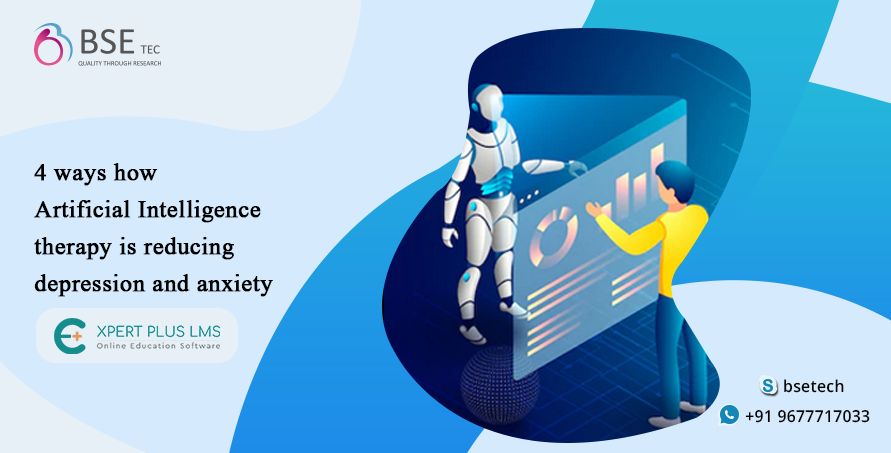 AI is already transforming different industries, including mental health. Machine learning and advanced AI technologies are enabling a new type of care that focuses on providing individualized emotional support. In a recent clinical study, scientists at Stanford University confirmed a new method of mental health therapy using Artificial Intelligence that showed a significant reduction in depression and anxiety. A study examined the real-world data of 4,500 Youper( An AI-based mental health app) users to gain an understanding of how AI therapy impacts symptoms of anxiety and depression. The users were followed for a total of four weeks; however, researchers saw levels of anxiety and depression decrease in two weeks. Researchers observed anxiety and depression decreased by 24 percent and 19 percent, respectively, in users within the first two weeks. Levels continued to stay low after four weeks of app use.
Read How AI-driven robots and drones bring cognitive intelligence to Industry
Mental Disorders Are the Costliest Condition: 
According to data stats, mental health became the most expensive part of our healthcare system, overtaking even heart conditions. According to National Institute of Mental Health (NIMH) findings from 2017, approximately one in five adults in the United States (18.9%) experiences some type of mental health disorder. Plus the stats got worst with the pandemic. According to one CDC report, which surveyed adults across the U.S. in late June of 2020, 31% of respondents reported symptoms of anxiety or depression, 13% reported having started or increased substance use, 26% reported stress-related symptoms, and 11% reported having serious thoughts of suicide in the past 30 days. These numbers are nearly double the rates we would have expected before the pandemic.
According to NIMH, an estimated 21 million adults in the United States had at least one major depressive episode. But not everyone gets the right treatment from experts because therapies are unaffordable for many.
Free And Accessible By Everyone:
Depression may be common, but many people are not able to access treatment. According to a report from the Substance Abuse and Mental Health Service Administration (SAMHSA)'s, only 63% of adults identified as having had at least one major depressive episode reported receiving any kind of treatment. The introduction of AI-based apps in the mental health sector is a boon to humans.
Apart from the cost of therapies, the availability of good therapists in rural areas is marginal. AI-based mental health apps are globally available free of cost. It presents an opportunity to access therapy from their smartphones.
Why AIs Can Do Better Therapy Than Human Therapists: 
The stigma related to seeking mental health therapy is yet another reason people don't go for therapies. So these apps help them to seek mental health therapies wherever they are. Some psychologists also convey that we find it easier to share potentially embarrassing information with a virtual therapist. In human-to-human interaction, there is often a degree of self-restraint. Shame can prevent people from sharing openly with another person. But with virtual therapists, people tend to open up even their darkest insecurities or things that are worrying them.
How does it work?
An AI-based mental health app is well equipped with AI models and Cognitive-behavioral techniques (CBT), which help an end-user find out a solution to his/her problem. These AI-based apps monitor users' health conditions.
These are basically chatbots, users can start the conversation with the chatbot by giving necessary inputs. The app captures the user inputs and then matches that with the AI models and CBTs. It provides emotional support with mood tracking, finding optimism, and reframing thoughts (CBT) in easy-to-understand and friendly chats. Besides providing personal meditation ideas, it also encourages you to take up family meditations to enhance the bond. Over the usage, the app builds users' own toolkit that could help them in a state of depression, anxiety, sleep issues, and grief. The apps are completely free but if you need therapy from a real psychologist or therapist, these apps have renowned psychologists who are available online,  but this comes as a premium feature. 
Conclusion :
The emotion detection industry is projected to almost double from $19.5 billion in 2020 to $37.1 billion by 2026, according to the market research firm, Markets and Markets. AIs and Machine learning are flawless and give better insights. So it is essential to incorporate AI to skyrocket your existing business. Polish up your existing business and make it thrive. To incorporate AI tools, contact BSEtec for more details about Artificial intelligence product solutions.