BSEtec – Successfully Launched its Next Innovative Live Streaming App, LivePlus – Clone of Periscope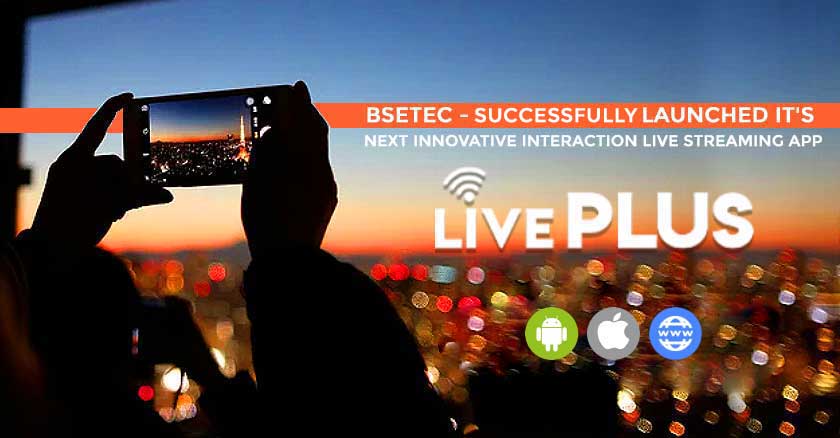 Today the World is running on innovative technologies basis. Moreover, numerous applications are being created for people entertainment. Moreover, when a person gets bored, only their smartphones will be their first preference. In addition, people love to have smartphone with high pixel just to watch videos. Watching videos are all of our favourite activities, not only for Youth but also several age group people are love to watch videos. Furthermore, they never accept the video buffering. Therefore, considering those video lovers, BSEtec, the leading web and mobile app Development Company, launched the most entertaining and interactive live streaming app LIVEPLUS, an ultimate solution to watch live streaming videos. LIVE PLUS has been integrated with a lot of fabulous features that blow our mind. LIVE PLUS is totally different from other entertaining applications that buffer in the middle when a network connection is not good.
Let us have a detailed view of its features:
Angular 5 ( material design ) – Liveplus built with Angular 5 material design in order to have fast, consistent, versatile & optimized application. We used the latest version of Angular in order to protect you from page loading.
Lumen – We used one of the fastest micro-framework as a backend called Lumen by Laravel to offer fast service to support your Laravel applications.
Kurento Streaming Server – LivePlus embedded with Kurento server for nonstop live streaming. It provides an open platform for your video processing and streaming based on the standard. Offering you several APIs that provides solutions for multimedia requirements.
Single View Application – Live Plus is integrated with Single View. Therefore, the pages on the application will load one time with rapid loading which makes the site more efficient to access. Moreover, viewers can view all the content on the single page that eases their search.
Replays – Videos broadcast on LivePlus has got an option for "Automatic Save" the enables users not to search for the save button. Moreover, all the streaming videos can be replayed within the time limit of 24 hours after the initial broadcast. This eases the viewers to watch the videos any time in a day.
Map View – Users are allowed to explore the videos being broadcasted in different parts of the world through the interactive and innovative digital map view feature. This allows you to search for videos by location and find streams of particular events taking place anywhere in the World.
Multi Broadcasting: Using LIVE PLUS application, users are allowed to broadcast numerous videos to any number of people. Moreover, they can share their videos, even to the single person.
Follow Users: LIVE PLUS enables the customer to make a track of their followers. Therefore, users can follow their follower's online activities through this LIVE PLUS.
Live Comments: LIVE PLUS is incorporated with a remarkable option called Live Comments, where users are not only allowed to watch videos but also like; rate; reviews or comment any video while broadcasting in live. Both users and video steamers can view these live comments.
Notifications: Live plus will allow customers to obtain live notifications of all their followers' recent online activities like receiving notifications when the video is liked; rated; and commented.
Social Login: User can easily login to this site with their social media network account just with their existing account details. Moreover, they can login with their email address also.
Go Live: Broadcast and watch live video to a gathering of clients with live comments and feedbacks. This component enables the client to make a separate group for their interaction on a few themes in live mode.
Furthermore, We will yet to launch separate LIVEPLUS applications for both Operating System, IOs and Android. LIVE PLUS will always be your companion in all your uninteresting times. You will easily get addicted to LIVE PLUS. Never get bored; be live with LIVE PLUS. Visit our official website: periscope-clone