7 Ways Online Freelancing Solution Can Make better business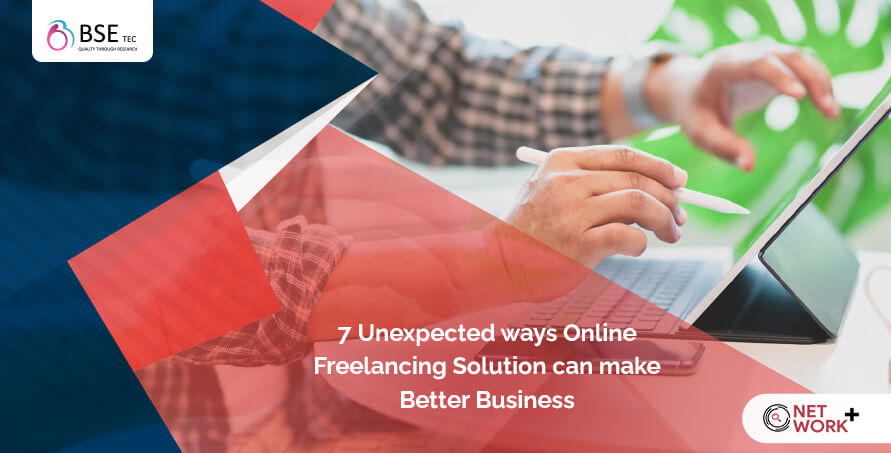 We have professionals in every category, Starts from software developers, digital marketers, content developers to designers, content writers, strategists, accounting, and finance experts. There is a lot of demand for these professionals in every category of business right now. Also, They don't come for easy payouts. And for these professionals finding the right project and the right company is so much difficult and exhausting. That's where the freelance marketplace comes as a big solution for both of them. For freelancers, They get to choose the work projects from their interest category and also with their favorable payout. Freelancers can be their boss and can work with on their chosen work timings as well. For clients, They have the liberty of choosing the work professionals according to the individual project. If the project is highly interactive and needs expert level skills then they can hire the expert skill holder at the industrial standard price and if the next project can be done with intermediate skills then they can hire the professional with lower payout and medium skillset. If you are an entrepreneur than developing the freelance market place is the best online venture you can start. There are clone scripts in the market like Network Plus– Upwork clone script, available at www.bsetec.com, It lets you develop your platform at ease. 
As a software development company, We are giving some points to consider before you go for a freelancing solution- 
Freelancers payouts

– This is the most important point in the

freelance bidding websites

. To make sure that freelancers earning management would be smooth and convenient. Most of the time freelancers leave the platform if the freelance earning management system is not convenient. Also, Don't charge excessively from them, Instead of that you can come up with the strategy of charging fees like the ones who serve more clients can pay less to you compare to others who serve fewer clients. 

Authenticity-

The major challenge where freelancers and clients leave the platform is when your platform doesn't do any profile check and two-factor authentication via some government-approved id's. These things will bring more interest and trust of clients and freelancers in your platform and the chances of disputes and errors would be less. 

Dispute management

– If we are dealing with humans then there will be some disputes too in the future and you have to be prepared for that. You need to have a system or support program where anyone can independently complain or register that dispute so that you can solve that with the best assistance from the backend directly. 

Relevance

– In the freelance marketplace job relevance should be up to the mark and in scripts like

NetworkPlus- Readymade Upwork clone

you get the feature of the extensive job search that gives your users the search relevance with more efficiency. 

Jobs management

– This feature is also important for making your freelancers platform more user friendly and efficient. with this feature the clients can rehire the previous freelancer for the next job and also freelancers can save the jobs they like and apply later after comparing. 

UTC supported platform

– The idea of getting work from everywhere in the world is amazing. And if you have features like universal time coordinator then you even not have to worry about the time gaps. The job and its deadlines will be shown only in your local time. 

Portfolio management

– If you want your platform to grow and make it profitable, then you need to give freelancers the features like portfolio management, That they can utilize to grow their skillset and profile for the future. 
You can also check out, this article for understanding the benefits of perfect script https://www.bsetec.com/blog/you-will-never-thought-that-owning-a-upwork-clone-script-could-be-so-beneficial/ At BSETec we are serving our clients with the best in class digital solutions. In Networkplus, our clients are not only getting a Readymade Upwork clone but along with that our premium customer support with the regular updates for your platform betterment. For more understanding on how all the features work, You can visit https://www.bsetec.com/upwork-clone/