The shape of Workplace E-Learning : Top 5 trends to Expect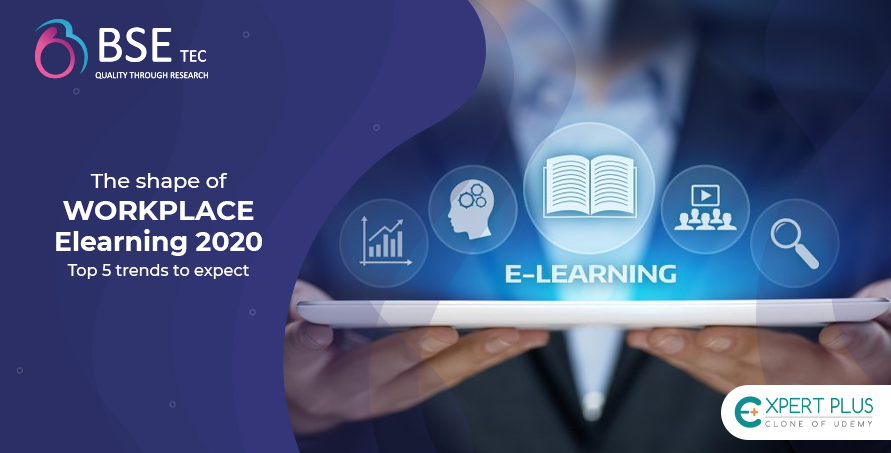 Employees are the biggest assets for any company and they expect them to be resourceful as well as give them adequate training to be so. But the outdated method of classroom learning no longer interests the employees. The introduction of Artificial Intelligence and big data has brought a great difference in the whole system by automating most work. E-learning software is often used by companies to connect with their employees in real-time. On one side, the company does not have to compromise the work hours of the employees and on the other hand, the employees can learn at a flexible pace.
The retailers find the technology to help make the operations and routine work optimised and efficient. The same applies to E-learning as well; when the relevant technology is applied in the right place, it can make our lives easier. We can find a lot of tech prediction about E-learning but the reality has exceeded the expectation, especially because the global pandemic that's being around for a while now.
Let's look at 5 top trends that are at the nascent stage but will eventually become mainstream:
AI and data science : Data Science and Artificial Intelligence go hand in hand when it comes to online training software. Data science helps AI which is the outcome of machine learning. AI is a great tool as it helps to predict the user-behaviour and customise the content accordingly. For instance, BSEtec's Expert Plus is a udemy clone script that offers AI-powered course recommendation which suggests the relevant courses to the students/employees who are part of upskilling training.
Robotics : People often fear that robotics might overtake humans. But the reality is that we can robots can work on par with humans and embrace a collaborative effort for better outcomes. So far, we have features like chatbots, automated response systems, voice assistants and so on. Another reason why AI gets the spotlight is that the robots can process data based on the performances of the students, in our case, the employees. As a result, we get a personalised learning experience. Countries like Italy have started experimenting in this area and they stress that this would just be a part of the curriculum and would not replace the teachers entirely.
AR and VR in upskilling : Be it Lynda clone app or any other online classroom software, incorporating technology adds on benefits for the users. AR and VR are two such fascinating technologies that give immersive experience, making learning fun and engaging. Upskilling through traditional methodology can cause boredom and lack of interest for the employees, whereas if you train them with the help of VR headsets, they are more likely to imbibe what's taught better than otherwise.
Work-life training : Employees should not be just trained to do their monotonous job but must also improve other skills such as time-management, communication, leadership, team-coordination and other work-life skills which helps them to face challenges and find feasible solutions during a crisis or even for a short term project. Giving them projects associated with work-life skills can improve them practically. This way, they would not just be productive but also efficient in making others productive too.
Independent Learning : A recent report by Towards Maturity says, 96% of L&D teams prefer to direct their education process. This does not mean that the employees don't prefer guidance, but they have other issues like lack of time or deadlines to meet and this varies from employee to employee, so we cannot just force them into a conference hall at the desired time and give a lecture as a part of upskilling. This is why independent learning through online learning software can be of great help.
That said, these trends have been escalated much since the beginning of the year especially because most of us are working from home because of the COVID-19 pandemic. In addition to schools and colleges, companies have also started online upskilling programmes for their employees. The process is likely to better understand the aptitude and levels of knowledge of the employees. If you want to create an online training software, use udemy clone script like Expert Plus. The app thus created would have features of Lynda clone app.