5 Methods to Use the Best Website Clone Script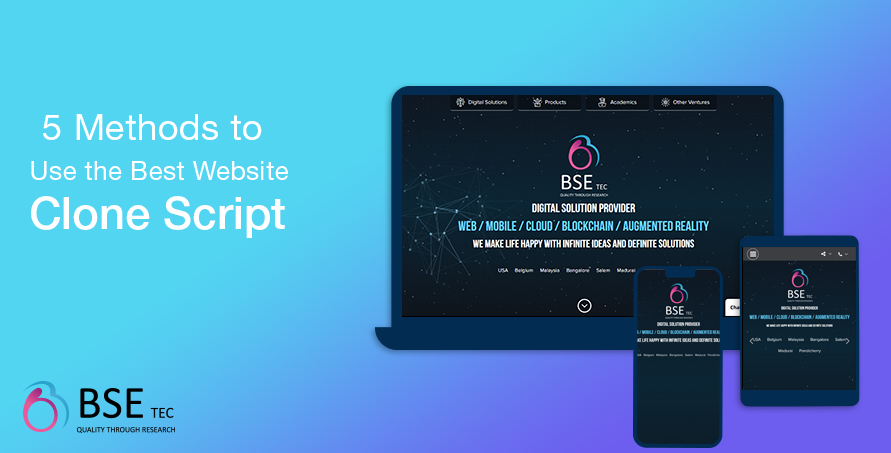 Clone scripts are widely used in the website and app development, due to the varied options that they offer and the features they hold internally. It includes scalability and responsive design which are essential elements to consider while creating an app or a website. Website clones can be used effectively used to enhance the business model by creating an app. To fulfil this need, a PHP clone script solutions company can be hired, which is way better than creating a new application. The reason is that a new app has to go through a lot of processes before it could be launched in the app stores, while clone script solutions company can make it simple to you.
The following five methods can be highly useful to create a website easily and get maximum benefit:
Responsive design for better adaptability: The truth is most people use their mobile phones to access the internet compared to PC. This puts a major concern for us to concentrate on the mobile responsive design. PHP clone scripts are highly useful in such a situation as they are highly user-friendly and allow easy customisation besides providing seamless features.
Unique Website design: Clone scripts are customisable and blend with any business module, which is why it is a highly preferable tool to create a website or an app. It also makes the work of a developer hassle-free and takes less time to finish. All that you would have to do is to identify your unique theme to suit your business and get more traffic to your website, by using various other techniques including SEO.
Engaging Platform: By designing your app or web in a user interactive and engaging way, you can gain a lot of visitors which tends to increase your productivity. To do this, you will have to identify your target audience and analyse what can catch their attention and keep them interested in your platform. Hosting live videos, contests and other promotional initiatives can be some of the ideas.
Give credible information: Communication is always an important and foremost tool to connect with your targets. Your users do not know the complete details of your product or service. There will always be doubts and uncertainties that prevail among the users. To rectify and guide them towards the right way, you need to provide the details and include facilities such as chatbots, e-mail services, instant message option, contact option and address. Including a portfolio page also adds up to the credibility factor for the company.
User accessibility options: Every user matter and so they should be given all possible feature to keep connected with your business. Right from the login, it would be better to have an option for signing in using an existing social account which saves time for the new users. In case of payment for membership and various other entities, the users must be given multiple payment options such as cards, PayPal, etc., This helps you gain users globally irrespective of nations.
Creating a website or an app for your business is an excellent idea, it is equally important to maintain the website or app, keep it up to date and maintain the user base. Try adopting the above-mentioned tips as your business goes digital. If you want to create an app or website, contact us at bsetec.com to learn further.