9 Stereotypes About Augmented Reality That Aren't Always True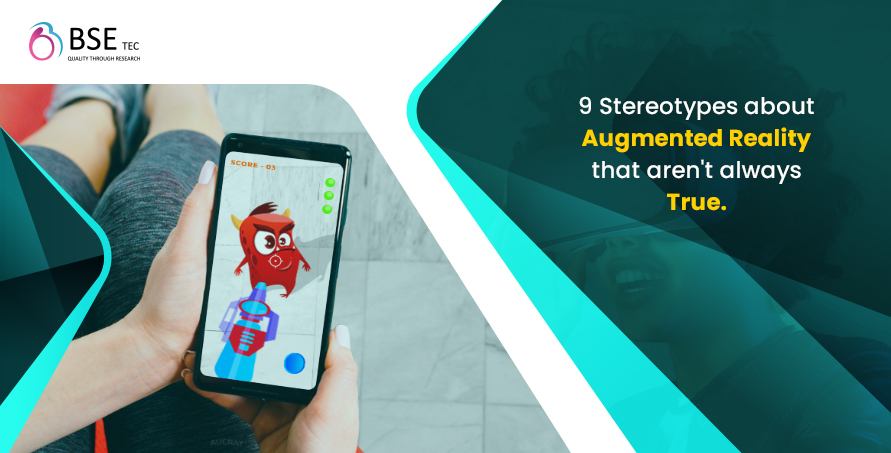 Artificial Intelligence has grown like a slingshot in the near past and achieving milestones day by day. Humans are also developing innovation with the help of artificial intelligence. For all the complex tasks are likely to be done by AI in a matter of seconds due to its high-efficiency machine learning. Not only science but the world of business is also developing and upgrading their services through AI powered technologies like Augmented Reality (AR) and Virtual Reality (VR) to increase customer satisfaction. Technologies like AR are likely to be the best technology used in every business because of its nature of giving a real experience. With great powers and benefits, there will be some cons too. But instead of appreciating the efforts in upgrades that make AI better and safe, There are some Stereotypes about augmented reality that aren't always true like:
High-end Cost :

 We know this is not the myth, This is true that technologies like augmented reality are somehow higher maintenance and high cost than traditional technologies, But there are software development companies who are providing AI based digital software solutions at affordable prices. Also we have to think about it as a very precious investment. Every penny put into these technologies always gives valuable benefits even more than you expect. Spending more on Futuristic technologies (AR) is always valuable than spending less and going for traditional technologies.  

Deep learning : 

We may don't know much about artificial intelligence till now and we know this may be a risk. But after countless efforts by professionals and new entrepreneurs we are achieving milestones in deep learning, Everyone thinks AI is not safer. But we know that if we keep our efforts going then we will change the perceptions.  

Future uncertainty :

 There are professionals who think that augmented reality will not be good in the near future and it's already on its saturation point. But let us tell you we just started to apply technologies like augmented reality in our businesses. The potential of augmented reality in every general task or in any organization is very high, and in the future, it will be the main component in maximizing user experience. It will be very beneficial for education, health, shopping sectors and also for many general daily tasks.
E-g- Google-(AR enabled maps, Google Lens), Apple (AR) enabled games and other useful tools like measurements, health apps, and much more, Amikasa for AR enabled shopping. These are some of the most popular applications that are available for public use but in near future, AR will be in every app possible from health, Learning apps to our every favourite shopping and entertainment site, etc. Also the existing AR apps will be more efficient in user experience in near future. 
(AR) Difficult to adapt by customers : 

Augmented reality is a high-end technology but using it by customers is very easy. You must have seen the popular game PokemonGo and Snapchat filters, They both are based on augmented reality. Using AR in tasks like shopping and eLearning is very easy and we already are using it. As an online furniture shopping company, IKEA is using an augmented reality interface for giving their customer an actual feel of furniture with their home environment. Their customers just love it. In reality, Customers are loving the way augmented reality is increasing their experience and interest in every task. 

The risk to humanity : 

 We know that some things are there that we as humans don't have answers for When it comes to AI and its machine learning. We do know a lot of things and we are learning it in more depth and achieving milestones in that too. So, saying that it is a risk to humanity can be a lie only Because humans can control AI at any circumstances, Human intelligence has the power to stop AI at any stage. 

AR and VR are the same :

  AR means Augmented Reality and VR means Virtual Reality. Virtual Reality is when we use virtual headsets to create a realistic virtual environment around us. Augmented Reality is when we use a digital interface to see virtual 3D graphics without any headsets. 

AR For Games Only : 

This is the most common statement by customers that these technologies are used for games and entertainment only. But the truth is AR is useful in even every category or industry. starts from entertainment to eLearning, Health to minimizing medical procedures, E-shopping to selling with a new virtual interface. 

Lack of applications :

 It's a totally stereotyped statement that there are much lower amounts of applications available for experiencing AR but in reality, there are plenty of AR-enabled apps in the market right now and many are coming every day. Even traditional businesses are upgrading their apps with AR-enabled options. Some of our favorite AI enabled applications are Pokemon Go, Ikea, Snapchat, Instagram, Lenskart, and many more. 

Difficult to develop AR apps : 

Augmented reality app development is not even difficult you just need to think about 3 things and then you are good to go-

Category : Pick a business category that you want to be augmented reality enabled.
Motive : Think about how it will give your customers more benefits.
Execute with technical expertise : Now choose a digital partner who will help you to develop the augmented reality app. We at BSETec, Along with digital software solutions, We also guide our clients with all the uses and management of this technology. to know more about our services in augmented reality. checkout https://www.bsetec.com/augmented-reality