Breaking Into the Video Streaming Industry – What You Need To Know?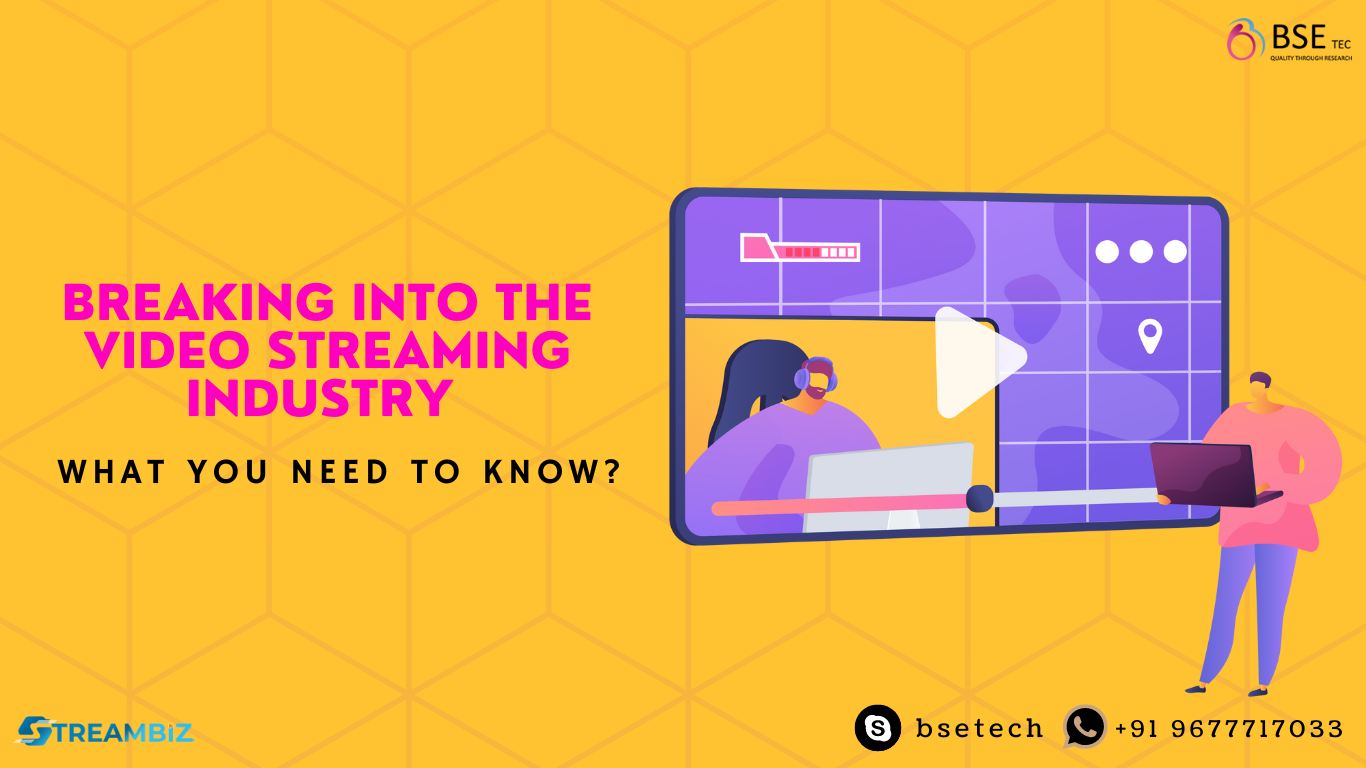 Streaming is an exciting, fast-paced industry. It has utterly turned upside down the TV viewing habits of a worldwide audience and disrupted a significant market in less than two decades. Nonetheless, with new competitors appearing on a daily basis, streaming services are fighting a daily battle for viewers and income. That implies they are continuously developing new marketing methods in order to keep ahead of a strong competitor. But here are a few pointers you need to know regarding how to stay ahead in the video streaming industry.
Be original:

Syndication deals (A syndicated programme is a television programme that was made for one network but now airs on another due to a distribution deal), licensing agreements, and other streaming services make it difficult for broadcasters to offer exclusive material in the TV industry. This means that streaming companies must find ways to distinguish themselves. One way they've accomplished this is by establishing their own TV and film production studios, producing original, high-quality material in-house that rivals traditional studios. Netflix's House of Cards and Orange Is the New Black are two examples, as are Amazon's The Man in the High Castle and The Marvelous Mrs. Maissel. Whether creating a TV series or publishing a blog post for a corporate website, the idea is to provide unique material that customers won't discover anywhere else.

Irresistible Content to retain existing customers:

Every smart marketer understands that keeping clients is simpler than finding new ones. In fact, the likelihood of cross-selling to an existing customer is roughly 60-70%, while the possibility of obtaining a new customer is around 5-20%. So, it is wise to retain existing customers. Customers are spoiled with options as the

streaming business

becomes more crowded. A broadcasting platform is simple for any user to join, utilize, or unsubscribe from. According to a PWC survey, the following are the most common causes of voluntary subscriber churn in broadcasting services:
Removal of content that they enjoyed watching.

Content options are limited and out of date.

Having trouble deciding what to watch due to improper suggestions.

Too many subscriptions cause subscription fatigue.
Be Inclusive:

In a highly competitive market, offering a wide range of products to fit a wide range of budgets and client preferences is a wise strategy. The freemium model may appear counter-intuitive, but in the B2B industry, it has been demonstrated to provide a conversion rate of between 2% and 4%.

Give what people want:

According to an industry poll, 31% of respondents responded that quick, tailored content recommendations would be a motivation to keep using a streaming service. Furthermore, 29% of respondents said they were frequently "frustrated" or "overwhelmed" by the variety of material options. As a result, if certain parts of your streaming platform need to be optimized, it is worthwhile to work on improving them in order to prevent churn from occurring.
Brands and businesses in every industry are battling comparable struggles to acquire market share and grow sales. Fortunately, many of the great marketing methods employed by streaming firms can be applied and adapted by any company. Marketers and advertisers can learn a lot from the streaming wars about how to get into a competitive market and emerge as the winner, whether it's true to the brand's values, developing original content, or cross-selling to enhance customer retention rates. In this digital era, people show more affinity towards online streaming content including, OTT, Insta live, and other live streaming platforms like Bigolive. To launch your own live streaming app like a periscope, check out Streambiz, the best bigolive clone script. Contact BSEtec for more details and a free live demo.