Create your own freelancer marketplace like upwork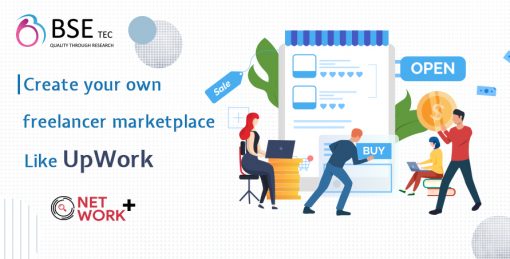 Clone scripts are recently popular because of its high functionality and efficiency. Many clone scripts have been developed by top app development companies like BSEtec due to its rising demand. One such highly beneficial script is upwork clone script like NetworkPlus. It is a freelance website script which can be used to create an app similar to upwork and freelancer . If you want to create freelancer clone of your own for a significantly lower cost, you have to opt for an NetworkPlus. The reason is that it offers a wide range of features with a pre-coded script which does not require any editing unless you want to make customization to suit your expectations.
Network Plus has the best features that the users require. It also has provision for better management from the admin's end. Escrow management, bid management etc., are some of the useful tools to maintain a good relationship and avoid disputed between a freelancer and their client. Also, the app consists of two login ways, for freelancers and clients. Every account undergoes verifications to avoid fraudulence.
With such a great app, you can now start your freelance market place, helping out freelancers' community to meet the clients who are in dire need to hire an employee. Network Plus freelance website clone can be used to create a freelance website that can be accessed both on a laptop and mobile phones. The app can help you start a new venture and help you sustain in the field if they try a little harder to start away.
Regarding payment methods and subscription, the app has multiple payment gateways including Paypal, debit/credit card through which they can get paid and subscribe to premium membership if they want. Also, the app offers hourly and fixed rate project handling for which the freelancer gets alert about the schedule beforehand so as to decide and accept the job offer. This helps the clients to get the work done smoothly and on time. Personal chat room helps the client and the freelancer to negotiate in real-time and maintain contact so that the chances of miscommunication is nullified.
With such interesting and beneficial features, it is time to create an app for freelance job bidding right now, using Network Plus freelance script. Check out our demo app now and avail more benefits as you approach us to create an all-new app using our upwork clone script.