Here's How Drones are Transforming the On-Demand Economy?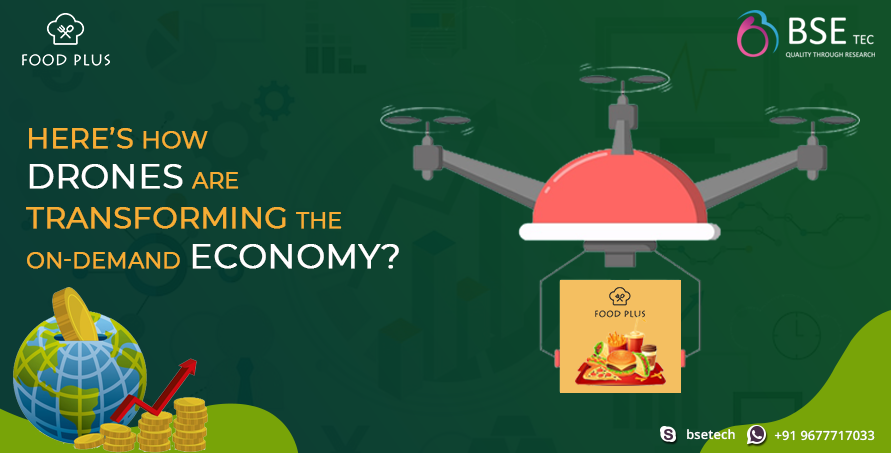 Drones have long been utilized by defense agencies and tech-savvy consumers. However, during the last decade, UAV technology has advanced at a remarkable pace. Applications have spread far beyond the military, law enforcement, and security industries. Drones are now used for everything from online food delivery to medical treatment in difficult terrain. Because of their robust qualities and the relaxation of various rules controlling their use, possible applications are developing faster than ever in a number of industries. Companies are developing new businesses and working models for UAVs in response to fast-emerging technologies. As the commercial drone market grows in size, the technology will benefit from economies of scale.
Infrastructure And Building
UAVs are increasingly being used in infrastructure inspections. Professional drones of today are adaptable, cost-effective, and capable of performing tasks that humans have shown to be too risky for. Inspecting tall structures with UAVs, such as electric towers and wind turbines, is far safer than putting workers into potentially unstable structures. The incorporation of drones into the infrastructure sector does not imply that hand-operated methods will be rendered obsolete; rather, they can be utilized in tandem with them. Using real-time data provides remote insight by adding more detail to ground reports and surveys.
Agriculture industry
These unmanned aerial drones quickly become a key component of a farmer's precision equipment arsenal. Farmers without extensive knowledge of drones can keep track of their enormous crop fields through planning and strategy based on real-time data collection. Intensive research is now being conducted to improve the effectiveness of drones in agriculture and farming. Drones can be used in a variety of agricultural applications, including soil and field studies, planting, crop spraying, crop monitoring, and crop health evaluation.
Forecasting the weather
Drones are being utilized to check the weather in areas that were previously unmonitored. As a result, scientists have created specialized unmanned aircraft capable of gathering data and information. Drones will aid in the provision of real-time data and weather forecasts. They may fly through storms in various sections of the atmosphere, allowing meteorologists to forecast weather conditions for the next few days or weeks. This is especially crucial in locations where heavy storms occur frequently.
Drone Deliveries:
Drone delivery has spread to practically every industry segment. Because of the huge pressure from customers to make delivery both faster and more economical, online retailers are particularly interested in deploying commercial drones for deliveries. Unlike other traditional approaches, UAVs can be launched swiftly from anywhere. It can arrive at the delivery location in 30 minutes or less, giving clients the option of same-day delivery in small towns and rural locations. Customers that live within a suitable distance of an online distribution center can benefit from drones in terms of efficiency and time savings. Drone delivery might lower an item's overall cost, making same-day delivery worthwhile.
Wrapping Up:
Drone technology has gone from science fiction to several real-world applications in just a few years, from monitoring wild animals to inspecting gas pipelines. Commercial drones are transforming the way businesses function. These adaptable flyers can reach areas that humans find inaccessible or dangerous. They also improve operational efficiencies and can collect real-time data that might otherwise be lost. As far-fetched as it may appear, drones are poised to transform the global economic landscape. Drone deliveries are going to be massive in the upcoming years with food delivery giants trying out drone deliveries. To launch your food delivery app, check out Food plus, the best Doordash Clone Script. Contact BSEtec for more details and a free live demo.