How Artificial Intelligence will change the future of the Digital Marketing World?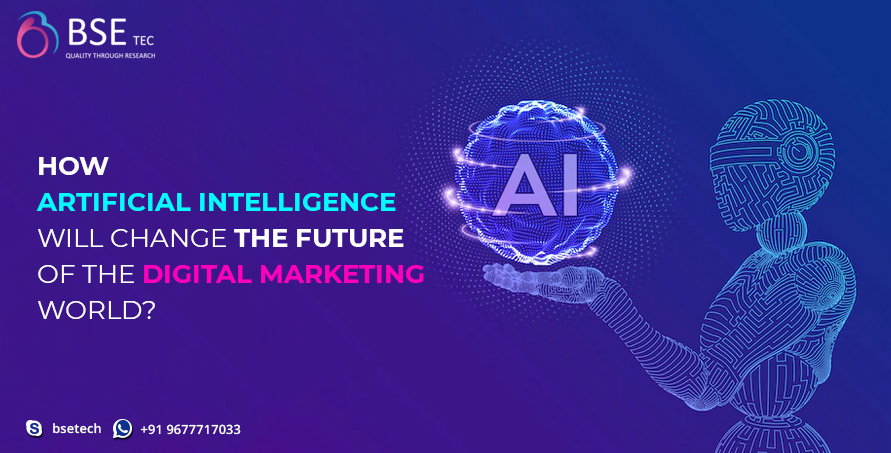 Artificial Intelligence is the technology that is already in the spotlight with every industry. And if we talk about digital marketing specifically, Then AI is doing a tremendous job by serving the digital marketing industry in many kinds. Artificial Intelligence is currently at the beginning stage of development, and in this stage, It is safe to use in digital marketing like features because it can predict consumer behavior and can improve the user-friendly experience by many times. 
Currently, We are using AI-based tools in digital marketing like 
Ai based Chatbots system

Email Marketing
Content Creation
Web Design
User Experience
Predictive Analysis
Searches advancement And many more
Digital marketing requires AI collaboration to enhance the consumer experience because that consumer's experience is the only thing that holds consumers with platforms. And with the AI collaboration, you can improve the quality of leads also.
How AI will impact digital marketing in the Future?
Well, You may be wondering that AI is currently ruling the digital marketing pannels and now gaining spotlight in this industry. Then what would it be in the future? What are the future predictions or tools for digital marketing? 
Digital Marketing is the key to success for every business and every market is dependent on digital marketing for their sales and branding. AI plays an important role in the digital marketing process by its benefits of improving the working process and products. We are currently developing more features and tools for AI and once the new tools and upgrades will be ready, Then this is sure that the evolution of the digital marketing industry will fully change. 
We may see the more advanced AD marketing system because we will be able to get more analyzed data in consumer behavior, and we may target more audiences at once. Also, We may see the upgraded version of AI-based voice assistants and chatbots on virtual platforms. We can say that the next stage of development of AI will surely revolutionize the process of digital marketing, Making it more easy and accessible to almost everyone. We may also see various AI-based platform that can help entrepreneurs with the development of digital marketing strategies. 
We at BSETec are always thrilled about the applications and scope of Artificial Intelligence. We also know that there are many things yet to explore like machine learning and deep learning. After going in-depth in these sub categories, then only we can make AI much safer for human intelligence. But we can say that using AI in digital marketing is not harmful, and even it increases your business without affecting your workforce. You can comment down your any question or query about Artificial intelligence
For the development of any type of platform with technologies like AI, You can always write to our AI experts at BSETec.
Contact Details
Email : support@bsetec.com
skype : bsetech