How is Online Education Becoming a Profitable Business Platform?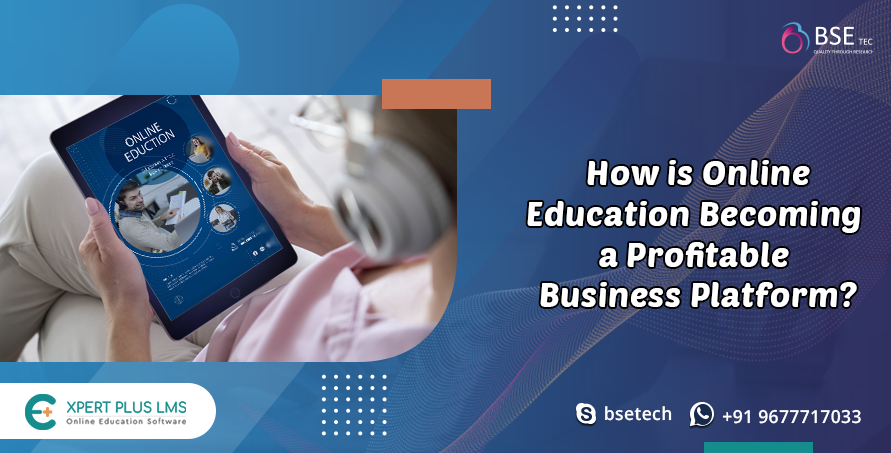 The education industry is no longer an industry that provides an education that gives the complete satisfaction of the money that costs as only the brilliant minds and exceptional students get to have the quality education also at the fortunate price but the students with average abilities or the students who have fewer resources don't get a chance to study in the good educational institutions. Online education is today giving a fair chance to students and skill learners around the world to compete with each other by learning new and professional skills. Online education is providing the access to quality education at many affordable costs and with the comfortability of learning anywhere anytime. 
Create Your Own Online Education Platform with ExpertPlus
Online Education as the Profitable Business Model
Any entrepreneur can opt to develop more advanced elearning software with advanced tools and elearning features to get a wider user base and quality content. The development of elearning software today is a profitable business as today we have a great demand for quality elearning courses where instructors get the chance to show their knowledge sharing passion and skills with advanced resources and learners get the chance to learn anything anytime at the much affordable cost with highly interactive tools. 
Which is the Best Source of Development of an eLearning Software 
ExpertPlus is here to give you the one-stop solution for all your elearning software development needs. It's the advanced udemy clone script is available in the market with loaded readymade features backed by high-end technologies to give you a great content experience and smoothness in operations while managing the online tutorial software. Educational app development becomes much easier when you choose ExpertPlus as it is the high-end udemy clone script where you get the fully functional developed learning management system from the clone provider BSETec itself. 
You can check out its free live demo right now to see how it works and how every feature gives a highly interactive user experience. 
How much does it cost?
Expertplus is exclusively developed and designed by BSEtec to empower the entrepreneurs today and to develop more quality platforms for the elearning industry. this is the reason it comes in three different variants where you can choose it to get the best according to your preference
Basic Version-

It is the free of cost version of this udemy clone script that comes with readymade tools and integrations to get all the development done for your elearning software. If you have the passion to develop your knowledge sharing platform and have less resources than you can start from the basic version of ExpertPlus. 

Premium Versio

n- Premium version of this udemy clone script is loaded with high-end tools and many advanced integrations to give the best user experience for your learning management system. it only costs $200 today and even it comes with additional development benefits. 

Open source

– Open source udemy clone script is the most premium version of ExpertPlus that gives you access to all the features of elearning software and even gives you the freedom to customize anything in the udemy clone script. It even includes additional benefits such as free installations, free technical support, and free system upgrades. It can cost you much less and in your budget. You can get in touch with us right now to know the exact pricing based on the customizations you want at BSETec. 
Get in touch with us today to know more about the high-end tools and technologies that you can enroll in your elearning software development at Expertplus. 
Feel free to Comment down your queries or suggestions.