Instasocial Plus– Become the game-changer of the social media app market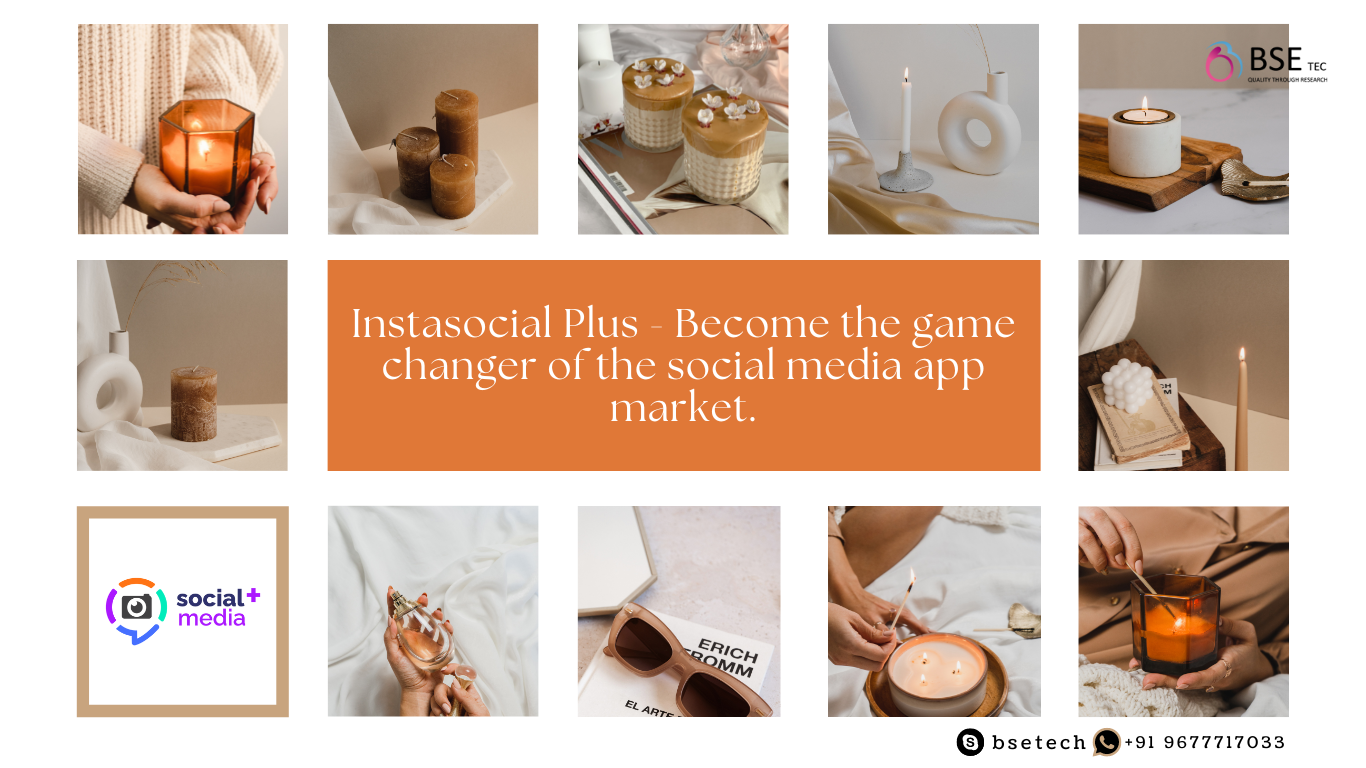 Social media apps are a part and parcel of our daily life. From scrolling through our smartphones while brushing our teeth in the morning to browsing it before going to bed we are addicted to applications like Instagram, Facebook etc. People spend more than 2 hours every day on social media apps and websites. However, the enormous popularity and influence that Instagram has over the world proves the ever increasing demand of photo sharing apps.
After Facebook bought Instagram in 2012, Instagram is now considered to be one of the best marketing tools available. Social networking sites are this Century's phenomenon. At the same time, each network is a wide area of limitless opportunities, which is giving scope to young and budding entrepreneurs and businesses to develop their own social media apps. But, building a social media app from a clean slate is quite tedious and time consuming, and also costs a ton of money; this is where a social media clone comes into play. 
What is a social media clone?
A social media clone is basically a replica of an existing social media platform, which helps you to create your own social media app or website. 
One such social media clone is Instasocial Plus– which is a clone of instagram. It helps you to connect to other users by following them, liking their pictures and by commenting on their posts and look what they are upto these days. It has numerous picture & video filters where you may click and upload any picture you love, and it is complemented with some more editing features which are included in the package. 
Why use a social media clone?
A social media clone is an absolute prerequisite if it comes to beginning an online venture of your own social media app like instagram. 
Why if you may ask?–here are a few reasons given below–
No hard-core coding knowledge needed–

A social media clone is already developed, and doesn't need to be built from scratch, thus it doesn't require you to know hard-core coding. 
Expenses are way lesser than investing on an app developer–

Making an app is not a very easy job. Thus, an app developer may take a lot of money to build it, as he will put so much energy into making it. But, with a social media clone, you don't have to face such trouble. 
Fully customisable–

Social media clones like Instagram Clone scripts are entirely customizable with all the features like instagram. You can change the theme, colours and templates according to your requirements. 
Saves Time & Energy–

If you use social media clone scripts, it takes a lot less time for developing, which in turn saves a ton of energy.
Compatible in both iOS & Android–

Social media clones are compatible in both iOS and Android platforms, and work efficiently without any glitches, like the

Instagram clone for iOS and Android– Instasocial Plus. 
User friendly Interface–

From our older generation to kids in your household, everyone can use instagram. Similarly with a top social media clone, it has to have a friendly UI, that can be handled at ease by all the generations.
Increases Visibility–

Being a replica of a top rated social media app, using the instagram app like clone script will increase the app traffic, which will by default boost its visibility. 
Quality Assurance–

The better clone you use, the more people will be attracted to it. An app has to look appealing, give high performance, no lags or glitches and also attract both the millenials and Gen-Z. So, the social media clone should be top rated.  
Instasocial Plus by BSEtec is a game changer, as it meets all the user requirements and is an advanced open source instagram clone app script that can develop the dream app you desire and get your brand recognised in the marketplace.