Live Streaming for Education Keeps School Culture Alive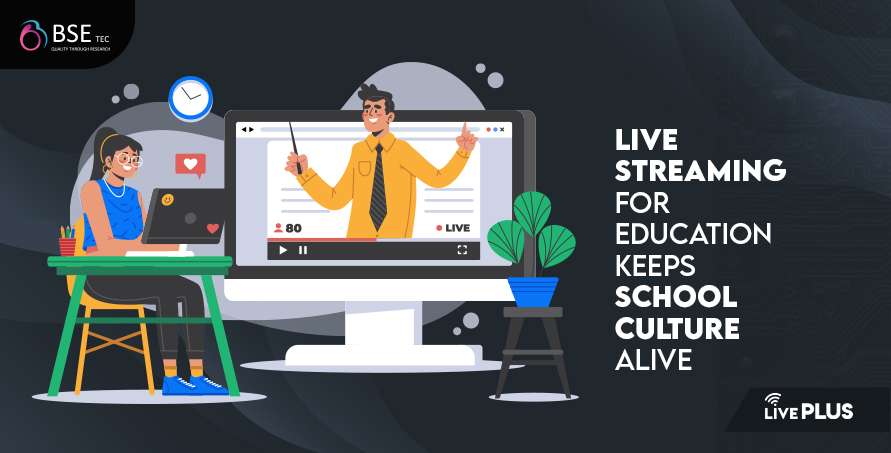 The ongoing developments and breakthroughs made by technology are impacting and reshaping every industry today, and education is no exception. As the Coronavirus pandemic rolled in– schools, colleges and universities have been shut down and all the students have been confined to their homes. This unprecedented situation has been depriving them of a significant classroom experience.
Live Streaming Technology Helps in Bridging The Gap
The pandemic has created a wide gap between studies and students, and the entire educational ecosystem has been disrupted due to social distancing norms and the spread of the virus. 
However, live streaming technology has proven to be really beneficial for connecting students and teachers and has managed to keep the school culture alive– somehow.
The Growing Popularity of Live Classes 
Schools, Universities and Colleges are using streaming platforms like Zoom, Google Meet, etc. or are integrating Live Streaming into their LMS. Apart from teaching and learning in real-time, live streaming classes can help them to broadcast countless events, special online concerts, webinars, play games, and also hold virtual parent-teacher meetings and conferences by connecting faculty, parents and administrators together for a wholesome school experience.
Why Use Live Streaming for Taking Online Classes? 
You can reach students where they live–

Due to the pandemic, many people have gotten relocated from different parts of the country back to their hometowns. This has made it impossible to hold private tuition classes as well. However, Live Streaming can be very helpful in helping all unite and study together, no matter which part of the world they are in– as live streaming is a global platform. 

You can bring special school events to their home–

Students have been missing their school for a long time now, so you can help them capture those classroom experiences by creating a live streaming platform for broadcasting special events like children's day, teacher's day, national festivals, etc. in front of the students and give them a feeling of togetherness, right at the convenience of their homes.  

Make the learning experience more interactive–

One of the biggest benefits of live streaming is that anyone may interact with one another in real-time. It significantly boosts the engagement rate and also, the students who generally used to stay silent in traditional classrooms can also ask questions in chat or video. It makes learning more fun & engaging. 

Make the learning more personalized–

Personalized and blended learning is becoming very common these days as different students have a different way of learning– some are auditory learners, some visual and some kinesthetic. So, through live streaming, all these students will get benefitted. 

Mobile-friendly and accessible–

Accessibility is the most important factor of online learning or live streaming. As the live streaming platform can be mobile-friendly, it can be very helpful to students all across the country as most of them or their families possess a smartphone, thanks to digitalization. So, it can help in learning through live classes from anywhere on their mobile screens.
So, if you are looking for a great way to connect with your students or build an LMS integrated with Live Streaming, then contact BSEtec immediately for great IT solutions and services to fulfil your educational needs.