Reasons Why Freelancer Clone Scripts are Getting Popular in the Past Decade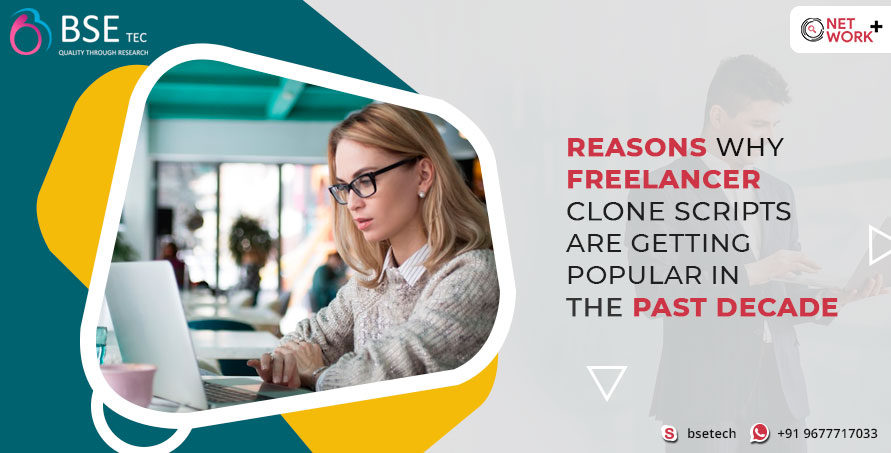 Ditching the routined "9 to 5" life and choosing to freelance instead has become a fairly common phenomena in this generation. The flexible work hours and freedom to be at any location attracts the millennials to start their own freelance projects. This surge in the freelancing market, especially after the pandemic has given a lot of opportunities to the budding entrepreneurs and businesses to launch their own freelancing websites and apps which provides a platform to connect the clients with their customers, for example: Upwork, Fiverr, etc. However, building a website/app from scratch is too tedious, and might make a hole in your pocket. That's where freelancer clone script comes into play. 
When you're starting off with an online business, a website comes under one of the most crucial prerequisites, and most freelancers looking for gigs, visit websites that have the most advanced features. An ideal Upwork Clone should have the features like–
Verified payment methods;

Easy payment gateway;

User dashboard;

Review & ratings;

User-friendly interface;

Community discussions;

Effortless interactions between client and customers;

Coffee Break interactions;

Resource corners;

Overall app/website experience;

Good customer support, etc. 
Networkplus is the Upwork Clone script provided by BSEtec, developed using Angular J6 and Django framework, which is one of the best clone scripts available in the freelancer marketplace. Using the Upwork clone not only makes your website/app visually appealing, but also draws more attention from the users by getting them to work at a well structured place online. 
The benefits of using Networkplus–
CUSTOMIZE YOUR WEBSITE ACCORDING TO YOUR TASTE–

You can customize your website/app according to your taste, aesthetic and requirements. 

INCREASED VISIBILITY–

The user-friendly, visually attractive interface and increased visibility due to the usage of a top freelancer clone will help you to grow your business faster.

DOESN'T CAUSE A HOLE IN YOUR POCKET–

Unlike developing an entire website, it doesn't cost you a fortune and saves a lot of money & energy. 

REQUIRES LESS TIME & EFFORT TO DEVELOP–

As it is ready-made, you can launch your own website in a matter of a few days and that too without much effort. Using the freelance clone script you can save your precious time of developing the app/website. A freelance clone can give you the complete site in a few days, while the same site earlier would take months to get completed. 

BUG-FREE WEBSITE/APP– After passing through many quality assurances & testing procedures after development, the Networkplus freelancer clone script got through. Moreover, when you develop a website from scratch, you have higher chances of having bugs, however, freelancer clone scripts solve the issue.
SOCIAL SHARING– Apparently, if you want to have traffic in your website, it has the option of social sharing, which can help to increase the website visibility and bring in huge amounts of traffic through platforms like, LinkedIn, Twitter & Facebook.
REAL TIME CUSTOMER SUPPORT– You will get 24×7 customer support from the BSEtec team.
Conclusion–
In this digital world, an online presence can have an enormous influence on the growth of business. It becomes an obligation to have a website for any organization that is stepping up in the online world, speaking of which, the online job marketplace has been one of the most commercial and lucrative industries for a decade now. For people around the globe, these platforms are highly beneficial, as they connect freelancers or gig workers with job opportunities straight away. So, to stay ahead of the curve, you can opt for technological solutions to solve all your digital problems.