Redefining Learning Experiences with the Udemy Clone App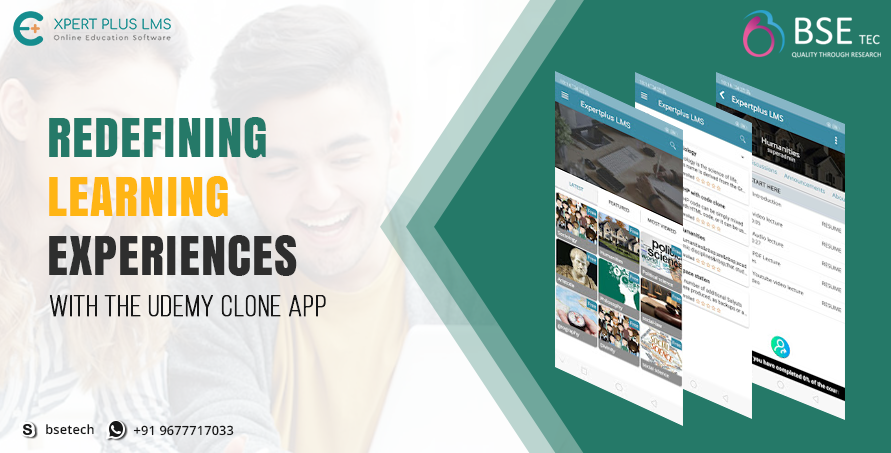 With the emergence of Udemy clone apps, smartphones and tablets have largely replaced physical textbooks and clunky desktop-based learning management systems (LMSs), integrating education with our universal habit of reaching for our phones whenever we need to know something. Mobile learning is poised to change the way we interact with people through education.
How Udemy transformed our perspectives about eLearning: 
A decade ago when Udemy emerged with a  goal to impart quality education to all and a mission "To improve lives through learning by providing flexible, effective skill development to empower organizations and individuals". Udemy offers a wide range of courses both technical and non-technical. Though it was not an instant hit during its infant stages, the pandemic had greatly boosted Udemy courses. 
Mobile Learning: The widespread availability of smartphones and other mobile devices has transformed how we approach everything in life, including education; education is no exception. Mobile learning is reshaping our way of learning in a massive way. According to the latest data from GSMA Intelligence, there are 5.34 billion unique mobile phone users in the world today. Reaching more learners is possible with mobile learning when compared to online education websites. 
How phenomenal is the eLearning experience?
Well, unlike traditional learning methods, where you have to commute to attend classes. Online learning happens from where we are, in the comfort of our places. One of the key reasons mobile learning is so popular is the high level of flexibility it provides for both students and teachers. No one is required to work in a specific location or time slot in a mobile learning suite. Teachers and students can both access the content when and where they need it, just like they would with a recreational app.
Because courses and modules are broken down into small, easily understandable sections, mobile learning with udemy clone apps has proven extremely popular with modern audiences. This approach to learning has proven to be more engaging with modern learners and ensures faster completion and better knowledge retention.
Udemy clones: The massive success of the udemy website has paved way for the emergence of more such Udemy-like websites to launch learning platforms. Udemy clone scripts help you to launch your online education platform or course marketplace in a matter of hours.
Why do you need your own online education platform?
Though Udemy-like websites allow you to launch your own online tutoring platforms, it is wise to launch your online education platform as you need not share your revenue or pay commissions. Beyond monetary reasons, you can customize your online education platform to your needs. So why are you still waiting, Start your online education business using our LMS clone, Expertplus LMS, the best Udemy clone script to build an Udemy clone app or website easily. Contact BSEtec for more details and a free live demo.