Rule the eCommerce Marketplace with our Money-Making eCommerce Script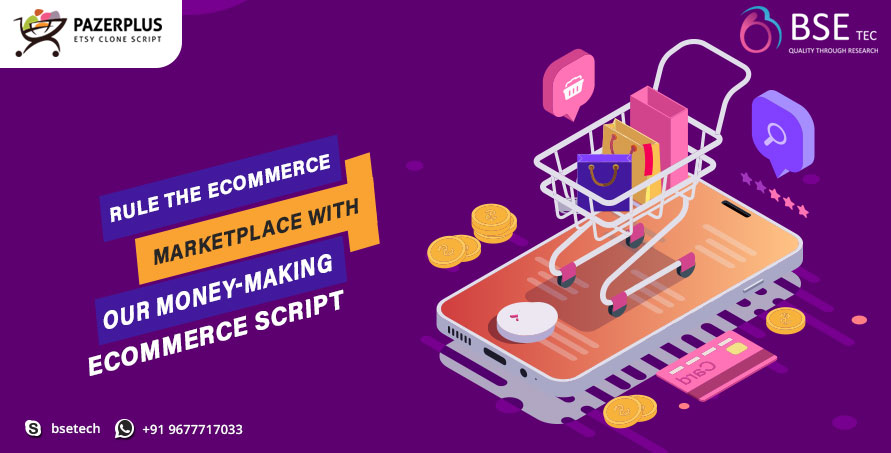 Are you thinking of starting your own online store? Are you entering into an online marketing venture without the entire knowledge and understanding of the dynamics of pursuing eCommerce? How can it be quite challenging and tricky?
Build Your eCommerce App with the Best Etsy Clone Script
When you are getting into an unchartered territory of the unknown, some key information to learn some of the tricks of the trade is crucial to survive and rule in the marketplace. 
But, firstly, let's be clear about,
What is eCommerce?
At an elementary level, we can say eCommerce is technically a business of buying and selling products and services online.
Most of the people on the planet, nowadays prefer buying things online from the comfort of their own home, rather than shopping from the markets, stores or malls. Infact, with the spread of Covid-19 people have been confined to their homes, making them an addict to online shopping. 
This has led to the widespread increase in the number of eCommerce websites and Apps. The eCommerce marketplace is now soaring with options, be it a handloom saree from Suta, or a jhumka earring from Etsy, we have it all online.
The Internet has penetrated into every aspect of our lives today, having transcended social and political borders. Comfort, speed, delivery and dependability are the keys in the digital world. Hence to get that edge in an ever competitive market, retailers are turning towards e-commerce at a rapid rate to get ahead and stay ahead of their rivals.
Double Your Business Profit With eCommerce Multi-Vendor Script
What makes a good e-commerce website ?
And
what are the subtle things that take them from good to great ?
We'll discuss them one by one below.
E-commerce script – The most basic of necessities. Your website is only as good as it works. To have a website that doesn't crash often or does what the user intends it to do, you need a very good script. We at BSEtec provide you with the most advanced clone scripts in the market suited to your needs, that will give you all the functionality to power your dream without burning a hole in your pocket. Instead of developing an eCommerce app or website from scratch, you may save a lot of your precious time, money and energy, by using eCommerce marketplace scripts– like Etsy clone script, php script for eCommerce website, and various other eCommerce marketplace scripts.
Multi platform integration –

Our script can be accessed from Tablets, Phones, iPhones, Laptop, Desktop…almost anything that has an internet and a screen. The script recognizes the screen size, type and resolution and quickly adapts itself to it to provide a seamless and holistic interface across all platforms.
Customize anything –

A good website must catch the fancy of the consumer. It must go well with the mood and overall character of your project. To help you suit your business to your ambience, our script provides ample customization options. From the date and time format, to searchboxes , to currencies, to multi language options. Anything you can possibly think of, our eCommerce marketplace script let's you do it. 
Pay through anything – As the customers adopt newer forms of payment, it becomes important to the website owner to provide them with multiple options for flexibility. Top e-commerce websites have various payment options like UPI, netbanking, Debit and credit card, wallet, and the age old cash on delivery. Alongside, access to a secure gateway is needed to prevent security compromise. Our BSEtec clone script engages multiple payment portability with the access to reputed payment gateways, so that consumers have the flexibility while not having to worry about their financial privacy. 
Conclusion–
If you're someone who is thinking of making an eCommerce platform, you have to keep in mind the prerequisites of doing the same as mentioned above. You can explore PazerPlus, the best etsy clone script to create your own ecommerce app with advanced features at its best.
All the best for your online venture!
Contact Us:
Email: support@bsetec.com
Skype: bsetech