Seven Innovative Approaches To Improve Your Artificial Intelligence In Elearning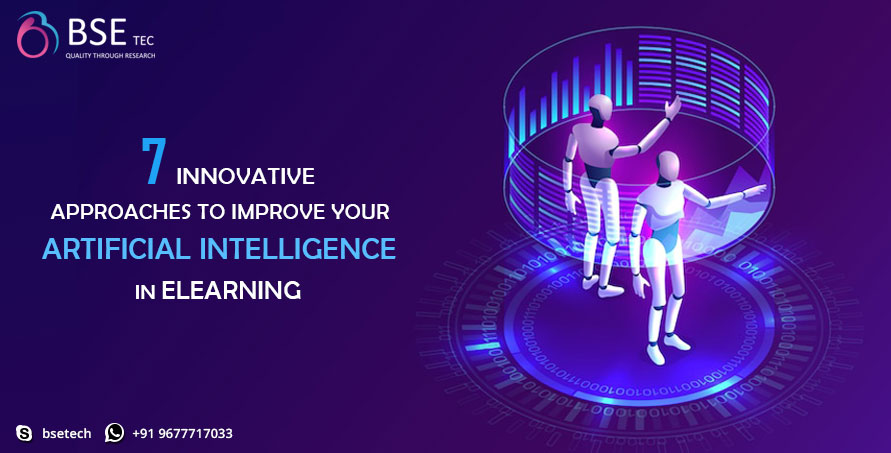 Elearning industry is an industry that experienced many hurdles in the education system to get established, and it's always been a roller coaster ride for entrepreneurs and their platforms to even survive in the industry. We think this happened because in past years we always treated it as a secondary source or an additional source of learning. This always underrated the potential of every high-end elearning software. But 2020 is the golden year for every elearning software in the market. Because right now it is getting a great opportunity of showing off its potential to the mass audience by becoming the primary source of learning because of global lockdown. 
Elearning software now has a chance to gain the market share as much, and They have an opportunity to gain trust over their targeted audience to get their professional degree or any certified skill online. To make it more effective or worthy for the students around the globe elearning has to develop a learning management system with all they have got. By all, I mean all the high-end technologies and tools that can smooth the process of Elearning with a highly interactive experience and lesser distractions over the internet. AI or Artificial Intelligence is something that can cover the maximum part of the interactive user experience over learning, and we are already seeing many entrepreneurs in this industry that are trying this high-end technology in their audience. 
Here, We have seven approaches that you can consider to improve your AI in eLearning in a way that just improves the knowledge sharing experience by many times. 
Real-Time Experience 

: Real-time experience is something that been a hurdle for eLearning and it was an excuse by parents and tutors that the biggest advantage of traditional learning is that you can ask your tutor anything at any point to get more relevance to the topic and elearning was not eligible to give that kind of thing because they were showing only recorded sessions. But with AI, Now we have advanced virtual tutors with NLP (Natural language Processing) abilities to get every question answered in real-time with full efficiency to overcome this biggest hurdle. 

NLP Possibilities :

NLP or Natural language Processing is the high-end subhead of Artificial Intelligence that allows machines to analyze and process human languages with high proficiency. NLP opens many doors for eLearning to develop something that can open an ocean of opportunities to scale learning management systems with more capabilities. Capabilities like understanding the doubts of users at the initial stage on its own, Solving user problems, and to guide them throughout the course in their preferred language with high efficiency. 

Improved UGC 

: UGC (User Generated Content) is the biggest opportunity in eLearning as it opens the doors to have more content on elearning software with more value and involvement of a targeted audience. AI can help in managing the UGC in a way that drives more users from other traffic sources. It also helps in promoting that UGC in the platform itself to make it more engaging and profitable for the learning management system. 

Content Development 

: We always thought of AI as the technology that can take over any industry with its extreme potential but here we are overthinking as it only helps in improving the current scenarios. We always get excited about the thought of content developed by AI completely. From writing to executing everything by AI to make it more worthy and valuable. Ai can be an asset in content development if used right in some genres like explaining hypothesis theories, sci-fi content, or explaining basic courses. The opportunities are endless with AI if used on the right path. 

Database Management 

: Not only for eLearning software but for every kind of digital platform the database they create or develop from scratch or collect from other parties is the real deal because it drives more business into their business. Data helps in every stage from learning about the audience to get feedback from users, and we can say that AI can make it very easy to collect ethical data with more flexible, efficient, and easy ways. 

Customized Learning 

: If you are developing your platform from scratch or by using an advanced

Udemy clone script

that you need to know that customization in eLearning is the next big thing that can revolutionize the eLearning industry by its potential of catering the market share in record-breaking time. Customization in eLearning means you cater and give importance to every individual on eLearning software with more efficient tools and services. This is only possible if you have high-end technologies like AI to deal with that complexity in elearning software. For customization, you must analyze the user's data with a safer and broader reach. AI has the potential to analyze and process mass data with more effective tools and analytical skills to get more crispy and important information and patterns from it that we can use in personalization and custom targeting to teach students with a more perfect approach. AI can also help in analyzing and improving the performance of every student individual by making it more custom focused learning software. 

Advanced Udemy clone script :

 udemy clone script is the best and most in-demand source for the development of the best high-end eLearning software in a lesser time at the lowest cost. Many open-source udemy clone scripts in the market are catering to every need of entrepreneurs to develop such advanced elearning software with every AI Based customization they need. We at BSETec also have that udemy clone script called Expertplus.

ExpertPlus

is best and known for its simple and most advanced development of a learning management system with every tool or feature that you can imagine. 
AT BSETec, You not only get the best clone scripts but also the guidance and proper coordination from the best professionals in the industry. As BSETec believes in working with a methodology to provide the best in-kind development services. We always treat every brand as it's of our own when we develop for our clients because our vision for every brand is to make it more successful than existing ones and we are chasing this mission by making sure we update our resources regularly to make sure clients get the best. We also provide additional benefits to clients like free installations, free of cost technical updates, and even free technical support to make sure their elearning software runs fully functional all the time.
You can check out its fully Free live demo right now to see how this udemy clone script works in real-time. 
Also, feel free to raise any query by reaching us on given details or by asking any question in the comments below to get a quick reply.
Contact Details
Email : support@bsetec.com
skype : bsetech