Top 5 Blockchain Development Companies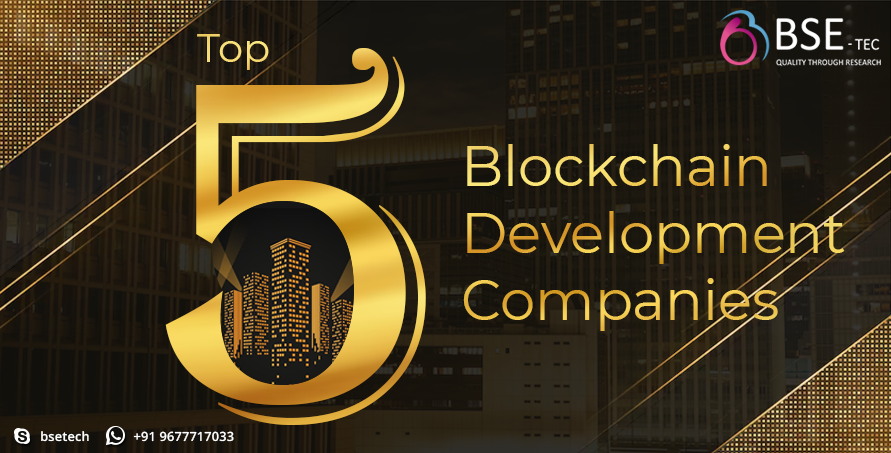 Blockchain technology has become increasingly popular in recent years, with companies across various industries exploring its potential applications. From healthcare to finance to supply chain management, blockchain technology has the potential to transform the way enterprises operate. There are several reasons why enterprises should consider moving to blockchain technology. Here are a few key benefits of blockchain technology:

Increased Security: Blockchain technology is highly secure, making it an ideal solution for industries that handle sensitive data.
Improved Transparency: Blockchain provides a decentralized ledger that enables greater transparency and accountability.
Increased Efficiency: By automating certain processes and reducing the need for intermediaries, blockchain can help enterprises streamline their operations and reduce costs.
Enhanced Trust: Blockchain's immutable ledger helps build trust between parties, which is especially important for industries such as finance and healthcare.
"Find the Perfect Partner for Your Blockchain Project: Discover the Top Blockchain Development Companies"
Top Blockchain Development Companies:
If you want to discover the best partner for your blockchain project! Thus, here is a ranking of the top blockchain development companies. The following is a list of top Blockchain Development Companies based on factors including market knowledge, project quality, customer feedback, pricing of services, and reviews.
BSEtec: BSEtec is one of the best among the top Blockchain Development Companies delivering enterprise solutions for a decade. BSEtec helps businesses of all sizes to leverage the power of blockchain by providing cost-effective custom blockchain solutions. By utilizing their expertise in Hyperledger, EVM, Solidity, Cosmos, and Substrate, they provide end-to-end blockchain solutions like blockchain consultations, design, and development. BSEtec also
ConsenSys: ConsenSys is an Ethereum blockchain infrastructure and applications development company that provides enterprise blockchain solutions, decentralized applications, and consulting services exclusively for the Ethereum blockchain. Their product suite is composed of Infura, Quorum, Truffle, Codefi, MetaMask, and Diligence to serve all the Ethereum blockchain-based ecosystems, queries, and solutions.
IBM Blockchain: IBM Blockchain is a subsidiary of IBM that offers blockchain solutions for businesses in various industries, such as supply chain, healthcare, and finance. They provide consulting, development, and deployment services. IBM blockchain commits itself to develop solutions on Hyperledger Fabric.
Bitfury: Bitfury is a blockchain technology company that provides software and hardware solutions for blockchain applications. They specialize in blockchain solutions for governments, businesses, and individuals. Bitfury caters to its services starting from blockchain software solutions to hardware requirements like bitcoin mining machines and other bitcoin hardware needs.
Markovate: Markovate is a software company with a team of architects, engineers, and developers dedicated to building scalable and profitable technology solutions and apps on Web3, blockchain, mobile, AI, and IoT. They believe in customer first and transparency when it comes to developing projects.
Why Select the Right Blockchain Partner?
Choosing the right blockchain development partner is critical to the success of your enterprise's blockchain implementation. Here are a few reasons why you need to hire top Blockchain Development Companies:
Expertise: Blockchain is a complex technology that requires specialized expertise. Working with an experienced blockchain partner can help ensure that your implementation is done correctly and efficiently.
Customization: Every enterprise has unique needs, and a good blockchain partner will be able to customize the technology to meet your specific requirements.
Support: Implementing blockchain technology is only the beginning. A good blockchain partner will provide ongoing support to help you maximize the benefits of your investment.
Request a Quote from Top Blockchain Development Companies
Still confused about how to choose the right blockchain partner, here is a blog post on things to consider while hiring a blockchain development company. As blockchains and cryptocurrencies gain traction, numerous industries and multinational corporations are experimenting with blockchain technologies. There are several examples of companies that have seen success after implementing blockchain technology. Here are a few:
Walmart: By using blockchain to track its food supply chain, Walmart has reduced the time it takes to trace a product from six days to just seconds.
Maersk: The shipping giant has partnered with IBM to use blockchain to improve its supply chain management, resulting in reduced paperwork and faster processing times.
JPMorgan Chase: The bank has created its own blockchain platform, Quorum, to streamline its internal operations and reduce costs.

Blockchain technology has the potential to transform the way enterprises operate. However, choosing the right blockchain development partner is important to ensure a successful implementation. The top blockchain development companies listed above are a good place to start your search. By partnering with the right company and taking advantage of blockchain's benefits, your enterprise can improve security, transparency, efficiency, and trust. Get in touch with BSEtec without further ado for a free blockchain consultation.