Top 7 steps to Promote an Ecommerce Marketplace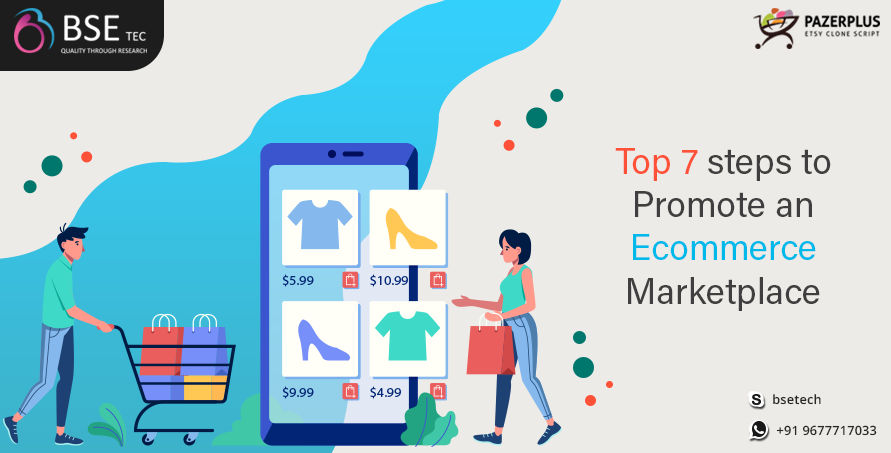 With the rapid developments in technology, everything in the world is getting digitized. People find themselves relying more heavily on their Smartphones for even the smallest things including their daily needs. In addition, the pandemic due to Covid-19 has increased their need to turn their businesses into eCommerce stores more often than not, because people are locked up in their homes, and if they need to buy anything – be it groceries or tea table, they check its availability online as it is the easiest way by which something can be delivered at your doorstep. 
Cost of building an eCommerce marketplace
With the growing human needs, many eCommerce platforms are being created by entrepreneurs- and they are investing in building an eCommerce marketplace. The cost of building an eCommerce platform using an eCommerce PHP script is much lower compared to the development from scratch. Moreover, with a seamless eCommerce script, you can create a huge online market for your business & it takes very little time to develop. 
Promoting an eCommerce marketplace
However, in this cutthroat industry today, there is very high competition– and companies need to double their marketing efforts for the promotion of an eCommerce marketplace. 
But, here's a comprehensive guide to understanding how can you promote the eCommerce marketplace which can be of some help to your business needs–
Developing a perfect understanding of customers–

 Collecting the customers' demographic will help you plan the marketing strategies for your eCommerce marketplace. Like offering them personalized marketing content, sending the offers, deals and discounts based on their buying history, and sending them the right product at the right time can help in boosting sales. 
Evaluation of customers' requirements–

With excellent customer service and sticking with a niché, or evaluating and re-evaluating the requirements of the customers will help to understand their preferences and expectations which can help you set an omnichannel which can fulfil the void of the marketplace. 
Awareness of your brand–

Before a customer buys something, it is really important to have plenty of brand posters, Digital marketing, Social Media Marketing, Google Ads, Referrals, and Organic Searches using SEO techniques, and this slowly brings about brand awareness and recognition. 
Email marketing strategies–

Email

marketing is one of the best ways to connect with customers individually– whilst providing them with a personalized experience. In fact, many surveys have been conducted which says– the open rate of personalized emails is 5% higher than other ones. Moreover, this helps the customers actually landing up in your eCom marketplace and start buying. 
Rating and review system–

Integrate a reviewing system that can showcase the achievement of a third-party vendor. This will help customers to understand which product is good or bad while keeping the competitive spirit alive among the vendors through the ratings and reviews. 
Summing up…
If you want to create your own eCommerce marketplace, then look no more! Pazer Plus, the Etsy Clone is here to take care of all your shopping and retail needs– so, contact BSEtec now!