Top Things to Consider When Creating an UberEats Clone App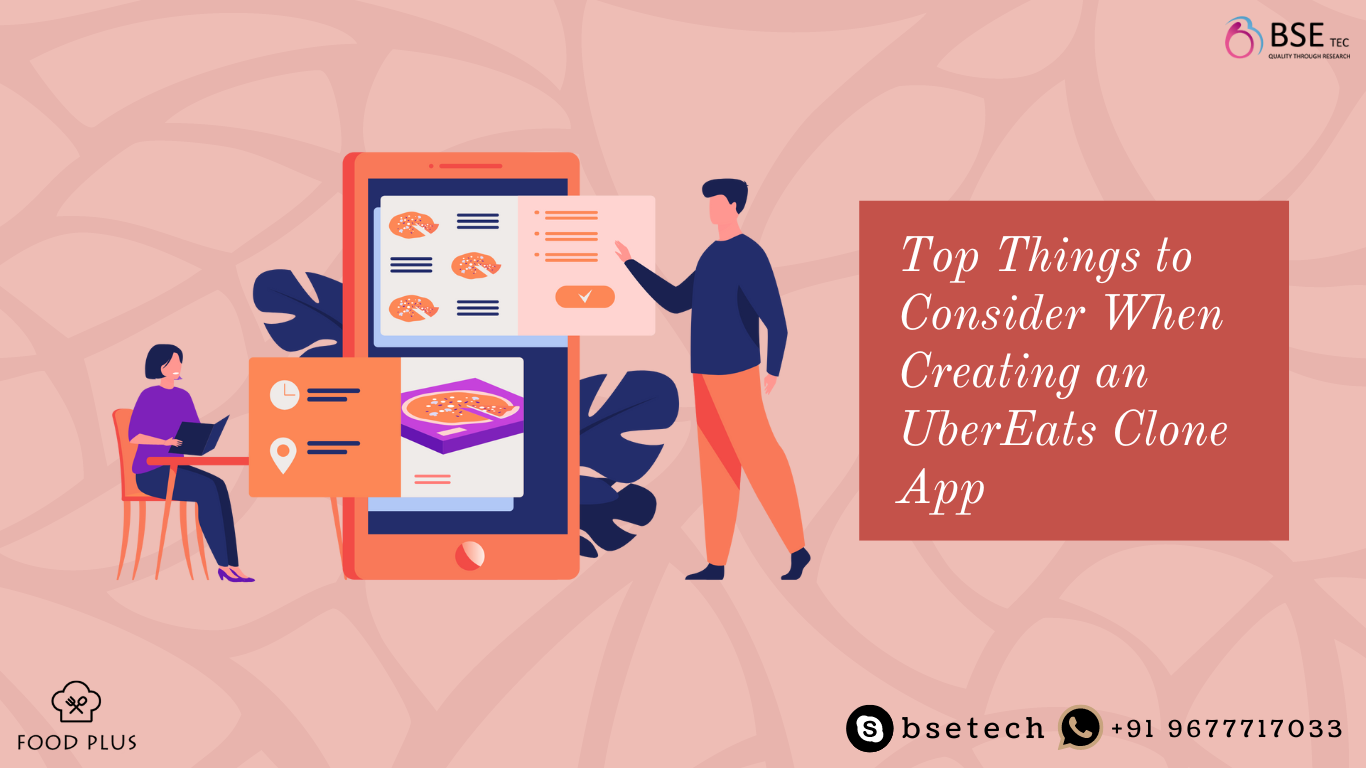 Many restaurants and businesses are changing their services to online food delivery services, such as the Swiggy clone app scripts. Opting for your own food delivery app or website allows you to give higher-quality services, helps you in branding, and also paves way for increased customer loyalty. Furthermore, with a food delivery app, you can reach every customer at their fingertips, which is an added benefit. But before that, here are some of the characteristics or things you should be aware of when designing an online food ordering and delivery script.
Easy To Use Interface:

Smartphones are here to stay. Smartphones are used by all generations, including Generation X, Millennials, and Generation Z. As a result, the app should be simple to use for all users. The interface should be as simple as possible, with no difficulties for the user. So, while designing an

app like Uber Eats

, the first thing to consider is user-friendly features and simple user interface metrics for a great user experience.

Live Order Tracking:

Live order tracking is an integral part of any

food delivery app

, as it benefits both dashers and users. Users are well informed about the food being made, whether it has been picked up or not, and where the food is at any given time, and dashers will also have a better knowledge of the location of the delivery point.

Secure Payment:

The primary considerations for every online application are safety and security. As a result, when developing a

food delivery app

, user security is vital. Providing more robust and secure payment choices increases the trustworthiness of your

online food ordering and delivery system

. Also, make sure you provide a variety of payment choices, such as credit card payment, debit card payment, UPI, and online banking. 

Pro Tip:

You can go one step further and incorporate

crypto wallets

or payments because

cryptocurrencies

will be popular in the near future.
Multiple Ways To Order:

Aside from mobile, we must provide users with the option of ordering from other devices such as tablets and websites as we can't rely on just food delivery apps on mobile. Food delivery websites are also important; it is our responsibility to offer users options, so consider developing a

website like Doordash for online food ordering

through both websites and apps, and ensure the

food delivery script

is responsive as well.

Rewards And Orders:

Discounts and Coupon codes are the exciting part of any food delivery app. When you add a separate section where visitors may check for ongoing discounts and coupon codes to take advantage of some of the best deals. The

Doordash clone app

must notify users of these deals and discounts through push notifications.

Push Notifications:

We live in a very distracting world, thus in order to notify about abandoned carts, we must remind our users about the food they left in their carts, which is why push notifications are so significant. We may also use push notifications to notify users about ongoing and upcoming offers and promo codes.
Other Features That Make You Stand Out In Food Delivery Service:
Aside from the elements that are vital in a food delivery app as discussed in the above section, these generic features should also be considered when designing an app.
Know your Customers:

Knowing your users is important while developing an app. You must understand the target audience's behavior so that we can develop the app accordingly.   For example, if your target audience is between the ages of 20 and 40, you can create a distinct prototype for them, however if your target audience is above 50, you should keep the app as basic as possible.

Trending Frames:

There are so many frameworks available that it is difficult to select the ideal one. You could use some advanced and popular frameworks. A good framework can make our tasks easier than ever before. 

Budget:

Before creating a food delivery app, you must first determine the budget you are willing to invest in the app. Then, keeping the budget in mind, you might seek expertise as needed. Developing an app from scratch costs much higher than developing a

food delivery app

with readymade

Doordash clone scripts

.
How Can Food Plus Help?
Food delivery clone apps, on the other hand, such as JustEat clone, UberEats clone, Swiggy clone, and Zomato clone, feature a plethora of possibilities ranging from payment integrations to live order tracking. All of these options help users have a positive user experience. Apart from that, applications have made everyone's lives easier than ever before. FoodPlus is a readymade food delivery script developed by a team of experts that offers all the features that makes the app outstanding. To launch your food app contact BSEtec for more details and a free live demo.