Why bring Digital Transformation in the Real Estate Sector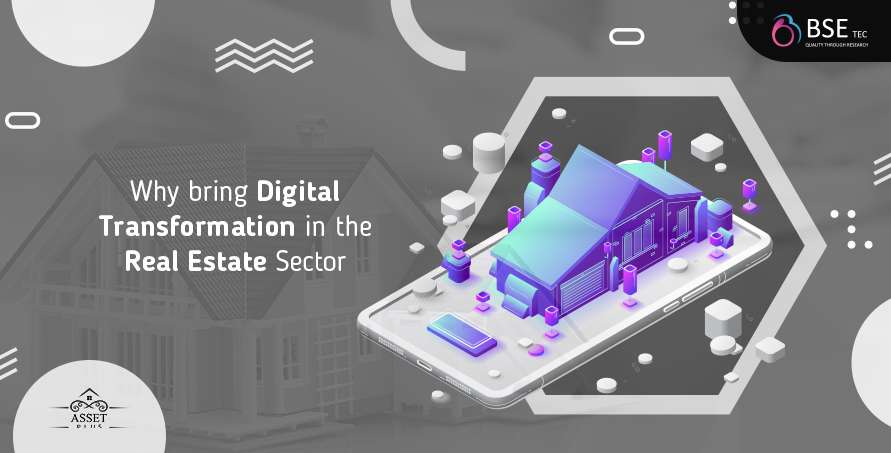 In order to be relevant and updated with the changing market and business trends, it has become the need of the earth for the real estate sector to undergo digital transformation. No business can afford to ignore the technological changes that are taking place in the modern world which have altered the way of economic interactions, and real estate is no exception. Gone are the days when people used to hop from one property to another in search of their perfect home. Nowadays, people rely upon their smartphones for almost everything– including looking out for properties that they want to buy.
Why does the real estate sector need a digital transformation?
With everything being made available online, the real estate industry cannot lag behind in the race among other businesses undergoing digital transformation.
This is the reason behind the huge upsurge in the number of real estate apps and websites like Zillow and Trulia, which have become extremely popular and widely used among realtors, property owners and the people wanting to buy, lease or rent them.
Why choose Trulia and Zillow clones for app or website development?
Developing a website like Zillow or Trulia is extremely time-consuming and is very expensive. However, using a crisp clone script inspired by Zillow and Trulia like Asset Plus can really save you a fortune and also help you curate your property listing platform in a matter of few days.
How to incorporate digital transformation in real estate for long term success? 
Use rich media visualization–

Using the latest technological software, photorealistic visualizations of an event full apartment or an office center can be created, which can help clients to understand and get a vivid idea of what they are looking for. This might have a decisive influence on the purchase decision and conversion rate. Multimedia content is always a win-win situation for attracting user attention. 

Collect property data-

While cutting operational expenses,  internet-of-things or IoT devices can provide older residences and commercial properties with powerful new automation features. Due to this digital data, building managers can easily collect information for proactive maintenance utility and other energy optimization strategies. Therefore IoT helps in commercial property management. 

VR and AR-

Virtual Reality and Augmented Reality are concepts that have revolutionized the way one perceives the real estate sector digitally. It can help give 360° virtual tours and Augmented Reality can also help in interior decoration and virtual architecture. These 3D walkthroughs can allow potential buyers to see an apartment or property that is for sale. He can also decide from which section and angle they want to look at it, like the street view on Google maps.

Customer experience-

Provide an enriched customer experience and customer service like never before. AI-generated chatbots and Virtual Assistants are available 24×7 and can help in managing customer doubts and queries with just a few clicks. 

Predictive Analytics-

With the implementation of Machine Learning and Artificial Intelligence, it helps to evaluate and forecast the market trends and generate more leads by understanding the buyer's journey over time by reading the customer behavior and also by recommending the properties to the customers who are interested in buying or renting properties can be identified easily through AI and machine learning.
So, if you are wanting to create your own Real Estate Platform and let your business move a step forward digitally, then don't hesitate to contact BSEtec today for the best IT solutions in the industry– to transform your business into a brand.