10 steps to become a successful freelancer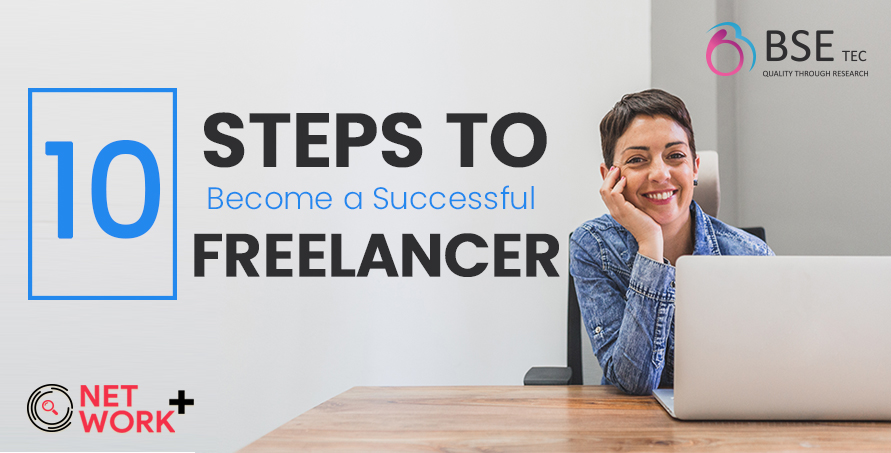 Are you considering starting a Freelancing career? Sceptical if you have what it takes to be a good freelancer? Of course, you'll have ups and downs and it will take a lot of time at first, but if you do it right, you can kickstart your career with ease. Upwork clone, NetworkPlus is a happening place for freelancers. It is a fitting platform for freelancers to connect, create networks and grow. The guidelines given below will drive you in the right direction and help you achieve your mission of becoming a flourishing freelancer.
Action Plan: The first and foremost thing you need to do is to prepare a blueprint of your business plan. It should encompass your goals, financial plans, how many projects at a time your willing to take on, etc. Also, have a contingency plan( Plan B ).
Form ties: You must contact everyone you know, like friends, colleagues, family members. Through them there are chances that you might get contacts and references, consequently expanding your network.
Do your research: Surf through the net, meet people who are doing what you intend to do, scan social media, read blogs and assess the risks you are going to be taking.
Create a portfolio: For a freelancer, it is essential to create an ideal portfolio complete with experience, previous companies, skills, testimonials etc., This way your clients get to know you a little better before trusting you.
Sell yourself: Work on your personality and attitude. If people don't like you, they won't come to you. You'd become successful only with your knack and professionalism.
Reinforce your brand name: You are the face of your brand. Create accounts in freelancing apps like NetworkPlus, and in social media like Facebook, Twitter etc., More than meeting people face-to-face, you meet more online.
Keep an eye on competition: In a freelancing career, there is competition always. There will always be someone who is willing to do the same job, with lesser fee and time.
Quick turnaround time: Most clients expect the work to be done promptly. The more brisk and constant you are, the more clients you get.
Charge nominally: Don't charge less, when you put in a lot of work and at the same time don't charge more for small projects. When your charge is inexpensive, naturally clients will flood to you.
Get a mentor: Whether you accept it or not your current employer is your strongest link to your first job as a freelancer. That boss might even link you with clients from time to time. So, in no time you'll be making money.
Our open-source upwork clone is the perfect place for freelancers such as yourself to embark on a successful career. Head to our website to access upwork clone script free download. For more information contact BSEtec.